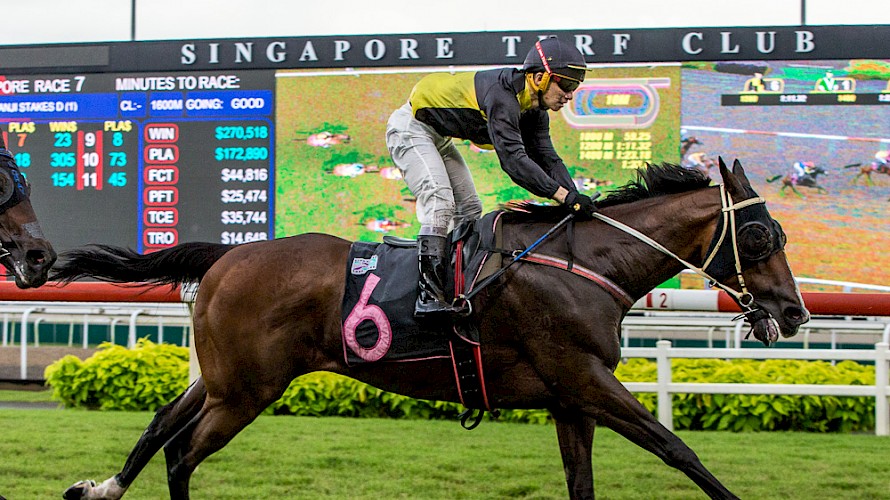 O'Reilly Bay's finally got his head around it - and Bruce predicts there's more in store
At six years old, you'd generally say a horse was starting to get past it.
Not O'Reilly Bay.
And now that he's in the peak of condition, and has finally accepted wearing gear on his head, trainer Bruce Marsh says you wouldn't know how far the horse could go.
O'Reilly Bay showed his true worth at Kranji last night when he sustained a long run from fourth last to win easily by nearly a length.
Marsh admits he was shocked to see apprentice Troy See had the horse back with the tailenders, given how successful pacifiers have been in getting him to jump.
"But it was like a stock car race up front - there were five of them having a crack - and Troy showed good judgement to stay out of it and keep him relaxed.
"It was on the long course and you could see 600 metres from home that he wasn't going to get beaten.''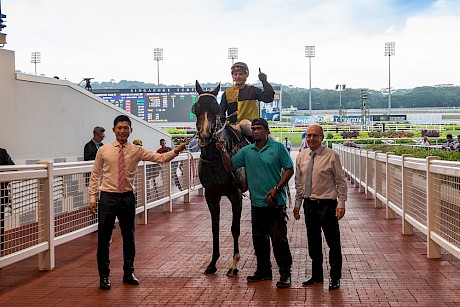 Trainer Bruce Marsh, right, with O'Reilly Bay after his latest win. PHOTO: SGRacingPhoto.For Marsh, the horse's fourth win, which he confidently predicted, was just reward for years of persevering with an animal who repeatedly tried his patience.
"He was a big, immature horse who had a lot of teething problems.
"We spent two years trying to get blinkers on him. You couldn't get them on his head - he'd panic and turn into a nut case.
"In the end we had to sedate him to get them on and then he destroyed three pairs rubbing them against the wall trying to get them off. I've never had a horse like it.''
It was also impossible to use a blindfold to help the horse load into the stalls - O'Reilly Bay would go mad as soon as it was put on.
"He was blowing the start every time but he's good in the gates now, thanks to pacifiers.
"The way he's performed in his last two starts who's to say how far he can go? The way he won on Sunday you've gotta say he can win more races.
"He's really at his peak and just chiming into it when you'd think he'd be past it.
"He stays in class four and could win his next start too.''
Marsh says while O'Reilly Bay won only a lower Kranji D stake yesterday, taking his bankroll to S$161,559, he believes he can handle the next step up against stronger class four company.
"What he does in his next couple of runs will give us a gauge on what he can do. He's got everything going for him now and I'll look to run him in a class four mile on the 18th.''
Stablemate Pratt Street has a suitable class four race over 1200 metres on the grass the same day, after he was forced out last night with a pricked foot.
Pratt Street was unlucky to stand on a lost shoe that was sitting on the track during trackwork early last week and missed four day's work.
"We could only swim and hand walk him and I couldn't take the risk of running him. But as it turned out the track was pretty wet on Sunday and he may not have handled it anyway.
"He worked this morning and was fine.''
Our runners this week:
How our trainer rates them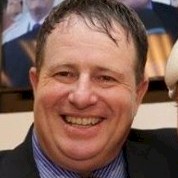 Stephen's tips
Tuesday night at Kranji
Race 4: Miracle Time
1.20am NZ time
"He's done super well since his first start, 1400 metres is what he needs and he has the inside draw with Vlad Duric on. I'm very happy with him and he can get in the money at good place odds."
Race 4: Rock Me Easy
1.20am NZ time
"I really like him. He's a big, strong horse who'll want every part of the 1400 metres but he'll bounce and get a nice spot in behind them and hopefully go boom. He's the best of the two runners and has a lot of upside to him."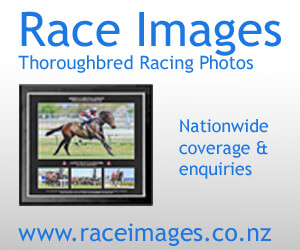 Lincoln light
News in brief
MOONLIGHT UNLUCKY: Lincoln Moonlight looked unlucky not to win at Kranji on Sunday night after copping a check 700 metres from home when the leader Morpheus slowed. He lost several lengths in the incident but recovered bravely, powering home late for third when clear. Stewards warned Nooresh Juglall that slowing the tempo to a degree where riders were left endangered would not be condoned.
CITY FEELING LEG: Lincoln City, running out of his grade, ran last in Singapore on Sunday. He lost ground with an awkward beginning then jockey Matthew Poon reported he was very one-paced throughout and could not improve. A vet exam revealed the horse was not striding out freely in his off foreleg.