Our Australian Tommy does everyone proud with brave Redcliffe Derby win
Little Lincoln Farms trooper Make Way showed he would be competitive when the bigger features roll round in Queensland with his brave win in tonight's A$21,000 Redcliffe Derby.
The colt, who gave trainer Sonya Smith and partner Anthony Butt their first big win, sat parked outside the hot favourite Dazzle Me for the last 1200 metres but still managed to dash past him in the run home to score a convincing three metre win.
It was a brave effort by Make Way on the tight triangular circuit and drew plenty of praise from Butt, one of the most accomplished horsemen in Australasia.
"He's a super wee fella as it's tough to sit off the fence on that track. It's a good start to the carnival and shows he's not going to be out of it in the big ones.
"It's going to be harder from here on in as Mark Purdon is bringing a couple of three-year-olds over but our guy's going to be competitive.
"He felt great tonight. I had to do a bit of work early to get round them but he relaxed beautifully and was jogging all the way.''
Butt said while he knew Dazzle Me would be tough to get past he started getting more confident inside the final 800 metres.
"I saw he was under pressure at the 500 and I was still going easily and he found a good sprint up the straight.''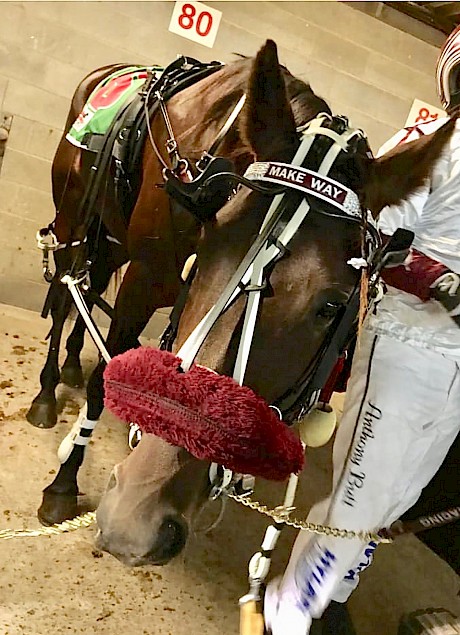 Make Way sports the special brow band made by Sky TV presenter Brittany Graham.Make Way, known as Tommy to his owners and mates, was sporting some special bling tonight - a brow band bearing his name made by Sky TV presenter Brittany Graham.
And he wore it well, sprinting his last 800 metres in 57.2 and 400 in 28.5 for a mile rate win of 1:57 for the 2040 metres.
Tommy's many New Zealand owners, who are planning a trip to Brisbane for the A$100,000 Queensland Derby on July 20, owe Butt a beer for his drive tonight.
From the outside of the front row he stayed out of the early burn, letting Make Way find his feet three wide behind the leaders.
And he quickly dropped in to three back on the running line as Dazzle Me's driver Mat Rue made a lightning move to the lead.
Butt made his move at the perfect time, as Dazzle Me slowed up to a 30.8 first quarter, ripping round the field to sit in the chair.
And Tommy' owners were counting their A$12,540 winning purse when he ranged alongside the leader halfway down the home stretch.
The stake took his Australian earnings to A$34,440 from just 12 starts which has seen him win five times and run five placings.
"I'm rapt the wee guy has done that for the owners,'' says Butt.
"It vindicates the trip over and everything is a bonus from now on.

Down the stretch and Make Way is about to collar hot favourite Dazzle Me in the Redcliffe Derby."And he's had an easy time doing it. Compared with being beaten up all the time in New Zealand he's had a good life here and has got his confidence with some easy wins.''
Make Way is raced by Lincoln Farms' John and Lynne Street in a partnership which includes business manager Ian Middleton, Auckland veteran Bob Best, Northland's Duncan, John and Dave Chisholm and Warwick Orr, Amy Myocevich and the 10-strong women of the Excell syndicate from Hunua.
The colt is likely to have one more race as a lead-up to the A$31,000 South East Derby at Albion Park on July 13.
Smith and Butt sealed a great night at Redcliffe when Franco Totem, whom Smith trains and owns, rallied strongly to finish third in the A$50,000 Redcliffe Cup.
Our runners this week
Friday night at Auckland
Sunday at Menangle
Make Way.