Owners get hole-in-one thrill as rapidly improving Hampton Banner goes sub 2:40
Christchurch couple Chris and Kim Prutton didn't quite make it to the winner's circle in time to get their photo taken with Hampton Banner - but it didn't detract from the thrill of winning a race on Interdominion opening night Auckland.
The finish was so tight - only noses separated Hampton Banner, Dr Susan and On A Roll - that Chris Prutton thought their horse had run only second.
So by the time they made it down from the grandstand after the judge's call was announced, their pride and joy was already headed back to the stables.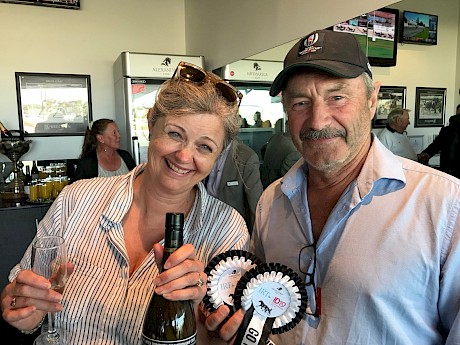 Chris and Kim Prutton celebrate their win with Hampton Banner.But a few minutes later, in the hospitality room, Prutton told Lincoln Farms' owner John Street how much they were enjoying being in the partnership which races Hampton Banner, thanks to the fantastic communication through www.lincolnfarms.co.nz.
Prutton likened the win to "the perfect golf shot" and revealed how ironic it was that his horse had pipped the hot favourite Dr Susan who is named after Susan Wakefield - "I built Susan and Jim's house for them."
Street races Hampton Banner with the Pruttons, Ian Kedzlie, Dennis Ebert, Steve MacDonald, Robert Seebeck and first time owners Kevin and Annette Crosswell, who had a big team of friends round to watch the race at their Bucklands Beach home.
And in accepting the trophy, he told how much the Bettor's Delight colt had improved in recent weeks.
"He ran 2:39.3 tonight and they don't run that time too often here. He's a valuable three-year-old now and hopefully he can go on now and run in a derby."
Trainer Ray Green said it was a long way from a one-win race to the derby "but if he keeps improving it will be interesting too see where he takes us.
John Street gives Hampton Banner a well done pat. PHOTO: Peter Rubery."But he is a nice horse and even though he got a good trip tonight, it's only his fifth start and he's still very green."
Green said he was sure Hampton Banner's improvement this time in was because he was now sound.
"He had a lot of growing pains before - his stifles always bothered him - and X-rays showed he had soft bones. There was nothing we could do except give him plenty of time."
Green said it was exactly the same with Recco Lover who was seemingly disappointing for so long before really hitting his straps.
Hampton Banner gave his best hint yet that he was over his aches and pains when scoring a very fast win at last Saturday's Pukekohe workouts when Green labelled him the stable's "surprise package."
So it proved tonight when the horse showed terrific gate speed to lead before handing up to Dr Susan.
Zachary Butcher is all smiles after landing Hampton Banner a nose winner. PHOTO: Peter Rubery/Race Images.And Hampton Banner showed great courage to gradually wear down the leader up the passing lane, driver Zachary Butcher timing his run to perfection, staving off a big late charge from On A Roll, to record a fantastic mile rate of 1:56.5 for the 2200 metres.
The trio had the finish to themselves with 10 lengths to the fourth placed To Sir With Love.
A brother to six-race winner Scarlett Banner, Hampton Banner is out of the Christian Cullen mare Surf And Sand and cost Street $60,000 as a yearling.
Our runners this week
Friday night at Auckland
Copy That, American Dealer, Captain Nemo, Bondi Shake, Apieceoflou, Revitalise, Tommy Lincoln.