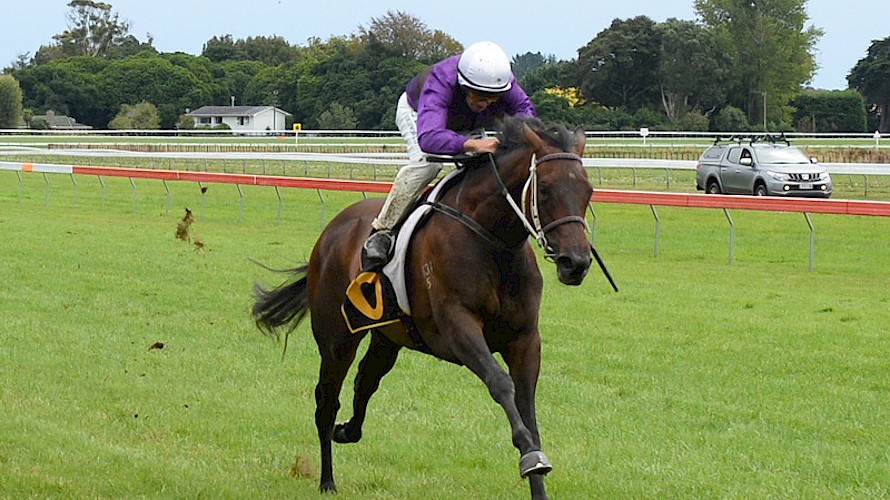 Pearl drums beating for Rapper to score a juicy bonus at Trentham on Saturday
Platinum Rapper's final fast work at Awapuni yesterday has left trainer Lisa Latta confident the filly can go close to winning a Pearl series bonus race at Trentham on Saturday.
And that would mean a big payday for Lincoln Farms and Neville McAlister as along with the $15,625 winner's purse she would bag a $20,000 bonus, courtesy of New Zealand Bloodstock's bonus scheme.
"She galloped really well on Thursday and has progressed very well since her last run,'' says Latta.
An even-looking field is carded for the seventh race but Latta says Platinum Rapper, drawn nicely in four, only has to run as well as last time to figure in the finish.
Three weeks ago on the course, over the same 1400 metres and in the same heavy 10 conditions she will strike on Saturday, Platinum Rapper ran a very brave second in a stakes race behind smart Te Akau filly Burgundy Belle, winner of three of her five starts.
Last early, Dylan Turner wound the filly up down the outer and her powerful finish saw her clock easily the fastest last 600 metres of 37.01.
While still three and a quarter lengths behind Burgundy Belle at the finish, she cut down Satu Lagi to claim second right on the post.
Latta believes the filly has improved with that run, her first since returning from a Riccarton campaign where she ran fourth and fifth in two stakes races, the second over 2000 metres in the Warstep Stakes.
"The 2000 metres finds her out - she's a 1400 metre to 1600 metre horse at the moment - so she's back to a distance where she's competitive.
"The big, roomy track suits her and the conditions won't worry her so I'm confident she's a big chance.''
In-form rider Jonathan Parkes, who is second on the premiership with 106 winners, three behind Lisa Allpress, takes the mount.
Lincoln Fury scored at Trentham in March for Dylan Turner when the conditions were a slow 7. PHOTO: Peter Rubery/Race Images.Latta is not so bullish about Lincoln Fury who is down to run in the last race but may not take his place.
While Lincoln Fury won at Trentham in March that was only in slow 7 conditions and Latta says she doesn't want to see the track too heavy for him.
While held up in tight quarters for the first half of the home straight last time, in heavy 10 ground at Trentham on May 5, Lincoln Fury didn't hit the line hard like he's capable of.
"He needs to be not far from them turning in. And he wasn't helped that day by a slow start.
"I'll wait until race morning to see how the track is and what's scratched. We may wait for Wanganui next Saturday.
"His work has been good but he just may be coming to the end of his preparation.''
Our runners this week:
How our trainer rates them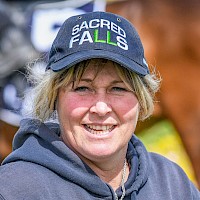 Lisa's comments
Thursday at Wanganui
Race 7: Father Lenihan
"He strikes a strong field for a mid-week race but I have seen good improvement in his work in recent weeks. Robbie Hannam has been galloping him and has been very happy with his work. He will strike a better track (slow 8 today) and there is no rain forecast so it should improve further. I expect a much better run from him."
Friday at Taupo
Race 5: Platinum Road
"He has come up with the outside draw of 13 but we really have to start him on a better track to get a line on where we are with him. We will ride him where he lands but he is obviously going to need luck in the running. His work has been good but his coat is still not quite there so he will improve with this run."
Race 6: Princess Amelie
"She's drawn very wide and if the ballots get a start it will take her out of play being out there as she has to go forward, she's no good going back. There's a race at Waverley in a couple of weeks that we might run in instead."
Saturday at Hastings
Race 9: Lincoln Hills
"He has drawn a touch wide in 11 in a very good field. We are going to have to go back from that draw and ride him for luck. His work has been good but I do have a reservation about him on a good 3 track as I think he is better with the fire just out of the ground. It looks like there's reasonable pace in the race, which may help our cause, and hopefully he can get a nice run through them."