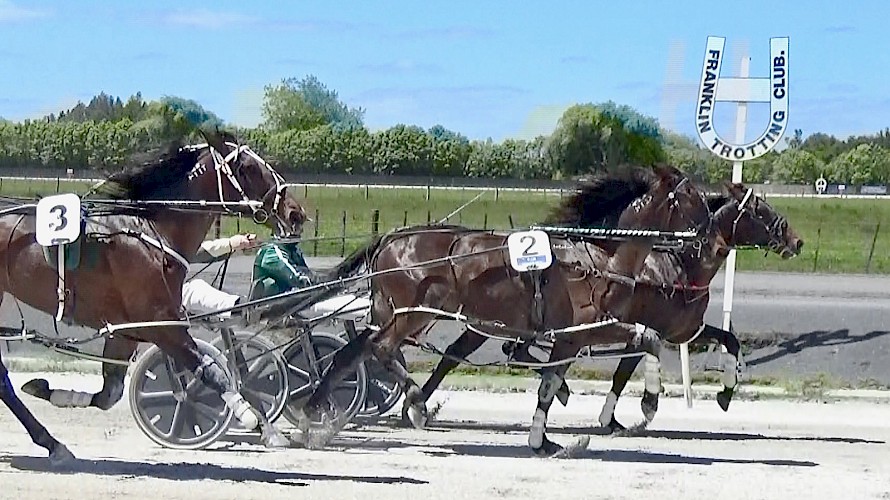 Perfect Stride new top dog as Double Or Nothing gets the unkindest cut of all
Chicago Bull's brother Perfect Stride has shot to the top of the charts for the first Young Guns heat at Auckland in five weeks.
That's because when the Bettor's Delight colt led all the way to win his qualifying heat at Pukekohe today his No. 1 sparring mate was missing, probably feeling a little sorry for himself in a nearby paddock at Lincoln Farms.
Double Or Nothing was gelded this week, his raging hormones getting the better of him, and trainer Ray Green has given him two weeks off to get over the unkindest cut of all.
"It's disappointing because I love keeping them colts - they are stronger - but his hormones started kicking in and he just wasn't concentrating.
"He was looking to run off during his work, laying in on other horses, and just being a typical colt starting to think about other things, screaming out to the fillies.''
Double Or Nothing shows his style.Green says Double Of Nothing, whose stable name is Louie, wasn't holding his condition very well either, obviously carrying on like a teenage boy.
"Providing he comes through the gelding all right he'll be jogging again in a couple of weeks and then he'll be back into it.''
Green anticipates Double Or Nothing won't be ready in time to contest the first Young Guns heat on December 14 but will be back on top of his game come the second heat on New Year's Eve.
Green expects Double Or Nothing will pick up condition now he's been gelded, just like stablemate Man Of Action, who ran Perfect Stride to a head in today's mile heat.
"He was getting impossible to handle as a colt, putting the boot in all the time, but he boomed afterwards and his manners are now impeccable.''
Handled by Maurice McKendry today, Man Of Action was the complete professional, trailling all the way, before pulling out to challenge 400 metres out.
He was travelling well at the finish of the heat, run in a slick 2:04.9, the same time recorded by Double Or Nothing when he beat Perfect Stride in their last workout clash.
Just a length back in third came Lincoln Farms' Sir Tiger, whose effort was perhaps the most encouraging of all, staying with his stablemates through closing sectionals of 59.4 and 28.3, sprinting up three wide at the 400m.
Driver Andrew Sharpe said the horse "felt super."
"He obviously got tired late but it was the first time he's been asked to go that speed and the first time against those other horses.''
Green wasn't surprised by the run, going on his recent trackwork when the big horse has shown marked improvement.
By Lincoln Farms' own stallion Sir Lincoln, Sir Tiger is the third foal out of Tigers Delight, whose dam Tigerish won 15 races and $491,000 for Pam and Lindsay Turner.
Lincoln Farms raced the best of Tigerish's progeny, Justa Tiger, who won nine races for Green.
But he still has a way to go to catch Perfect Stride who continues to impress with the way he goes about his work, driver Zachary Butcher not having to ask him for his best today.
All three Lincoln Farms' horses qualified, pacing under the required time of 2:06.4.

Perfect Stride leads Man Of Action and Sir Tiger with a lap to run in their mile qualifying heat at Pukekohe today.
Our runners this week
Friday night at Auckland
Sunday at Menangle
Make Way.