Perfect Stride scores a perfect 10, and so does a brave Sir Tiger
Winner Perfect Stride and runner-up Sir Tiger both score 10 out of 10 from trainer Ray Green for their performances at Alexandra Park on Friday night.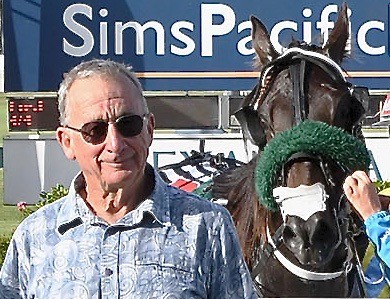 Trainer Ray Green … a relieved man in the winner's circle.Reflecting on a night which saw the Lincoln Farms' two-year-olds run first, second, third, fifth, sixth and eighth in the opening race, Green sees plenty of upside in his baby platoon, some for their immediate futures and others for their potential as three-year-olds.
In Perfect Stride he says he has "a proper little professional" whose 1:57.9 mile rate win augurs really well for the $100,000 Young Guns Final on March 8.
"He only does what he has to and he won quite easily in the end,'' says Green of the colt's perfect performance, leading out, trailing and sprinting too quickly for his rivals up the passing lane in a 55.7 last half.
"Once Zac showed him daylight he took off - he didn't have to chase him at all.''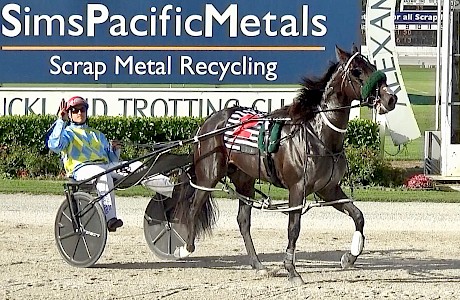 Perfect Stride … jogged it according to driver Zachary Butcher.Zachary Butcher's summary was even more finite: "He just jogged it. I was rapt with him.''
Green says while Perfect Stride has a turn of foot that none of his stablemates can match at the moment you have to temper that with the fact he received "a wonderful trip", trailing Double Or Nothing.
"If he hadn't won you'd be asking questions.''
Perfect Stride, by champion stallion Bettor's Delight out of Chicago Blues, cost leading Australian owner Emilio Rosati $190,000 at last year's Christchurch yearling sale and Green says he showed from day one he had inherited the family ability of his older brother Chicago Bull.
Sir Tiger 10/10
Runner-up Sir Tiger, a more modest $22,500 yearling, on the other hand has taken some giant steps in the last six weeks, culminating in last night's display which Green had no hesitation in scoring 10/10.
"His run was excellent, you couldn't fault it, it was the run of the race,'' says Green.
Trapped three wide round the first bend, Sir Tiger pressed forward to find the death seat, where he got "on the nickel only a little,'' according to driver Andre Poutama.
Despite his hard trip, Sir Tiger dug in for the fight up the home straight, and on a 27.2 quarter did remarkably well to be still finishing on at the post, grabbing second from pacemaker Double Or Nothing right on the post.
"He's tough and he's going to make a great racehorse,'' says Green.
By Lincoln Farms' own stallion Sir Lincoln, Sir Tiger is the third foal out of Tigers Delight, whose dam Tigerish won 15 races and $491,000 for Pam and Lindsay Turner.
Lincoln Farms raced the best of Tigerish's progeny, Justa Tiger, who won nine races for Green.
Double Or Nothing 9/10
Green scores Double Or Nothing a 9/10 for "doing everything correctly.
Spearing to the front out of the gate Double Or Nothing was "cruising", according to driver David Butcher, turning for home.
"When I asked him to quicken he couldn't go any faster.''
Green doesn't mark the horse down for being outsprinted by Perfect Stride, "who had the drop on him".
"He's a lanky horse who hasn't filled out yet so he's not as strong as he could be.
"But he's a lovely horse, a real tradesman, and you can't fault what he's done.
"He'll get better as the season goes on and as a three-year-old. He'll come to it.''
A $100,000 yearling, Double Or Nothing is a half brother to top pacer Let It Ride, now racing for Tim Butt in Australia.
Copy That 7/10
Copy That, who missed fourth in a close photo-finish, looks the bargain of the lot, costing Green's wife Debbie just $7000.
And had his manners not let him down last night, he would have scored higher than 7/10.
Copy That, by American Ideal, lost ground in a break 1400 metres out when Emmber galloped and checked Tommy Lincoln into a break in front of him.
"He's very green and would have gone out in sympathy,'' says Green.
"He's got a few issues we need to work through but he hasn't got a clue what's going on at the moment.
"Once he learns he'll get better and better because he's got a lot of speed.''
Copy That didn't help himself in the run home by laying on his pole but once driver Tony Herlihy got him going "he really smoked the last 50 metres" closing to three lengths of the winner at the line.
"He's not the complete package yet but when he gets it he could be quite good.''
Man Of Action 6/10
Man Of Action, whom Green scores 6/10 for his run, did nothing wrong when sixth, getting a sweet trip three back on the markers, but he doesn't have the pick-up just yet to trouble the precocious two-year-olds.
"He's a lovely, big horse who's been a slow developer and he's not strong enough yet. When they sprinted a sharp quarter he couldn't quite cope.
"He'll turn into a tidy horse and might win a race somewhere later in the season but when he starts off as a three-year-old he'll be that much stronger.''
Tommy Lincoln 5/10
Tommy Lincoln had a few excuses and could be forgiven a little for beating only one home but he gets only 5/10 from Green.
Tommy Lincoln became unsettled, according to driver Andrew Drake, after the half hour delay in getting an ambulance on course saw horses forced to return to the stables.
And he copped it early in the race too when Embber galloped in this face, checking him into a gallop.
The stewards also reported Tommy Lincoln appeared to jump a shadow 400 metres from home, just as he was about to tack onto the field, which him saw pace very roughly.
It was later revealed he lost a shoe during the gallop explaining why he took some time to regain a smooth gait.
"Andrew said he thought he might have jumped but I think he got his head down. He didn't have an overcheck on because he's been training fine like that, but we'll put one on next time to stop him getting his head too low.''
Green says Tommy Lincoln probably panicked a little in his first time at the races.
"He's big (hence his stable name Timber), not an early two-year-old type at all, but he'll improve as he gets more experience.
Green will now consider giving Man Of Action and Tommy Lincoln a break and press ahead to the next Young Guns colts' and geldings' heat on February 8 with Perfect Stride, Sir Tiger, Double Or Nothing, Copy That and newcomer Line Up.
Our runners this week
Friday night at Auckland
Sunday at Menangle
Make Way.