Phew! The long wait for talented Singapore galloper Cru Bourgeois is nearly over
It's been a long haul but Lincoln Farms and its partners in Cru Bourgeois are getting closer to seeing the injury-plagued galloper back on the racetrack in Singapore.
Cru Bourgeois hasn't raced for 13 months when he lined up an even money favourite at Kranji after two seconds to open his career.
But disaster struck when he became upset in the stalls and bashed his head and, inexplicably, was still allowed to run even though he had blood coming out his nostril.
It was later discovered Cru Bourgeois had broken a bone above his eye which required surgery and it was many months before he was fit enough to race again.
Just when trainer Stephen Gray had picked out a race for him last September he went sore and, luckily, Gray's early action found a slight suspensory ligament change just below his knee.
Cru Bourgeois after his morning session on the treadmill.Since then the Burgundy five-year-old has been on a strictly regimented rehab programme designed by internationally recognised vet Dr Alan Davies.
"We've done the right thing by him and done a complete rehab on the treadmill.
"With tendon and ligament issues you have two options - time and time.
"But instead of having 12 months off, he's had six months plus all this treadmill work to strengthen the fibres and get his leg stronger. It just gives them a better chance.
"It's always disappointing when you have an injury like this but luckily we stopped in time."
The September 11 report by Singapore vet Dan Shaw found minor disruption to the tendon fibres in his off foreleg.
"It's only a minor lesion but it has the potential to be a catastrophic injury if he continues to race."
Gray said it was no different from a football player injuring his ACL or tendon.
"They just need time. And this horse has a lot of talent so he's worth waiting for."
After completing the programme, Gray followed Davies' advice and gave Cru Bourgeois three weeks off, restricting his exercise to swimming.
"He's been back on the treadmill now for two weeks, we're increasing the intensity of his work, and he'll soon be back working on the track.
"He's still a little way away from the races but he's quite fit. I'll be extremely surprised if anything goes wrong with him now. His leg looks terrific."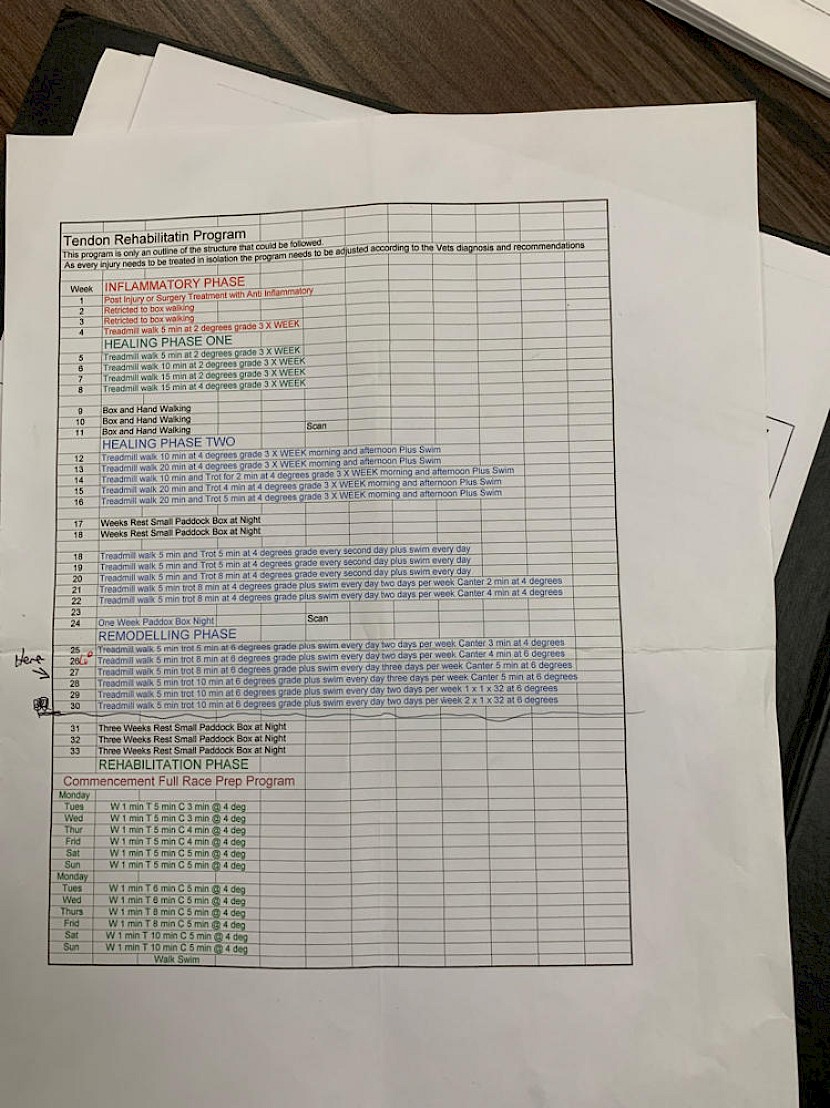 The week by week rehab programme that Cru Bourgeois has been following.