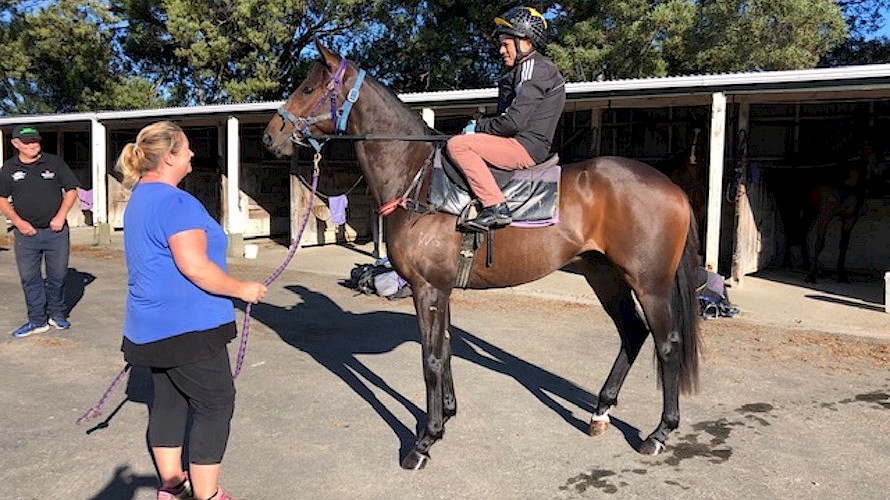 Platinum Appeal on the improve and side winkers will help next time
Per Incanto filly Platinum Appeal looked an improver for trainer Lisa Latta and Lincoln Farms when finishing a good second at today's Levin jumpouts.
Robbie Hannam had the three-year-old outside the leader all the way in the five-horse heat and she fought on well to be beaten little more than half a length.
"Robbie felt she will be better with some side winkers as she did not travel up in the running, so we will do that when we head back to the jumpouts in a fortnight,'' says Latta.
"She is still carrying a bit of condition so will improve with today's run.''
Platinum Appeal has raced only once, last June, when sixth at Riccarton in a two-year-old stakes race.
In the same heat, three-year-old Alamosa colt Abe Lincoln (Tim Johnson) was slow out of the gates.
With most of the field travelling off the fence in the heavy going he came up the inside to not be far off them but disappointed in the run home to finish last.
"He may need some blinkers,'' says Latta.
Two-year-old Sacred Falls gelding Hurricane Lincoln jumped out in a four-horse field and, while he ran last, Hannam was quite complimentary.
"He settled last on the outside but struggled noticeably in the ground," says Latta. "Robbie noted he had very much a stayer's action and said he gave him a good feel.
"Robbie says he needs to strengthen up and thinks he is well worth looking after. So I'll be putting him out into the paddock until June.''
Benny Lincoln, a Jimmy Choux two-year-old, jumped out in a five horse field and ended up fourth just in behind the leaders.
"When Robbie let his head go and asked him to quicken he was all at sea in the ground.
"He ran fourth, about three lengths from the first three, but Robbie said the horse gave him a good feel and simply couldn't cope with the heavy track.''
Benny Lincoln will have another jumpout on April 17.
Lincoln light
News in brief
GREEN FIBRILLATES: Lincoln Green had an atrial fibrillation at Otaki on Thursday and will need a vet clearance before racing again. The horse raced keenly early but gave ground quickly near the 600 metre mark and rider Robbie Hannam did not persevere with him in the run home when he suspected there was something amiss.