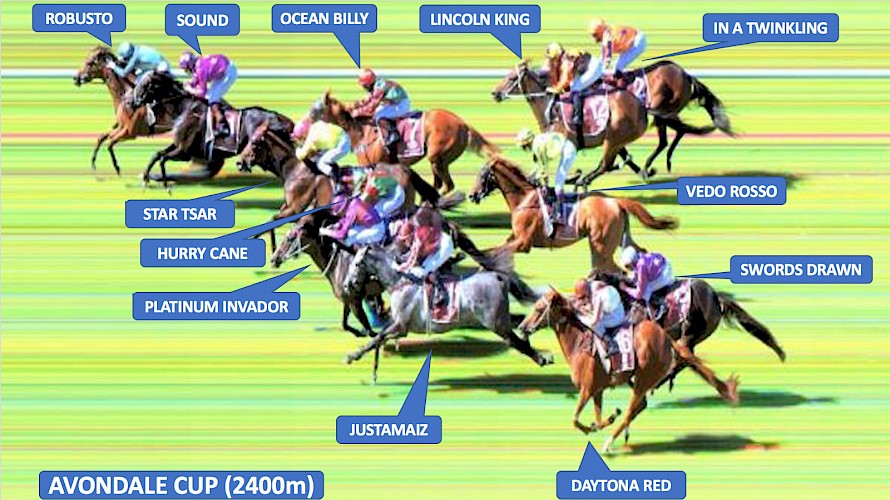 Platinum Invador 'super' in Avondale Cup hampered by snail's pace and home turn check
Platinum Invador might not have won today's Avondale Cup but his finishing burst after an interrupted run thrilled his connections.
Buried back on the fence and the victim of a home turn incident that cost him two lengths, Platinum Invador really motored when he found clear air, getting within 1.3 lengths of winner Robusto to run fourth.
Co-owner Neville McAlister described the run as "super", especially as Lisa Allpress on Sergeant Blast was allowed to go at a snail's pace until taken on by Ocean Billy 850 metres out.
Robusto's winning time of 2:30.48 was more than four seconds slower than January's City Of Auckland Cup over the same trip when Platinum Invador was pipped the smallest of margins possible.
"They ran it a slow as some of those races in Aussie," McAlister said. "So I thought he went huge to get up for fourth."
Ironically, while trainer Lisa Latta and the camp had been happy after Platinum Invador drew two, compared with so many previous wide draws, McAlister said it proved his undoing.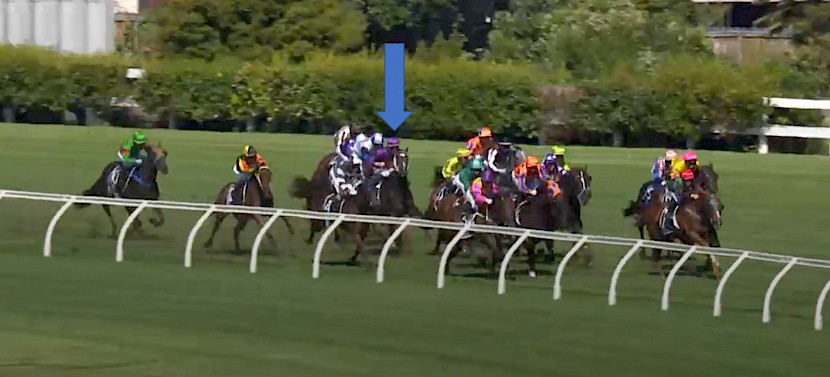 Platinum Invador's head goes up in the air and he loses momentum as Ryan Elliot, arrowed, hauls sharply on his right rein on the home turn.Rider Ryan Elliot became bottled up on the fence and couldn't get off, and when he did move out on the home turn to challenge, he had to haul sharply on his right rein to escape trouble, Elliot later claiming he had been "chopped off." The stewards reported Platinum Invador had to be steadied to avoid the heels of Vedo Rosso.
Stablemate Lincoln King, who had been two lengths behind Platinum Invador into the turn, hugged the rail instead and came out of it ahead of him.
"The rail being out eight metres counted against him too," McAlister said. "That made it harder for him to make up ground from the back."
Once angled wider in the straight Platinum Invador really hit the line hard, with margins of a neck, three-quarters of a length, a head, a head and a nose separating the first seven home.
One of the other eye-catchers in the busy finish was fifth-placed Hurry Cane who came from behind Platinum Invador also earning plenty of friends for the $500,000 Auckland Cup on March 13.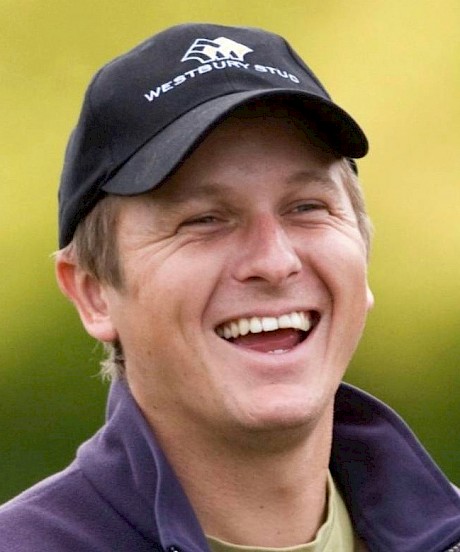 Stephen Marsh … "Lincoln King has no tactical early speed."Trainer Stephen Marsh was left ruing Lincoln King's lack of tactical early speed after he got back to near last before making up solid ground for Danielle Johnson to finish ninth but only 2.9 lengths from the winner.
"As Danielle says he just doesn't have any of that early gas to get forward a little bit. He got back in a nice enough spot then lost ground, lost ground and ended up close to last.
"He was certainly good enough late and when it looked like he was going to duck back to the inside and attack the line it got a bit tight for room."
Marsh says Lincoln King really needs a better draw than today's 15 in the Auckland Cup.
"We'll try to go forward in the cup and at least try to get into a more prominent position.
"But he's gone well enough today and he had a bit of a blow afterwards so he'll be bang on for the cup."
Johnson has confirmed she will ride the New Zealand Cup runner-up on March 13.
Our runners this week:
How our trainer rates them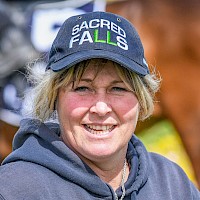 Lisa's comments
Saturday at Otaki
Race 2: Lincoln Kruz
1.08pm
"He galloped nicely this morning. Nine is a tricky draw but his best runs have been when he is ridden back. Hopefully they run along up front which will give him the chance to finish the race off. He looks fantastic and is well in himself."
Race 5: Platinum Spirit
2.47pm
"He was disappointing last start but we have had his back done since, which was out, and he has really brightened up over the last 10 days. The top three look the ones to beat but he has raced well at Otaki before and the way he has bounced back I expect him to be very competitive. This race fits in well with the St Leger at Trentham in mid March. Sam O'Malley rides."
Race 8: Father Lenihan
4.35pm
"He has drawn two and Hazel Schofer has been booked, claiming 2kg down to 60kg. He galloped well yesterday but this morning he was just a little bit off on his near side front and it is in his foot. We are on top of it, poulticing him up, so two days out from the race we hope he'll get there but a decision won't be made until race morning."