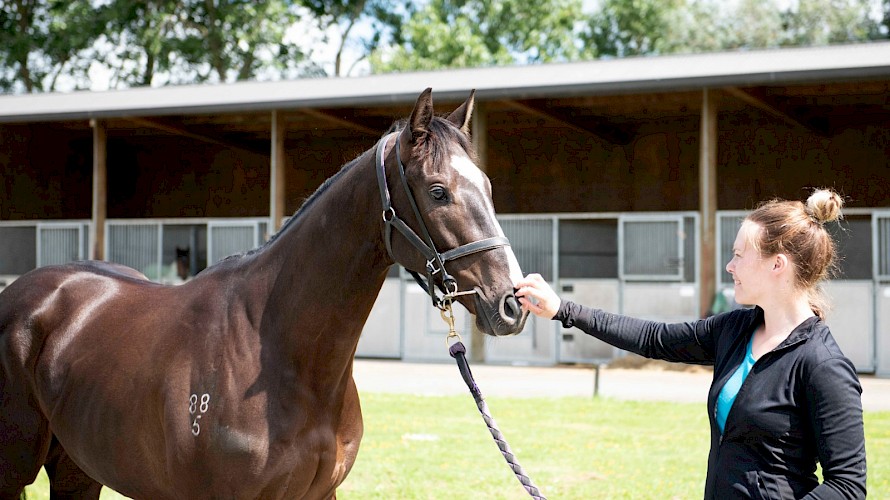 Platinum Invador won't take any prisoners at Otaki - especially if it's wet
Anyone who saw Platinum Invador's big finishing burst last start will be on his side at Otaki on Thursday - and the forecasted rain will only help him.
The Redwood three-year-old showed in only his third start at Trentham on December 8 that he has a future when he rocketed home from an impossible position to finish only two and a half lengths from the winner.
It was a real eye-opening run considering he went back from a wide draw and was still among the tailenders on the inner turning for home.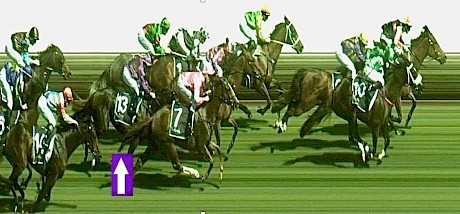 Platinum Invador, arrowed, is flying after being clear very late at Trentham last start.Rider Robbie Hannam was in heavy traffic for most of the run home, frustrated for a run until 100 metres out when he flashed through a gap, the nine in his formline hiding a terrific effort.
"If the gaps had opened up sooner he had to run second or third,'' says trainer Lisa Latta.
"He's taken a while to learn so it was a great educational run.''
Latta was very pleased with the way Platinum Invador galloped on Tuesday morning and says no amount of rain will worry him.
More than 20ml is forecasted to fall in Palmerston North from tonight, the track almost certain to be downgraded from its present dead4.
And that, says Latta, will be a big help to him, as wet ground would help negate his outside barrier draw.
"The Redwoods don't mind a bit of rain and at Otaki so long as it's dead to slow they can come from anywhere and win.''
Thursday's race is again over 1600 metres, perfect for this stage of his preparation, by Latta says the best of Platinum Invador won't be seen until he steps over more ground.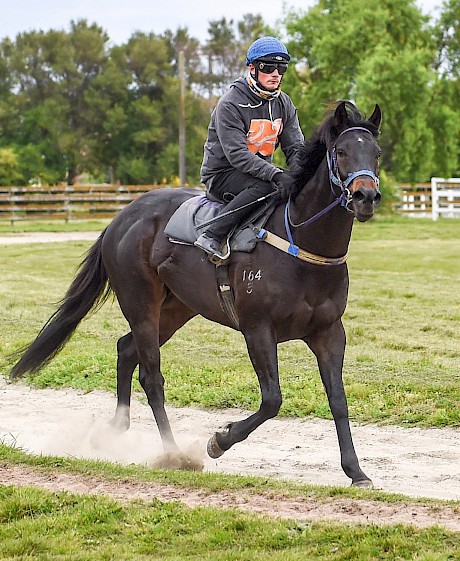 Lincoln Sky … little and laid back. PHOTO: Royden Williams.Latta has declared Madan Singh to claim 2kg for Lincoln Sky in the second race, 1200 metres the preferred option on a slower track, rather than the 1400 metres of race six.
"But I'll wait to see what the weather does before deciding which race to run in.
"He ran a good race when resuming at Wanganui, I have been happy with his progress since, and the rain will help him.
"He's only a little fella, very much like his brother Lincoln Star, and very laid back, and will be a lot better in the autumn.''
Lincoln Sky raced on the pace in his first-up run at Wanganui, holding his ground down the stretch to run fifth behind Vinabeel.
His half brother Ace King has won two races in Singapore.
Latta is hoping Alesha Lincoln can show something on debut in race eight but is less than enamoured with her ability.
"She's had a couple of decent preparations and would need to show something in what is not much of a field.''
Latta says Alesha Lincoln "has gone OK" for third in two jumpouts at Levin in October and November.
By Alamosa, Alesha Lincoln is out of Desert Inn, who has produced a string of Lincoln horses, none of which have been much chop.
Lincoln light
News in brief
GREEN FIBRILLATES: Lincoln Green had an atrial fibrillation at Otaki on Thursday and will need a vet clearance before racing again. The horse raced keenly early but gave ground quickly near the 600 metre mark and rider Robbie Hannam did not persevere with him in the run home when he suspected there was something amiss.