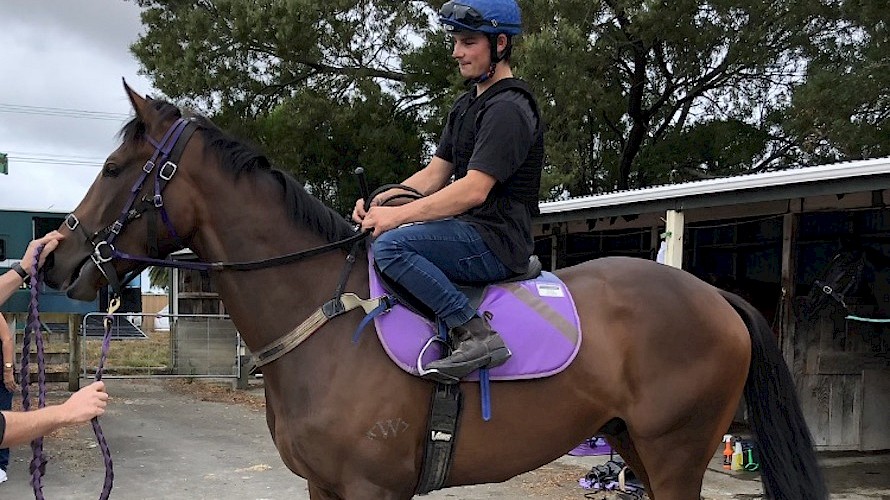 Platinum Road has unexposed jumpout form and a top rider for his debut on Saturday
On debut, in a stakes race against three winners, and with no official trial form, most punters will put the line through Platinum Road at Trentham on Saturday.
The bookies certainly don't rate the horse, opening him up at $41 and $5.50. But the colt has shown plenty of ability in three jumpouts for trainer Lisa Latta and, with a good draw and top jockey Leith Innes aboard, could surprise.
"He worked very nicely during the week and I am happy with him going into his debut,'' says Latta.
"He is still learning about the game but from two he should be able to get a nice run just in behind the pace. I expect him to run a bold race.''
An indication of the regard the colt is held in is that he holds a nomination for the $225,000 Manawatu Sires Produce Stakes (1400m) on March 30. He would need to win on Saturday to have any chance of making the Group I field.
Longer term, Latta is looking at taking the colt to Riccarton for the $50,000 Champagne Stakes (1200m) on May 4 at Riccarton.
"I think he will be better over 1400 metres and 1600 metres.''
Latta is wary of being too confident with Platinum Road on Saturday given he is up against smart Trentham debut winner Equinox, Wanganui winner In Fashion and Wairoa winner Serena.
But Latta has sung the praises of the two-year-old since his first jumpout on December 2 when he was slow out but let down nicely in the straight over 600 metres at Levin, finishing third of four.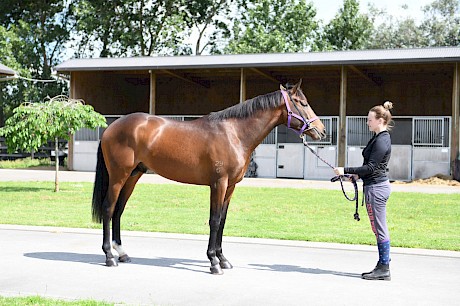 Platinum Road has a bit of class about him. PHOTO: Royden Williams."This colt has a bit of class about him and is a very nice mover,'' Latta said that day.
Two weeks later, in a four-horse field over 850 metres, Platinum Road powered home to win easily.
Latta's comment that day: "He has a very nice galloping action and I think he is a promising horse in the making.''
Platinum Road's progress went on hold for a while after that when the decision was made to geld him to avoid problems with his larger than normal testicles.
When he reappeared on February 20, again over 850 metres at the Levin jumpouts, he was an even better galloper, according to Latta.
Deliberately given a quiet run, he quickened nicely in the straight and, under no pressure, ran third, beaten less than a length.
"It was a very pleasing jumpout,'' Latta said on the day. "He is a horse with a lot of ability and he was certainly a lot better behaved after being gelded.''
Today Latta sees a horse with a really good temperament who is certainly capable of running into the money first-up.
The Trentham track was today a dead 6 and with little rain forecast until after the meeting, Latta says it should be perfect for him.
Platinum Road, who cost owners Neville McAlister and Lincoln Farms $60,000 as a Karaka yearling, is by the relatively unknown sire Declaration Of War who shuttled to Australia for two seasons from Coolmore Stud in Ireland.
A Group I winning son of War Front, he now stands at a fee of US$35,000 in Kentucky.
The colt's dam Snow Petal won two races here from only 11 starts.
Te Akau's Equinox looks the one to beat after his strong 1000 metre debut win at Trentham. He failed last time on slow conditions in the Matamata Slipper so would not want the track to deteriorate.
Our runners this week:
How our trainers rate them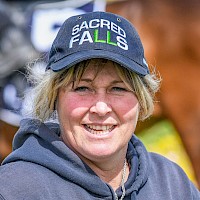 Lisa's comments
Wednesday at Hastings
Race 5 & 7: Platinum Appeal
"She hasn't been 100% in her action in the last three or four days and we have some foot issues to sort out. She won't be running. We'll wait for Palmy next week.''
Race 6: Authentic Charm
"I have chosen to back her up as this will be one of the last good tracks we will get - it's a dead 4 today. We've got the in-form Zinjete Moki who claims 2kg down to 54.5kg. She meets a small line-up and this looks like a nice race for her in her last run for the season.''
Race 8: Lincoln's Gal
"She has come through her last start at Woodville very well. She beat herself that day when she missed the kick and ran home very well. With the rating 65 having being split, it means she meets a small but even field. From the good draw Jonathan Riddell should be able to possie up and be right in the finish.''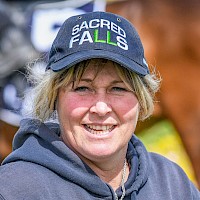 Lisa's comments
Saturday at Trentham
Race 7: Platinum Rapper
"She galloped really well on Thursday and has progressed very well since her last run. The big, roomy track suits her and the conditions won't worry her so I'm confident she's a big chance."
Race 8: Lincoln Fury
"I don't want the track too heavy for him. I'll wait until race morning to see how it is and what's scratched but we may wait for Wanganui next Saturday. His work has been good but he just may be coming to the end of his preparation.''
Lincoln light
News in brief
GREEN FIBRILLATES: Lincoln Green had an atrial fibrillation at Otaki on Thursday and will need a vet clearance before racing again. The horse raced keenly early but gave ground quickly near the 600 metre mark and rider Robbie Hannam did not persevere with him in the run home when he suspected there was something amiss.