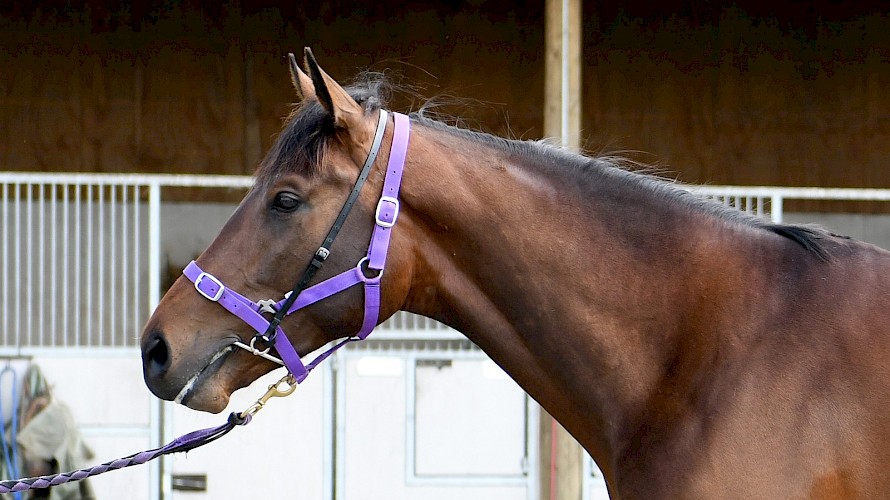 Platinum Road looks the goods but, sorry pal, it's off to the vets for you
Platinum Road will have an unusual reward for his impressive win at today's Levin jumpouts - the Declaration Of War colt is off to the vets for the unkindest cut of all.
Trainer Lisa Latta was really taken by what she saw in today's 850 metre maiden heat when the horse jumped well and sat third in the four-horse field for Tim Johnson.
"When Tim got him round the corner and balanced up he brought him out into the open and he ran home strongly to win well.''
Platinum Road was clocked over the trip in 49.95 and beat the Johno Benner and Holly Wynyard-trained Super Easy colt Surtees.
"He has a very nice galloping action and I think he is a promising horse in the making.''
But Platinum Road is booked in for surgery at Southern Rangitikei Veterinary Service tomorrow where Tim Pearce will perform a closed gelding.
"He is a big strong individual and the gelding is necessary as he has a big set which is going to get in his way."
A closed gelding procedure, as opposed to an open one, is generally recommended for older horses with larger testicles and is done under a general anaesthetic. The incisions are stitched closed to reduce the risk of haemorrhage.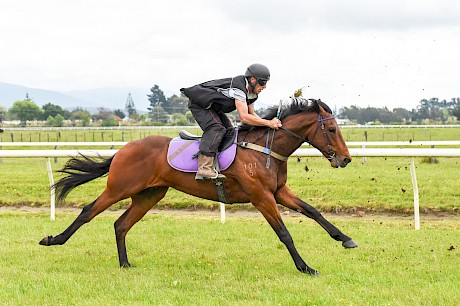 Platinum Spirit … can gallop but is still a little timid. PHOTO: Royden Williams.Latta's two-year-old Charm Spirit colt Platinum Spirit was also a winner in his 850 metre heat today, clocking a faster 48.32.
And while he will keep his manhood in the meantime, Latta hinted he too may eventually be gelded.
Robbie Hannam jumped the colt out well to lead the four-horse heat, with one rival outside him.
"He quickened up nicely in the straight to go on and win by a narrow margin,'' says Latta.
"The horse who ran second (a Krupt filly with Fraser Auret) has won two jumpouts impressively so it was a good effort.
"The freshen-up has done him good and we will head to the races after the New Year. He is still a little bit timid around other horses and he may need gelding in the future.''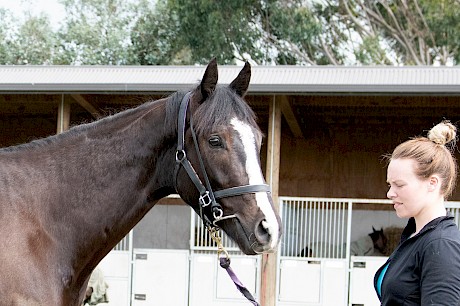 Strapper Marnie Purser with Lincoln Hanover who is worth looking after, says trainer Lisa Latta. PHOTO: Royden Williams.Lincoln Farms' third horse at the jumpouts, three-year-old Lincoln Hanover, could have won too but was put under no pressure by Hannam to run second in his 1000 metre heat.
"He sat third in the trail, was brought out in the open on turning in and coasted to the line.
"Robbie said he could have won and the horse felt much more like his old self.
"His coat is still quite wiry and dry so I think I'll give him ten days in the paddock and bring him in after the public holidays.
"This will do him the world of good and he will be ready to go at the end of January. He is a horse with ability and is worth looking after.''
Our runners this week:
How our trainer rates them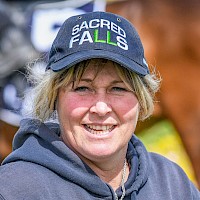 Lisa's comments
Saturday at Trentham
Race 1: Lincoln Valley
12.30pm
"He didn't have all favours last start- he was three wide without cover the trip and the effort told in the last bit. He also got squeezed up a little late. From the six draw we will go forward and I'm sure Lisa will have learned a lot from him in his last run. His work has been really good and I have added a nasal strip as he is quite a noisy breather and it may help. It's not an overly strong field and the big roomy track will suit."
Race 7: Platinum Spirit
4pm
"We are racing him out of his grade so he gets in at a nice light weight. Carrying 60kg last start was a really big ask and he got there a touch too soon. He has drawn awkwardly at 12 but he has the ability to put himself in the race if there's a lack of speed. He looks fantastic and still holds a nomination for the Wellington Cup next week but might need to gain a few more points to get into the field. Chris Dell rides."
Race 8: Father Lenihan
4.38pm
"The outside draw is tricky but Robbie knows him well - he's ridden him in three of his four wins - and I'm sure he will make him jump and put him on the speed. He's been out of the winner's circle for a while but he went a great race last start and this field is nowhere near as strong. We were going to step him up over ground but he sits so awkwardly in the ratings at 76 that he would be carrying the top weight of 62kg in a R74 2000m."