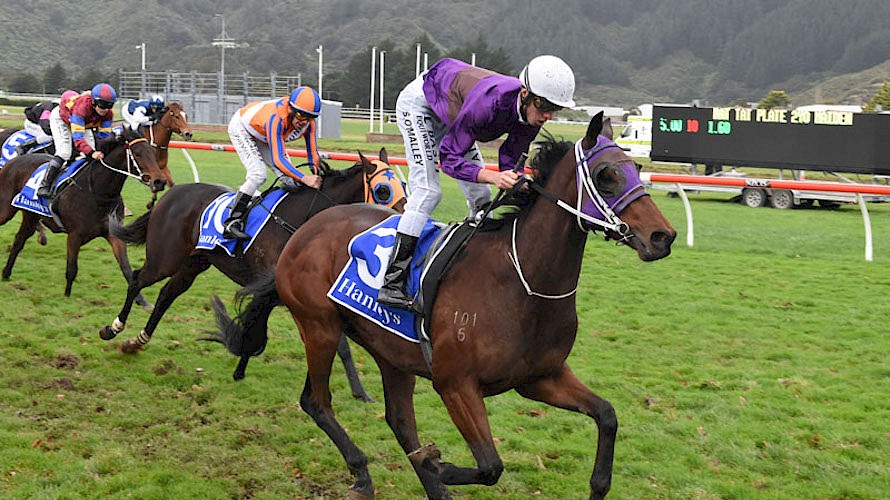 Platinum Spirit's sure got the looks and the ability - he's just a bit of a scaredy cat
The TV presenters raved about how good he looked before the race and afterwards race caller Tony Lee went on about how impressively he won.
But in reality Platinum Spirit's powerhouse win at Trentham on Saturday came as quite a surprise to both trainer Lisa Latta and co-owners Neville McAlister and Lincoln Farms.
And it happened only because apprentice Sam O'Malley carried out to the letter the instructions he was given to angle out very wide when making his run.
But it wasn't an attempt to escape the testing heavy 11 conditions which saw O'Malley scout so wide on the Charm Spirit colt - it was the two-year-old's fear of other horses which forced the manoeuvre.

Platinum Spirit , extreme left with plenty of room, sails home to score at Trentham."His problem is he's very timid and he tries to run away from other horses," says McAlister.
"We got away with it on Saturday because he got plenty of room on the wet track, but until we get on top of that he's going nowhere.''
McAlister says it's just a question now of continuing to educate the horse.
"He'll get his head round it once he knows there's no reason to be scared.
"We've always known he had ability. He's gone well at the jumpouts and trials when he's had no other horses around him or he's led. But you don't want to lead all the time and be a one trick pony, there's no future in that.''
After Platinum Spirit's fresh-up run at Hastings, when he beat only one home, Latta took the colt back to the trials.
"We took him back to last and made him come through them without pressuring him.''
On Saturday Platinum Spirit also had blinkers to keep him focussed and from the time O'Malley found the outside fence early in the run home he looked on track to finish well.
But considering he was still second last, and a big margin behind the leaders, neither Latta nor McAlister were hoping for any more than a midfield finish.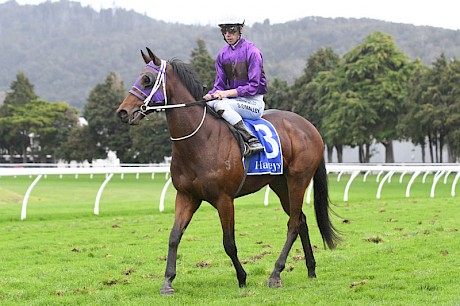 Sam O'Malley brings Platinum Spirit back to scale after his impressive win. PHOTO: Peter Rubery/Race Images.But Platinum Spirit maintained a strong burst for the entire home straight, roaring past Te Akau's Rhapsody In Blue and stablemate Free To Shine close to the post to win by one and a half lengths.
"We don't know how strong the opposition was but he made up a massive amount of ground.''
Latta will now test Platinum Spirit at Awapuni on July 6 to see if he can repeat the effort and be a contender for the $50,000 Ryder Stakes at Otaki on July 27.
"He's not bred to be a two-year-old - he's not brilliant enough - but wet tracks turn these races into staying tests.
He's bred to be a classic three-year-old and to run over 1600 metres and 2000 metres.
"Hopefully he's not just a mudder as it would be nice to have a go at the 2000 Guineas. He's a half brother to some very good performers.''
Bought for $80,000 as a yearling at Karaka, Platinum Spirit's dam Mia Le Fay has left Thewayweare (7 wins), Lady Le Fay (6 wins) and The Tidy Express (5 wins).
"He's out of a Zabeel mare and he's got that Zabeel head on him. He's a striking looking horse and even at Hawkes Bay they raved about how good he looked.''
McAlister says it's too soon to know if Charm Spirit will do the job as a stallion as his oldest crop are just two-year-olds. But he's already left Matamata Breeders' Stakes winner Aretha.
"Hopefully we can have a look at a race like the Wanganui Guineas in the new season and then we'll start to get an idea on whether he's a wet tracker or not.''