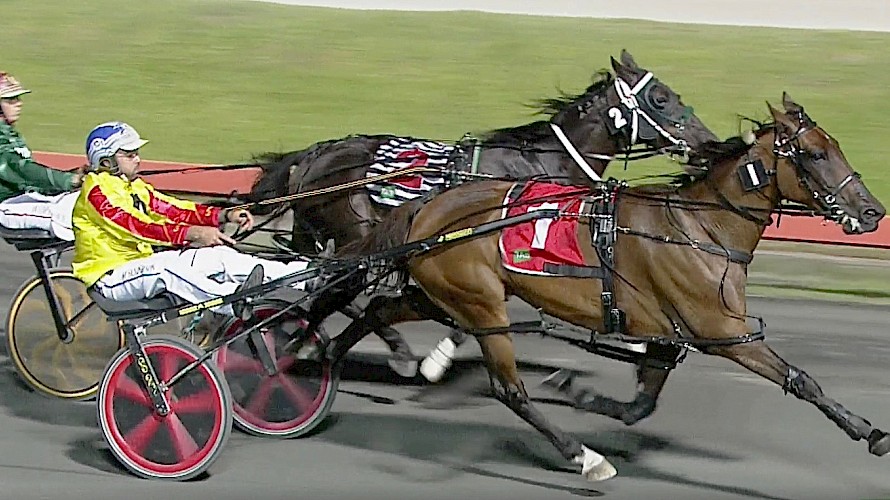 Positive signs for Hustler but more X-rays in two weeks to confirm no fractures
Watching Northview Hustler whistle up the passing lane to run the winner close at Albion Park last Saturday night you'd hardly have suspected there was anything wrong with him.
It was more like the Hustler of old as he all but caught hot favourite Smooth Showgirl, whose driver Adam Sanderson was later fined for running his early sectionals too slowly, turning the race into only a sprint home.
But trainer Al Barnes still wasn't happy and after weeks of worrying about some filling in the horse's near front fetlock, he decided to get him X-rayed yesterday.
And what vets found explained a lot about why he's struggled with the horse this campaign - and put his mind to rest that there's nothing dramatically wrong with him.
"The X-rays didn't find any structural problems, which is a great result because I was expecting the worst, thinking it would be a bone chip."
Al Barnes … "We're not out of the woods yet."What the investigation did reveal was a lot of blood around the joint, blood which could have been sitting there for eight to 10 weeks, with resulting pressure that has kept the horse from performing up to his best.
"I think the blood that's been sitting there created the infection which burst out in his feet before that race in Sydney.
"It would certainly explain why we've struggled to get him fit this time in - he's not normally a hard horse to get right but he just hasn't been as sharp as usual.
"We don't know what caused the haemorrhage, but it would have been trauma of some kind - he could have whacked it in a race or when working, who knows?"
Barnes likened it to dropping something heavy on your foot, where the blood vessels burst but no bones are broken.
"It's not a joint problem, the fluid in the joint is healthy, but there's a lot of blood surrounding it."
While the filled fetlock would normally suggest a fracture of some kind, Barnes says Hustler didn't trot up lame before the vets yesterday.
"I can't see it being a fracture because he's too sound. But you never know and we're not out of the woods just yet.
"He has to have two weeks box rest and then we'll go back for more X-rays when the swelling has come down and things will be more visible. It may yet be a hairline fracture."
While the injury is in the same leg as the one which saw Hustler sidelined last year with a minor tendon tear, Barnes says the tendon is fine.
"All the signs are positive and the vet didn't have to inject the leg yesterday.
"We'll let it heal and see how it looks in two weeks."
Saturday's runners-up cheque of $2389 was Hustler's first placing in five starts this campaign, but also his first crack at a distance longer than 1660 metres, over which he has never won.
His career stats stand at 60 starts for 13 wins, nine placings and $183,857 in stakes.
Our runners this week
Wednesday night at Auckland
Franco Nandor, Captain Nemo, Tommy Lincoln, Man Of Action, American Dealer, Copy That.