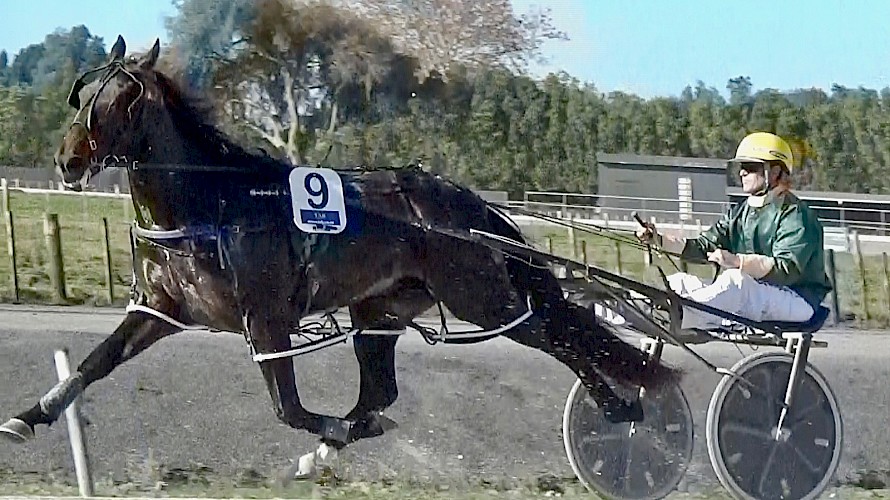 Quality youngster Perfect Stride to cap perfect night for Green at Cambridge on Thursday
Perfect Stride looks a past-the-post proposition on Thursday night at Cambridge where Lincoln Farms has strong winning chances in three races.
The Lincoln green team seldom ventures past the Bombay hill but in newcomer Lindi Lincoln (race 3), the experienced Sir Tiger (race 5) and quality two-year-old Perfect Stride (race 8) it has three runners sure to be at short odds.
Trainer Ray Green says its hard to imagine Perfect Stride being beaten in the final event, despite it being his first race for three months.
Chicago Bull's little brother meets an ordinary line-up of rating 47 to 55 pacers, none of whom have shown the promise he has in just three starts.
"Against that field he'd have to get knocked over to get beaten. He's a quality little horse.''
Perfect Stride lost his winning chance on debut in the first Young Guns heat last December when he jumped a pile of poo and galloped briefly when ranging up to leader Smooth Deal turning for home.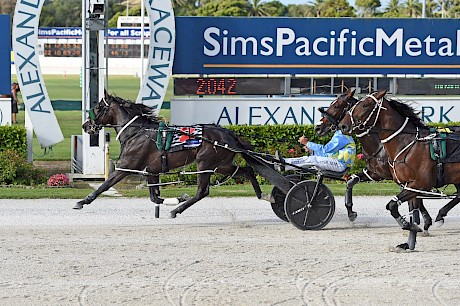 Perfect Stride sprints home to score easily at Auckland in January. PHOTO: Joel Gillan/Race Images.But he more than made amends second time of asking at Auckland when he trailed and dashed up the lane to score as he liked, prompting driver Zachary Butcher to say the little colt had potentially the most speed of any horse he'd driven.
It all went wrong for Perfect Stride after that, however, when he came down with a virus that hit Green's entire Pukekohe barn and it was a well below par version who ran out of puff when fourth in the Young Guns Final.
Green gave Perfect Stride plenty of time to get over his lingering illness after that, foregoing any chance of running in the rich Sires' Stakes or Harness Jewels.
But in just his second fast run back, on May 25, he showed he had lost none of his ability when powering home for second to Montana Lad at the Pukekohe workouts.
Even an awkward six draw on Thursday won't be enough to stop Perfect Stride whose main opposition might even come from new stablemate Kiwi Bloke.
One of the new Merv Butterworth recruits from the South Island, Kiwi Bloke let himself down at Auckland last week in his first run in the north, over-racing badly.
"Auckland was a bit too much for him - he was scrambling the whole way and didn't run on at all,'' says Green.
"But he gave his knee a decent hammering right-handed and going left-handed on Thursday will be a plus for him. But Perfect Stride will have him well covered.''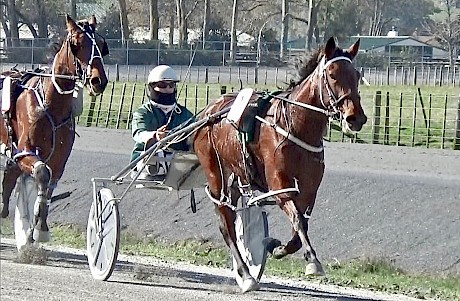 Lindi Lincoln has trained on well since this fast qualifying run.Green is looking forward to seeing what newcomer Lindi Lincoln can do in the third race.
Butterworth bought Lindi Lincoln from Green's wife Debbie after her latest trial at Pukekohe when she clocked one of the fastest qualifying times all season, 2:00.6 for a mile.
Showing good gate speed, Lindi Lincoln led all the way for Zachary Butcher, fighting off two serious challengers from the Steve Teller barn in the run home.
It was always on the cards that Butterworth would want the filly as he also bought her older brother Rupert Of Lincoln from the Greens and he has won six of his 12 races in Melbourne, out of the money only once in 12 starts there.
"She's trained on well and has to be a serious chance based on her trials and the field she meets.
"She's a versatile filly and would have to be favourite or at worst second favourite.
"You just have to bear in mind it's her first start and she's never been anywhere else but Pukekohe so it will all be a new experience for her.''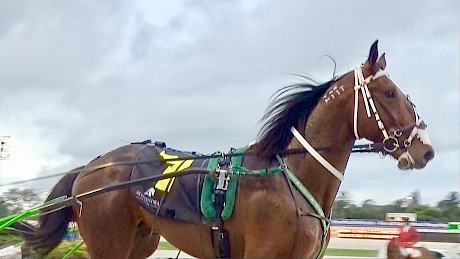 Sir Tiger finally gets a good draw and should lead and win.Sir Tiger, on the other hand, holds a big experience edge over his rivals in the fifth race, even his two stablemates Man Of Action and Billy Lincoln.
Back from an aborted Canterbury campaign when he simply could not compete with the All Stars' flying two-year-olds, Sir Tiger has tackled far stronger fields in his 10 starts, doing well to rack up five placings despite a terrible run of bad draws.
"He's been lucky with the (inside) draw this time and will be very hard to beat from there.
"I'm not too worried about the others, most of whom are very inexperienced horses.''
While Man Of Action has the raw ability to win, Green can't see him threatening Sir Tiger in only his second race and first for nearly five months.
"He's a lovely horse and he trialled well behind Double Or Nothing last time but I wouldn't expect him to do anything too fancy first-up.''
Billy Lincoln is in the same boat.
"He hasn't had any luck with the draws so far and has another bad one on Thursday. He'll need a little luck from there but just going round for experience will be good for him.
"I think he's going to need a good draw before he gets into it.''