Quinella for Sir Lincoln as Barkley stages remarkable recovery to grab Lincoln Skipper
Emerging stallion Sir Lincoln scored a first at Oamaru on Saturday siring the quinella in the last race when Barkley staged the run of the day to down Lincoln Skipper on the post.
And, judging by word around the traps, it won't be long before Lincoln Farms' former warrior leaves more winners down south.
Punters who made Barkley favourite for the maiden 2000 metre event could have been excused for tearing up their tickets when he galloped out of the gate and settled at the rear.
Even trainer-driver Chris McDowell thought he had no hope, poking the horse up on the markers just to save ground.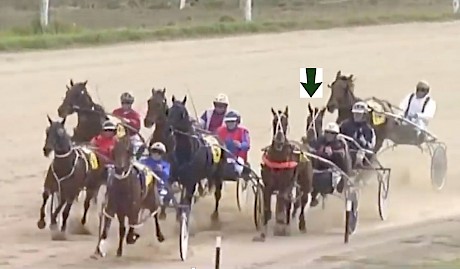 Barkley and Chris McDowell, arrowed, are badly held up by the tiring trailer Out Of The Shadows turning for home at Oamaru on Saturday.And when the trailing horse stopped in his lap before the home turn, badly holding him up, even commentator Jason Teaz declared he'd need luck.
"I never thought I could win until he hit the gap but then he really dashed through it,'' says McDowell.
Barkley still had three or four lengths to make up on Lincoln Skipper 250 metres out but powered up the markers to land the most improbable of wins by a neck.
"I always thought he had ability,'' says McDowell. "But he was a bit weak so we've taken our time with him.
"He developed a lot during his last break and he's come back really well.''
Barkley had been trialling well for McDowell, finishing third to Marianna Bromac at the Addington cup trials before running a nice third at Geraldine.
"I was happy with his run that day because it was a wet track and he misbehaved in the warmup and walking round and had almost run his race before the start.
"Yesterday it was like he'd grown up, like a switch had been flipped and he warmed up like a normal horse.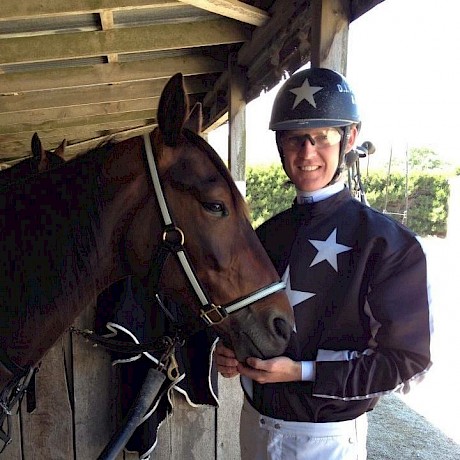 Chris McDowell is working four Sir Lincoln pacers and says they're all naturals."It was out of character for him to gallop though so we still have a few things to iron out.
"He's still green and is learning but the ability is there and we're not in any hurry.''
Barkley is one of four Sir Lincolns McDowell is working and he likes them all.
"They're all natural pacers and they feel good. They're big, gangly things who need to fill out their frames but they're strong looking.''
McDowell says all the reports he is hearing about Sir Lincoln's stock are positive.
"Everyone seems to have a Sir Lincoln that goes all right. There are a lot of two and three-year-olds so I expect they'll start popping up soon.''
McDowell bred Barkley, along with his mate Jarred Mills, giving Mills' father Blair a 10% share for loaning them the mare.
McDowell originally trained and drove Barkley's speedy half brother Gupta's Cullen.Itsa Trick had already left a number of useful pacers including the speedy Gupta's Cullen (5 wins), Tricky's Beaut (8 wins) and She'sa Tricky Bridge (7 wins).
McDowell knew exactly what sire he wanted to send her to after having seen Sir Lincoln close up when working at Ken Barron's stable, the Christchurch base trainer Ray Green used on his southern trips.
"It was next door to the place I trained my horses and he was a magnificent animal with a great record. I always thought I'd like to breed a horse to him one day.''
Sadly, the colt foal Itsa Trick left them was her last.
Put in foal again, she was being agisted on a farm property favoured by trotting trainers when she fell down a hill, broke a leg, and had to be put down.
Barkley showed talent even as a two-year-old, becoming the first qualifier for Sir Lincoln in November, 2016, when running fourth to Spankem at the Addington cup trials.
But McDowell wisely put him aside after one more trial and the horse now looks ready to reward him and the Mills.
Ironically, Jarred Mills' father-in-law, Grant McWhirter, is Lincoln Farms' southern representative, charged with promoting Sir Lincoln.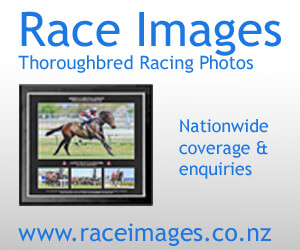 Sir Lincoln Top 10
Did you know…
1. CUP DAY BIRTH: It was preordained Sir Lincoln would be a headliner when he was born just hours before the 2006 New Zealand Trotting Cup at Addington. Three years later to the day, and almost the hour, he annihilated his rivals on the same course in the Sires' Stakes Final.
2. AGE NO BARRIER: In his second last race start, at the age of six, Sir Lincoln paced the fastest 1700 metres in New Zealand history, 2:00.5, beating Gold Ace and clocking a mile rate of 1:54 at Alexandra Park. Champion pacer Elsu held the previous record at 2:01.1.
3. ON THREE LEGS: Sir Lincoln ran his last race virtually on three legs, when second to Terror To Love in an Interdominion heat at Auckland. He had to be pulled out of the Melbourne series, and retired, when found to have a subluxated pastern joint - basically his ankle joint was dislocated.
4. SWIFT GOLDEN MILE: Sir Lincoln's fastest mile was recorded in the 2012 Group III Golden Mile at Menangle in Sydney when he was nosed out by Captain Joy in 1:51.4. He was known by the name Lincoln Royal in Australia.
5. AT THE REINS: One for the trivia fans - how many drivers did Sir Lincoln have in his 57-start career? Maurice McKendry was Linc's pilot throughout his career but he was MIA four times when the horse was handled by James Stormont, Ken Barron and Blake Fitzpatrick (twice).
6. WINNERS KEEP COMING: In only his third season with runners on the track, Sir Lincoln has already sired the winners of 30 races despite having limited numbers to represent him. Last season in New Zealand alone he had 16 winners from only 39 starters and this term he already has six winners from just 18 starters.
7. SOMEBEACH SOME RAP: Breeding buffs made a beeline for Sir Lincoln after superstar racehorse and stallion Somebeachsomewhere had to be put down with cancer. Sir Lincoln is 7/8th bred on the same cross as Somebeachsomewhere - by Mach Three out of a Beach Towel mare who is in turn out of a Cam Fella mare.
8. DISCOUNT FOR LOYALTY: Broodmare owners are returning to Sir Lincoln in droves. Taken by the attractive foals he is leaving, many book straight back to the Alabar-based sire and take advantage of Lincoln Farms' loyalty scheme which cuts his service fee in half to just $1250 plus GST.
9. TIME BEST FRIEND: Sir Lincoln's progeny are mirroring the sire's own start on the racetrack, benefitting from a little time to mature. The best the horse himself could manage as a two-year-old was one third from four starts but he was a different animal at three, winning four of his first five starts.
10. MEGASTAR'S FREAK DEATH: A freak accident claimed the life of valuable broodmare Lincoln's Megastar, a full sister to Sir Lincoln. The mare, who opened her career with a nine and a half length walloping at Auckland, was retired after six wins, but left only one foal. She was killed when crushed by a fallen tree in a violent storm. Woodlands Stud has another full sister in two-year-old Moonlighting who is in training with Ray Green.