Rain at Riccarton on Saturday would boost the chances of the recalcitrant Platinum Volos
Trainer Lisa Latta is hoping the forecasted rain arrives in time tomorrow to loosen the Riccarton track for Platinum Volos.
If it does, and the recalcitrant five-year-old consents to go into the gates, Latta believes he will be Lincoln Farms' best chance on the day.
Platinum Volos ($23) in the second race and Father Lenihan ($15) in the fifth race could be the only runners, with Lincoln Hills definitely to be withdrawn after being all at sea in the going on Wednesday and Manhattan Street ($41) without a suitable rider at this stage for the opening hurdles.
Rain is predicted to hit the third day of the National meeting but with the worst likely in the afternoon, it could come too late for Platinum Volos who runs at mid-day.
"More rain would definitely suit him as we know he likes it that way and though he ran only seventh on Wednesday I thought it was a good enough run."
Platinum Volos was up to his old tricks on Wednesday and came within seconds of being ordered out when he refused to go into the gates, several minutes elapsing before he was finally pushed in by the barrier crew.
And when he did jump, he actually did it too well, robbing rider Charlotte O'Beirne of the opportunity to come out into better ground.
Her repeated attempts to angle out were rebuffed but he still fought bravely, only 3.5 lengths from the winner Turncoat, clocking a similar closing 600 to the six horses who beat him home.
"We might have ridden him a touch too handy," says Latta. "We'll try to ride him quieter this time and come down the outside.
"I think he's the best chance as he'll handle the track better than Father Lenihan."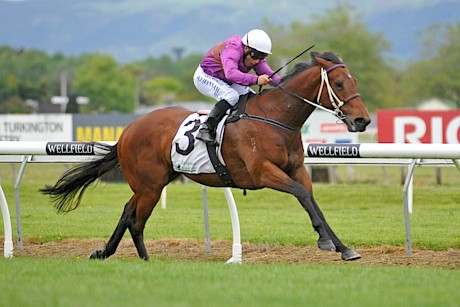 Father Lenihan … more like his old self on Wednesday.Father Lenihan gets in off the ballot in the fifth race, dropping from Wednesday's rating 82 to a rating 72.
And his 60kg handicap will be reduced to 56kg with Wednesday's hero on Platinum Rapper, Kozzi Asano, taking the mount.
Latta was pleased to see the horse race somewhere near his best on the middle day, leading out then trailing and capitulating only late to be 4.5 lengths behind winner Monza Circuito.
"It wasn't a bad run and I think he'll improve a lot for it. Robbie thought backing him up would do him good but I just worry about the rain."
Latta is still trying to find a rider for Manhattan Street in the first race, especially now so that he might get rain to loosen the track.
"He doesn't like it sticky, like it was on Wednesday, he wants it loose."
Though only seventh, Manhattan Street jumped well in his first look at Riccarton, if a little high.
"I think he's going to make a better steeplechaser but if I can get a rider he will start.
"We were always going to lose Shaun (Fannin) to Sir Ritchie, who's trained by Dummy Myers."
Our runners this week:
How our trainer rates them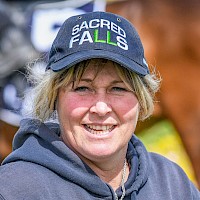 Lisa's comments
Saturday at Trentham
Race 1: Lincoln's Kruz
"He has come through his unlucky Awapuni run well and I am very happy with him heading into Saturday. We could have waited for Wednesday at Hastings where there's a maiden 3yo 1400m but given there are only two winners in this race, and it's worth $30K, it seemed a better option. If he can get some luck in the running this time he can be right in the finish."
Race 2: Lincoln Raider
"He lightened off after the trip south but has quickly put the weight back on and I am happy with him. This is a drop in class from his last run at Riccarton but there are some handy types in the field in Miss Labasa, Times Ticking and Savette. His work has been good and with Kozzi Asano's 2kg claim bringing his weight down to 58.5kg I expect him to be very competitive."
Race 2: Lincoln Hills
"He ran a great race last time after being caught wide at Awapuni and has come through it well. He again has an awkward draw to overcome but there doesn't appear to be an abundance of pace except for Miss Labasa so we will be positive on him. If he can run up to his best form, he is capable of being right in the finish."
Race 3: Kamanda Lincoln
"Sam Collett felt he needed the run at Otaki last start. The new bit definitely helped him settle and he has a lovely draw again to get a nice run. I haven't done a lot with him since he raced but I am very happy with him. Kozzi Asano will claim 2kg, down to 53.5kg."
Race 3: Johnny Lincoln
"He gets in at a nice weight and is thriving. There was a lot of speed in the race at Awapuni which allowed him to finish well but there is no real natural front-runner in here so we may need to make sure he is put into the race. I am expecting another top run from him."
Race 9: Platinum Road
"It's a special condition maiden but there are only three winners in it so it's more like a maiden for him. He ran a top race at Awapuni last time and will be better for that experience over 1600 metres. He has drawn well in barrier three and should again be able to get a lovely run just in behind the speed. He keeps improving and I expect him to hit the line really well again on this big, roomy track. Leith Innes will ride."
Sunday at Waipukurau
Race 1: Ajay Lincoln
"He was beaten by the muddling pace and on-speed bias at New Plymouth last time. Robbie (Hannam) has always been adamant he will get up over ground and he gets his chance here. We will be positive from the gates and get him into the race to give him every chance to step up and show something."
Race 2: Benny Lincoln
"Finally he's got a nice draw. He has kept improving with the good tracks and, while this may be a touch short of his best distance, as long as he is finding the line I will be happy. He has a great attitude - he wants to be a racehorse - but he has just taken a while to mature."
Race 4: Lincoln Hanover
"From a great one draw he should be able to get a lovely run in behind the speed. Robbie thinks he will get up over more ground but I have chosen to give him one more start over 1200 metres first. He is certainly capable of taking out this race."
Race 5: Lincoln's Gal
"She has a nice draw (four) to use and hopefully Robbie can end up in the one-one on her. She will strip far fitter on Sunday. I toyed with stepping her up over more ground but, given she blew out fresh-up, I felt another 1200 metre race was better for her. She placed in her only previous run at Waipukurau and I am expecting a far better effort this time."