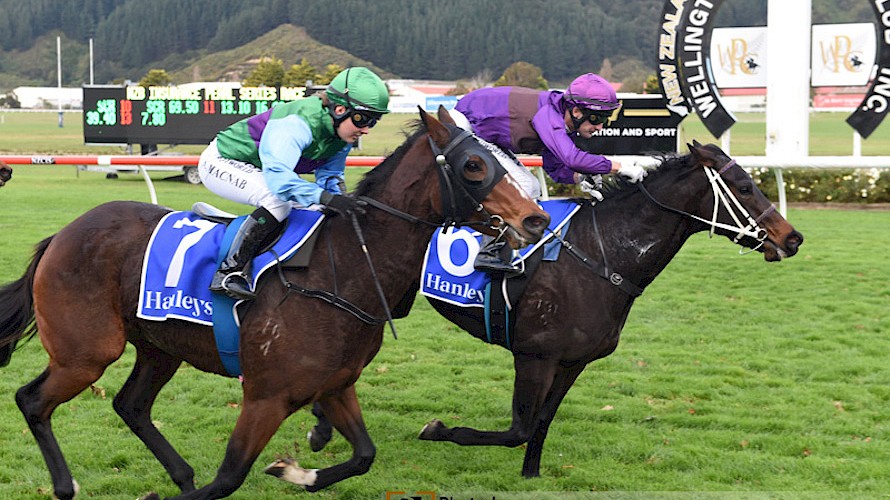 Rapper set to take on big sis' at Wanganui next week after winning sweet bonus at Trentham
In-form filly Platinum Rapper could take on her older sister Platinum Command in Saturday's $50,000 Challenge Stakes at Wanganui.
The Lisa Latta-trained filly earned another crack at black type with a very stout win at Trentham yesterday, staving off a late charge by Torre Del Greco to win by a long head and bag a $20,000 NZB Pearl bonus.
But co-owner Neville McAlister says the tilt will go ahead only if it rains on Friday, as predicted, to loosen the going.
"It was a really tough slog yesterday - a number of horses were putting up the white flag because it was so holding.
"She's better when it's loose on the day and if there's no rain she won't go.''
McAlister says the filly needs her preferred footing because the race is run at weight-for-age, meaning she will have to carry 55.5kg and will be much closer to her better performed rivals than in a handicap.
"But traditionally it's only been an eight or nine horse field and while she's in good form we might as well have a go. Even if you run second or third it's a black type placing which makes them more valuable to sell as a broodmare.''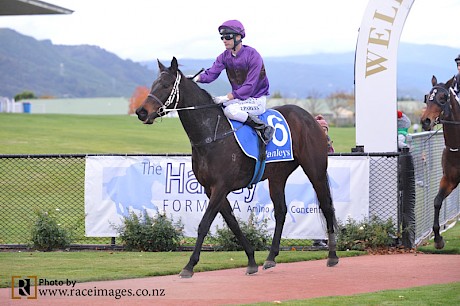 Johnathan Parkes brings Platinum Rapper back to scale at Trentham on Saturday. PHOTO: Race Images.Incredibly, Platinum Rapper's career to date - she has won three times from 10 starts - almost mirrors that of her seven-year-old half sister Platinum Command who is also down to run at Wanganui.
McAlister brought the mare back into work when she failed to conceive to Ocean Park last year and her first-up run in the Rotorua Stakes earlier this month was enormous, he says, denied gaps before flying home to be only 3.5 lengths from the winner Sleeping Beauty.
Platinum Rapper has a way to go before she wins a Winter Cup like Platinum Command did last year and McAlister says she still has a fair bit of learning to do.
Yesterday was the first time the filly had drawn a decent alley - in her two recent stakes races at Riccarton she drew wide and had to go back and around the field.
From four at Trentham she was able to race handier, sixth on the fence, but her inexperience in the field showed on the corner when in heavy traffic.
"She's a bit field shy, she's never been in amongst them before, and that's why she looked flat. One ran in front of her and she tried to back away from it.''
But when rider Johnathan Parkes pierced through a gap, Platinum Rapper really put in and, while looking likely to be devoured several times in the run home, she kept finding more.
"She's looking for a mile now,'' says McAlister, so the Wanganui race, run at 1590 metres, suits well.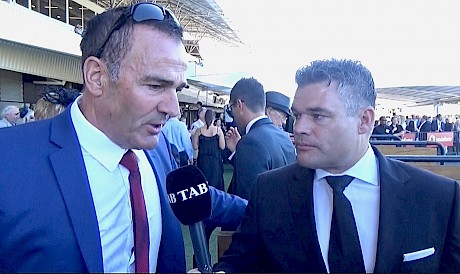 Neville McAlister, left, bought Platinum Rapper for only $55,000 as a yearling.McAlister and his partner in the filly, Lincoln Farms, won't know until later in the week whether Parkes can ride Platinum Rapper.
But if Parkes' North Island Challenge Stakes winner Comeback doesn't go to Wanganui, he'll stay with the filly.
"He'll have to waste pretty hard to make the 55.5kg but he'll get there.''
With the Pearl bonus, Platinum Rapper earned $35,625 yesterday, the equivalent of winning a $60,000 race.
Her earnings already stand at $66,625, making her look somewhat of a bargain as she cost only $55,000 at the Select yearling sale at Karaka in 2017.
Platinum Rapper comes from a family of Group I winners, her third dam Danelagh left Hong Kong Horse of the Year Vengeance Of Rain and an Australian Oaks winner in Dizelle.
"The Group I winners are all by Zabeel and that's why we sent Platinum Command to Ocean Park. We're going to Tarzino next time as he's out of a Zabeel mare.''
Our runners this week:
How our trainer rates them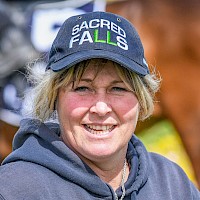 Lisa's comments
Thursday at Wanganui
Race 7: Father Lenihan
"He strikes a strong field for a mid-week race but I have seen good improvement in his work in recent weeks. Robbie Hannam has been galloping him and has been very happy with his work. He will strike a better track (slow 8 today) and there is no rain forecast so it should improve further. I expect a much better run from him."
Friday at Taupo
Race 5: Platinum Road
"He has come up with the outside draw of 13 but we really have to start him on a better track to get a line on where we are with him. We will ride him where he lands but he is obviously going to need luck in the running. His work has been good but his coat is still not quite there so he will improve with this run."
Race 6: Princess Amelie
"She's drawn very wide and if the ballots get a start it will take her out of play being out there as she has to go forward, she's no good going back. There's a race at Waverley in a couple of weeks that we might run in instead."
Saturday at Hastings
Race 9: Lincoln Hills
"He has drawn a touch wide in 11 in a very good field. We are going to have to go back from that draw and ride him for luck. His work has been good but I do have a reservation about him on a good 3 track as I think he is better with the fire just out of the ground. It looks like there's reasonable pace in the race, which may help our cause, and hopefully he can get a nice run through them."