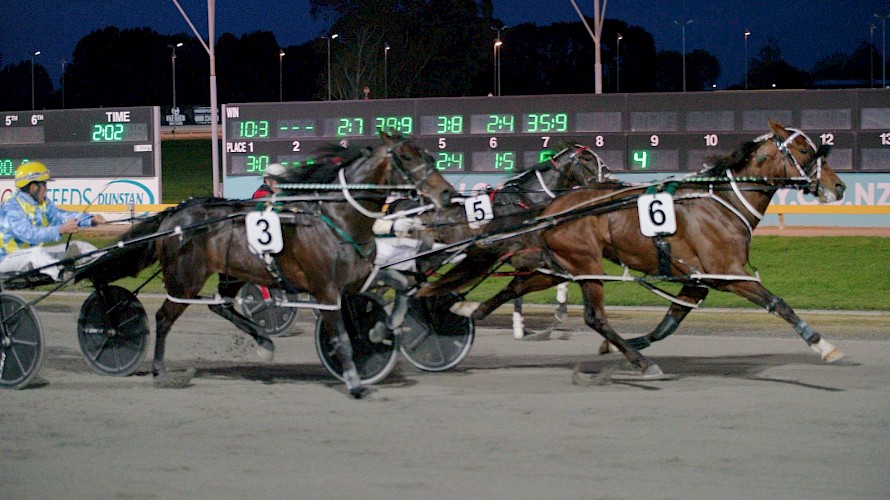 Ray: Exciting times as Copy That and Line Up have plenty of improvement to come
Both Copy That and Line Up, who ran the quinella in the first Sires' Stakes heat for Lincoln Farms' trainer Ray Green, are far from the complete package.
The talented pair both put in a few wonky steps at Cambridge on Thursday night despite clearly outpointing their rivals, Copy That dominating once he got to the front and Line Up coming with a spirited late bid.
And that augurs well for the future of both colts, who looked to have the wood on their northern counterparts in the first clash of the top three-year-olds.
Driver Zachary Butcher told Green that Copy That put in "two or three funny steps" in the running.
"He was a bit rolly at the start as well but Zac said it was only when he started dropping off the bit that he got a bit rough.
"Time and practice will fix that but Zac said with a lap to go when he flicked him on the arse he was off."
Green credited smart early thinking by Butcher for Copy That's win as he let the colt slide forward as soon as he saw Line Up about to claim the lead.
Copy That was alongside Peter Ferguson on Mighty Looee in a flash, before he had the chance to ease out from three back in the running, a position which cost Robert Dunn's horse in the end when he was held up just before turning for home.
And after Butcher let Copy That stride to the front at the bell, the race was virtually in safe keeping.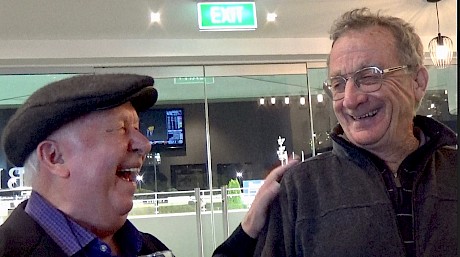 Trainer Ray Green, right, and owner Merv Butterworth enjoying the good times with Copy That.Line Up, who only just made the start line after a week recovering from a foot abscess, was also not perfect in his gait.
"David (Butcher) said he nearly lost him a couple of times when he got pulling.
"He's still very green too and he was left scrambling a bit when the other horse sprinted in the straight.
"But when he found his feet he really finished off well and I was very pleased with his run."
Line Up closed to within three-quarters of a length at the post, good going on a mile rate of 1:56.1, with closing sectionals of 57.9 and 27.6.
"I still don't think there's much between them," said Green.
"And all the pressure is off us now as they've both qualified for the final. We can just plan our assault at our leisure."
Both colts are likely to run in the second and final northern qualifying heat at Auckland on October 25, Green saying there's no alternative for Copy That.
Penalised eight points for his win, Copy That is now rated 70, meaning he would "be murdered" having to clash with the top horses otherwise.
Green will be watching keenly tonight when the first southern Sires' Stakes heat is run at Addington, where the Mark Purdon and Natalie Rasmussen pair Aqua Sancta and Virgil hold sway after the injury-forced scratching of stablemate Italian Lad.
The $170,000 NZ Sires' Stakes Final is run on cup day at Addington, November 12.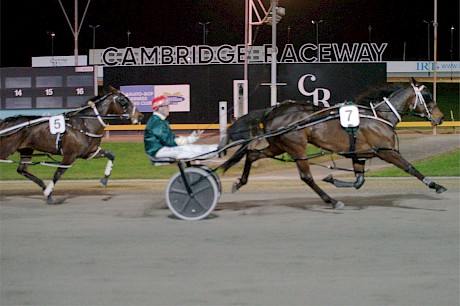 The Empress is unextended to stave off a late bid by Ally Mae at Cambridge. PHOTO: Phil Williams/FokusPhotography.Green ensured Copy That's Australian owner Merv Butterworth got a second round of whisky in the hospitality room at Cambridge when he produced The Empress to win the following race.
Thrown into the race in the ratings, after some sterling performances in stronger company at Auckland, The Empress rolled to the front soon after the start for Zachary Butcher and never looked in danger, returning a healthy $3 for what looked the bet of the night.
Her 2:43.26 performance was easily good enough to stave off a late marker charge from the unlucky Ally Mae, who was held up, by one and three-quarter lengths.
"She was never going to get beaten once she made the front," said Green. "She's tough and just keeps going.
"I don't know how far she'll take us but you can't fault what she's done so far.
"We might as well have a go for the better mares' races around Christmas as there won't be much else for her."
Green is looking at the Group III Northern Breeders' Stakes and Group I Queen Of Hearts at Auckland.
Cambridge last night was a good one all round for Lincoln Farms with its talented driver Andre Poutama scoring a training double with Superfast Ninja and Runcle and Beautiful Stranger notching a tough win for its stallion Sir Lincoln.
Our runners this week
Friday night at Auckland
Copy That, American Dealer, Captain Nemo, Bondi Shake, Apieceoflou, Revitalise, Tommy Lincoln.