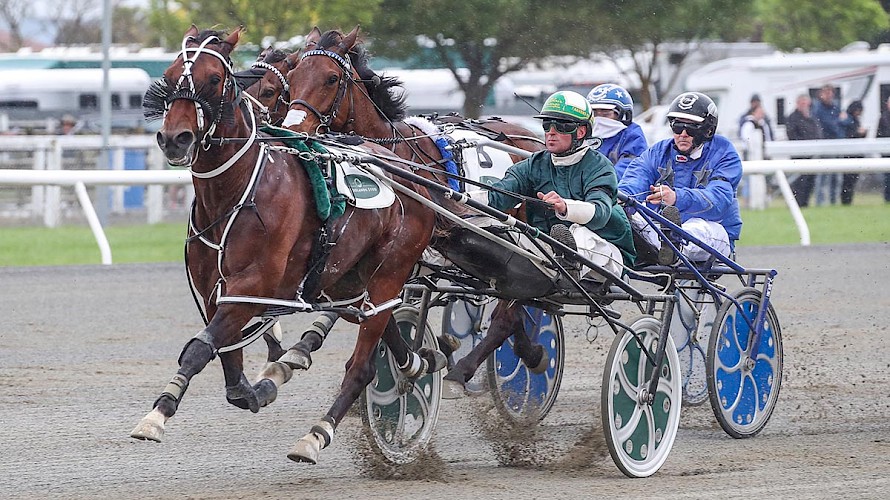 Ray: Flying Mile right up Copy That's alley and, if he leads, it should be game over
Copy That is primed to really fly in Friday night's Flying Mile at Cambridge judging by his sectional figures in the Auckland Cup.
But Lincoln Farms' trainer Ray Green won't be drawn on what time the little four-year-old will run when he faces two of the best horses in the country, Self Assured and Spankem, on one of the fastest circuits.
Incredibly, Copy That paced his last mile of the 3200 metre Auckland Cup, sitting parked, in 1:53.5, and was still coming at the finish, testimony to how well Green has the horse going.
Some big name pacers have failed to run anywhere near as fast as that in winning the Cambridge Flying Mile over the last five years - Chase Auckland clocked 1:54.9, Turn It Up 1:54.5, Star Galleria 1:54.1, Lazarus 1:54.9 and The Orange Agent 1:56.3.
Copy That looks more likely to go closer to the 1:51.6 Adore Me ran in 2015 but Green isn't rating that as a priority, nor testing Border Control's New Zealand record of 1:50.6.
"You get no points for breaking records," Green said. "If Maurice (McKendry) can get in a slow quarter, I'm sure he will."
Green said Copy That's "huge" Auckland Cup placing dispelled any theories that the horse couldn't get two miles but "the mile is right up his alley.
"He'll fly a mile and if he made the lead without too much trouble I think he'd have them covered.
"If you take a line through the Ashburton race I can't imagine the result being any different."
In the Ashburton Flying Sakes, run at 2400 metres, Copy That led and easily held Self Assured and Spankem, reeling off closing sectionals of 53.4 and 25.2.
That race, on October 26, was the last race Copy That won but Green said the horse had had plenty of bad luck in five starts since.
Potent at shorter trip
He showed just how potent he was at the shorter trip when he clocked a mile rate of 1:52 in winning over 1700 metres at Auckland last August.
Copy That, from three, needs to cross Mach Shard and Triple Eight to lead on Friday night, which he is certainly capable of.
"It's pointless going back but crossing them could be easier said than done. If Mach Shard wants to lead, it will make things tougher."
But Copy That definitely has the barrier edge on the two now Hayden Cullen-trained pair Self Assured and Spankem, who are in six and seven, which is reflected in the bookies' odds.
The opening market has Copy That a $2.30 favourite, ahead of Spankem ($3.20) and Self Assured ($3.40) who has not started since winning the New Zealand Cup two months ago.
Green said he'd just kept Copy That ticking over since the Auckland Cup and he trained nicely on Tuesday, without being asked for too much.
"He was pretty fit before the cup and seems very well."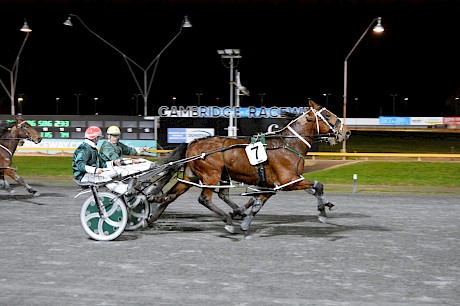 Captain Nemo shades stablemate Apieceoflou in his win at Cambridge. PHOTO: Chanelle Lawson.Captain Nemo, in race two, is easily the best chance of the remaining three Lincoln Farms' runners on the night.
He drops way down in grade to a rating 40 to 48 race, whereas he faced the best three-year-olds in the country last time in the Harness Million at Alexandra Park.
Captain Nemo leaves from the outside of the arm but Green says he can overcome that.
"He just needs to do everything right. He's still a work in progress and hits a knee going right-handed. Left handed, at Cambridge, he seems a lot better. He's a definite winning chance."
In his only two starts on the course, Captain Nemo has won and run fourth, pacing a mile rate of 1:55.6 when fourth to B D Joe and American Dealer in a Sires' Stakes heat last October.
He was having his first race for more than two months in the Harness Million on New Year's Eve so will be vastly fitter this time.
Green said Themightyserina (race six) and Brian Christopher (race 11) performed well at the Pukekohe workouts last Saturday, both finishing second after trailing on a wet, slushy track.
"They'll win one soon but I can't guarantee it will be Friday as they're both inconvenienced by bad draws. "Serina will go a good, honest race but she'll have to rough it to get handy from seven. She'd be better with a draw and a trip.
"Brian Christopher needs to draw the front and go forward but that won't happen from the inside of the second row on Friday night.
"He'll need some luck. If they roll along, it will suit him."
Our runners this week:
How our trainers rate them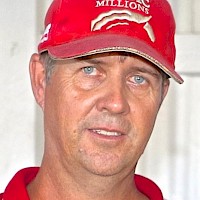 Al's comments
Tuesday at Albion Park
Race 6: Bondi Shake
7.17pm NZ time
"It's a very good race, the hardest he's tackled, and if he can run a place he'll be doing well. I'm really interested to see how he goes because he's improving all the time and hopefully he can step up again."
Race 7: Larry Lincoln
7.57pm NZ time
"Larry got away on us a bit over Christmas but we've worked him a bit stronger since. He's up to them but, from the draw, he'll get back. We'll drive him for luck. If the pace is on, he'll run on. If they walk and sprint, it will make it tough."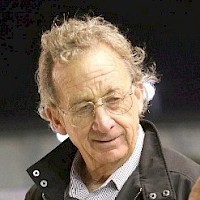 Ray's comments
Thursday night at Cambridge
Race 2: Themightyserina
5.58pm
"One the second row is probably a good draw for her. Hopefully from there she can get a good trip and run into a place."
Race 4: Brodie Lindenny
6.48pm
"If he can get away a bit quicker than last time from the pole he could finish a lot closer. He won't be setting the world on fire but he's honest enough."
Race 5: Brian Christopher
7.13pm
"He led easily enough when he drew one at Palmy so hopefully he can do that again. That suits him as he's not a sit-sprinter, he's better when he can roll along a bit."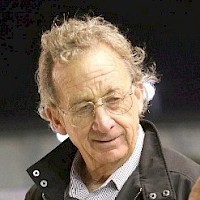 Ray's comments
Friday night at Auckland
Race 7: Argyle
9.09pm
"He looks our best early runner. He's a big, powerful boy and from the one draw looks to have the best chance of our three on Friday night."
Race 7: Sugar Apple
9.09pm
"You can't fault what he's been doing at the workouts and trials. He's a neat little horse and I'm picking he'll go a good race. Drawing wide will inconvenience him a bit. He'll go back and hopefully get home really well."
Race 7: Simply Sam
9.09pm
"He's an improving horse, I like him a lot. I think he'll be the big improver. If Argyle holds up from one, and he can sit behind him, he won't be far away."
Race 9: Major Grace
9.58pm
"Seven is a tough draw for her. If she'd drawn in closer I'd have been happier. But she's a nice filly and won't be far away."
Race 10: Captain Nemo
10.22pm
"He hasn't got the greatest record at Auckland. He tends to hit a knee going that way. He was good the other day at Cambridge. If he doesn't pummel his knees he shouldn't be too far away."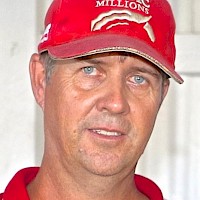 Al's comments
Friday at Albion Park
Race 3: Bondi Shake
4.03pm NZ time
"It's a nice race for him and he'll be hard to beat. He's come through Tuesday's run as good as gold. That race was brutal. He was a little weak at the finish but that's the quickest he's gone. It's not an overly strong field."
Saturday night at Albion Park
Race 3: Northview Hustler
9.35pm NZ time
"The draw's not a bad thing as he's still following speed. If he trails Watch Pulp Fiction, he wins, but it's more likely he'll be three fence, in which case he can run second. He's trained really well this week."