Ray gives us a few clues on his two newcomers for Auckland on Friday night
Tartan Robyn and Smokinhotcheddar are both place chances when they step out for the first time in trainer Ray Green's colours at Alexandra Park on Friday night.
Tartan Robyn is the latest of Melbourne owner Merv Butterworth's Southland team to be sent north while Green has taken over Smokinhotcheddar after the return to Palmerston North of her former trainer, stable driver Andre Poutama.
Green has taken an instant liking to Tartan Robyn, a five race winner whom he describes as "a lovely big horse who seems very honest."
The six-year-old Bettor's Delight gelding, who last raced for Robin Swain on New Year's Eve when fourth at Winton, has trialled twice since arriving at Pukekohe, pleasing Green with his latest effort on January 29.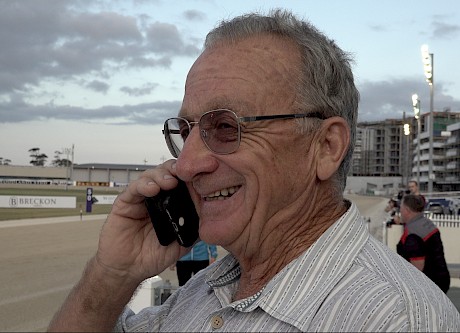 Ray Green on the phone to owner Merv Butterworth … "Tartan Robyn is a lovely big horse."In a strong field, Tartan Robyn showed early speed to lead his eight-horse 2050 metre heat and only just went down to race rival Harness Million winner Aladdin.
Only half a head, a neck and half a neck separated Aladdin, Tartan Robyn, Darling Me and Enjoy Me at the post, with the trip run in a mile rate of 1:59.1 and slick closing sectionals of 56.4 and 27.7. Behind them came Friday's race rivals Luke John and Jack Ryan.
"The boys down south were all surprised he showed so much gate speed as apparently that's not one of his fortes," Green said.
"He's training and trialling well and should go well on Friday but I'm not expecting him to win. The way he's been going he feels good enough to win a couple of races up here. That may not be this week but I could see him running a place."
Smokinhotcheddar, who has drawn two on the second row in the second race, has shown plenty of speed winning two of her 13 starts.
Her recent form line isn't so impressive but that includes an eighth in Amazing Me's Group III Northern Breeders' Stakes and a ninth behind Beyond Words in the Group I Queen Of Hearts.
Smokinhotcheddar hasn't raced since December 18 but Green ran her in a workout at Pukekohe on January 29 when she finished three lengths fourth behind Alta Sensation.
"She's a chance but she'll probably need a run," Green said. "She obviously races better than she trains but we've done some vet work on her and she's improved immensely."
Smokinhotcheddar follows out stablemate Captain Nemo, who looks set to secure an economical trip drawn nicely in two.
"He's going well and should be there at the finish," Green said, tempering confidence by pointing out that the horse's best three runs in his last four starts were all at Cambridge.
In his latest attempt on January 28, Captain Nemo took the lead 900 metres out but was reeled in late by Sprit Of Anzac who came off his back. Captain Nemo has yet to win in 14 starts at Auckland.
The fourth of Lincoln Farms' runners on Friday, Themightyserina (race four) will get her chance from the ace draw.
"Hopefully she can get a suck along and earn a cheque."
* Covid protocols allow owners with horses racing to attend Friday night's meeting, but not the public.
Our runners this week:
How our trainer rates them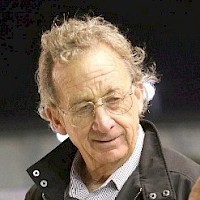 Ray's comments
Friday night at Auckland
Race 4: Major Grace
7.29pm
"She's a great little pacer who tries very hard but she was a bit weak in her first prep and was fronting up to the best fillies around. There's nothing here of that ilk but I think she'll benefit from the run - she's still a bit fat."
Race 4: Nirvana Franco
7.29pm
"She's a bit stronger than Major Grace but was a big, green filly when she debuted at Cambridge in August and wandered around a lot. I thought she'd just about win six weeks ago but she cut her leg on the way to the races at Auckland and had to be scratched."
Race 6: My Copy
8.26pm
"He's going OK. He's a big, lanky gelding who shot up really quickly and needs time to grow into his frame. Once he fills out, he should be quite a nice horse. He should get a good trip from the one draw."
Race 6: Whiz On Bye
8.26pm
"He needs to get stronger and, while it won't happen overnight, he's on the improve and progressing nicely. He's got a bit of speed but won't be winning on Friday. He'll benefit from the run."
Race 6: Simply Sam
8.26pm
"If he gets any sort of a trip from four the second row he should be too good for them. I think he's a pretty decent colt. I really like him, I always have. He's not race fit yet but I don't think he has to be against this lot."
Race 9: Louie The Punter
9.41pm
"I thought he'd need the run last week and he did. He had to do a bit early to stay in front and he was always going to get beaten with that horse (Cya Art) on his back with the drop on him. He should be a bit fitter this week and will go well again."