Ray looking for a Perfect ending with Stride who leads a strong stable attack on Friday
Lincoln Farms' trainer Ray Green is resigned to losing stylish colt Perfect Stride this month but first he has him primed to score an overdue win at Auckland on Friday night.
On what promises to be a good night for the stable, Green lines up five strong form runners - but none deserve a win more than the speedy little Australian-owned two-year-old.
Perfect Stride has had no luck in three runs since resuming from a break, his 272 formline the result of some horror trips.
In reality, the little half brother to Chicago Bull hasn't had much luck since way back in January when he was unleashed by Green with a brilliant debut win which had driver Zachary Butcher raving about his high speed.
A lingering virus wrecked his Young Guns preparation and he was a long way below par when running fourth in the Final.
Green says Perfect Stride has shown in his last three runs, one at Cambridge and two at Auckland, that he has the motor to outspeed what looks to be an ordinary line-up on Friday night.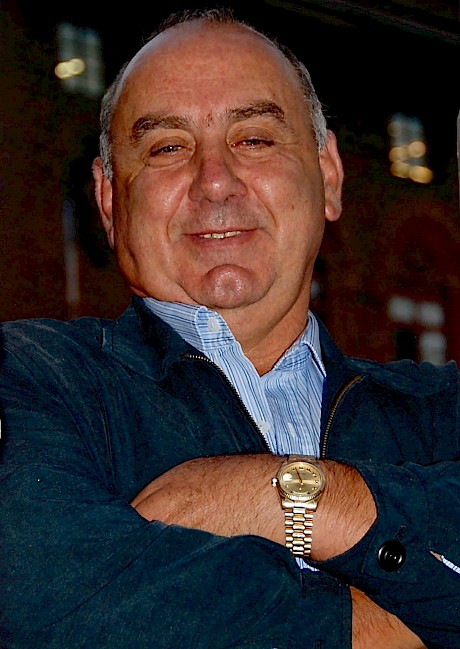 Emilio Rosati … will be keeping Perfect Stride in Australia."He should be able to handle that lot if he gets a decent trip. It's not a great field and he went great against better opposition last week.''
Perfect Stride was forced to breeze from the 1200 when Zeuss Bromac took the front but still pushed the exciting youngster to half a neck on a 26.9 last quarter.
Green fully expects the colt to earn his travelling expenses to Australia where owner Emilio Rosati wants to campaign him at next month's Breeders Crown carnival.
"He won't be coming back to New Zealand but I've still got Line Up for Emilio and there's no point in those two racing each other all the time.''
Line Up, bought for good money from Lincoln Farms' John and Lynne Street, destroyed a Young Guns heat on debut in February and has not been produced since, just back in work at Lincoln Farms.
The Empress gets a gun two draw in the fourth race where she looks sure to be in the money again.
The scopey filly ran a solid second to Adieu Flirt last week after trailing to the lane, driver Zachary Butcher insistent he could have won had he been able to get out and running sooner.
"She's not a sit-sprinter and hasn't got that sudden acceleration, she needs to be rolling'' says Green. "But she can do a bit of work and is a real trier. Those types don't miss many cheques.''
Stablemate Copy That has been scratched from the race, Green not wanting to take any chances after the colt was tranquillised for a vet check on Monday and is now confirmed sold to Merv Butterworth.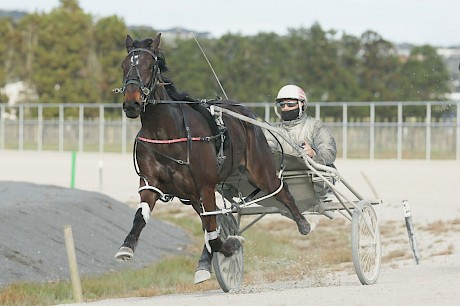 Man Of Action trialled strongly at Pukekohe last Saturday. PHOTO: Trish Dunell.A wide seven draw is against Man Of Action in the sixth race but he went so well last start he will be heavily supported to win.
Trapped three back on the markers, Man Of Action had to be switched four wide round the home corner to get clear air and still powered home his last 400 metres in 28.1, compared to winner Ideal Agent's 28.6 clocked from outside the leader.
"Ramsey (stable name) had to pick up a lot of real estate to get where he did,'' says Green.
"I thought it was the run of the race.''
Man Of Action showed he had trained on well when taking out a 2050 metre heat at last Saturday's Pukekohe trials.
The improving two-year-old trailed Todd MacFarlane's Royal to the 500 when he eased out to attack, overpowering his rival in the home stretch with closing sectionals of 58 and 27.4.
Just Wing It and The Bull Pen round out the stable's attack in the eighth race and both look excellent chances.
From the pole, Just Wing It should get another economical trip, like last week when he trailed walking white hot favourite The Moonshadow to the lane and still pushed him to half a neck on a 26.6 sizzle home.
"He's turned into a very nice horse who keeps getting cheques.''
The Bull Pen drops in grade from last week's rating 66 to 92 event when, despite skipping away in his first standing start and running over the unfamiliar 2700 metres, he still raced with real credit to finish third to The Devils Own and Juice Brogden.
He looks nicely placed back to weaker opposition in a mobile 2200 metres and is the choice of Butcher.
Our runners this week
Friday night at Auckland
Sunday at Menangle
Make Way.