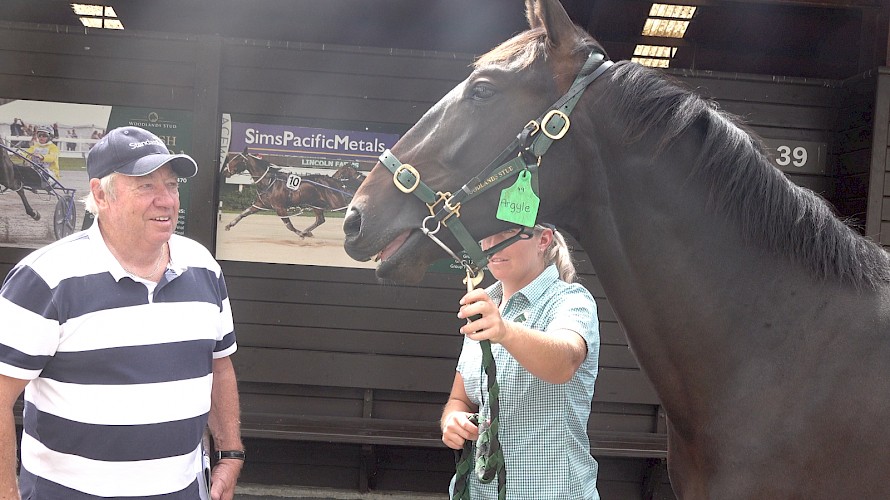 Ray on Lincoln Farms' talented new babies: 'We should have some real sport next season'
The lazy days of lockdown are a mere memory for Lincoln Farms trainer Ray Green.
But you won't hear Green and his team complaining about having to work 41 horses at Pukekohe.
For apart from the 27 they trained last Saturday, there were another 14 yearlings who on paper, and on early impressions, should be the best young bunch they've ever had.
While Green is delighted with how a number of his 17 two-year-olds have weathered the COVID-19 hiatus - horses like Bondi Shake and Jeff Beck developing into beautiful looking animals - he admits to a sense of excitement at seeing his 2020 sale graduates in the cart.
"We've gone a bit up market and have some serious yearlings here," says Green. "We should have some real sport with them next season."
The 12 colts and two fillies, which cost a total of $1.13 million, include some of the prized catches at both Auckland and Christchurch in February.
Emilio Rosati's sale-topping $250,000 colt I'm Cushty, since renamed Master Stride (Captaintreacherous - Hi Ho Silver Lining), is a lovely big horse, says Green.
And boss John Street's pricey Bettor's Delight pair of Argyle ($210,000) and Next To Me ($200,000) are already pacing beautifully.
"I drove Argyle myself this morning and, while obviously still very green, he's a very good pacer. Maxim's brother looks promising too.
"Seven or eight of them are actually really good pacers. I know it's early days yet but I can't imagine us not having a couple of serious contenders out of this bunch."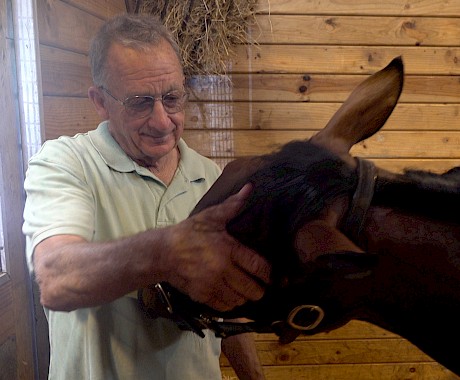 Ray Green gets to know one of his new yearlings, a cheap American Ideal colt, Whiz On Bye.Green has taken an early fancy to his two fillies also - Nirvana Franco (Bettor's Delight - Nearea Franco) came with a $100,000 price tag and Major Grace (Art Major - Zariya) cost $48,000.
Pasquale, a Bettor's Delight - Holly Madison colt, who cost $110,000 also gets an honourable mention as do a few of Green's more bargain buys, two American Ideal colts, Simply Sam and Louie LeBeau, having a sweet action.
Copy That's half brother, My Copy, whom Green's wife Debbie snared for just $3000 as a weanling, has also grown into a beautiful big specimen.
"It will be a month or two before we know which ones will go on and run early. When we pick things up, a couple will object to that, and get turned out. But they're a good quality lot, more potent than this year's crop."
Not that Green isn't expecting good things from some of his 17 rising three-year-olds.
Impressive debut winner American Dealer has grown a bit and, all going well, will race in July.
"Bondi Shake is looking great. He's only running halves in 1:10 at the moment but in another week he'll start going quicker.
"And Jeff Beck has grown into a lovely looking horse. He was crying out for a break earlier in the year but is doing everything beautifully at the moment. He's always shown plenty."
Green is also hoping for further improvement from Apieceoflou who really surprised him last prep by qualifying in March.
Off to Australia
Three of his most precocious two-year-olds, Platinum Stride, Prestige Stride and Vanquish Stride, are lost to New Zealand, already booked on a flight to Australia by Rosati because of the uncertainty in stakes here.
Two of Merv Butterworth's reps, The Emperor and Bettor My Dreamz, are also awaiting transport across the Tasman.
Lincoln Farms' three-year-olds will all race in New Zealand in the first instance, business manager Ian Middleton keen to see the lie of the land before making any further decisions on their future.
Along with Butterworth's top liner Copy That, Green is preparing Tommy Lincoln, Man Of Action and Larry Lincoln for racing in July.
"We'll try them here initially, see how they come up and what the fields and stakes are like. But if they're only going to be getting one start every two weeks, or are getting rated out of it, then we'll move them to Australia."
Green says it will be a few weeks yet before the team is ready to compete at the workouts - "we only started hoppling the two and three-year-olds this week."
Our runners this week:
How our trainer rates them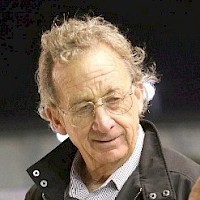 Ray's comments
Wednesday night at Auckland
Race 1: Apieceoflou
6.11pm
"He's really only in the field to get experience. He's not up to the other two at this stage. He's a big, slow maturing horse. He keeps improving without being spectacular but he's a real trier."
Race 1: Captain Nemo
6.11pm
"He's been going well at the workouts without winning. He and Franco Nandor are both nice colts and I expect them to develop into tidy three-year-olds."
Race 1: Franco Nandor
6.11pm
"He's won his last two workouts but has a tricky draw and there are a couple of others in the race who go well. He'll definitely improve with the outing."
Race 4: American Dealer
7.36pm
"I like him as a horse and he's likely to take the most improvement out of his latest trial because of his temperament. He's a laid back individual and looks the best of our lot."
Race 4: Larry Lincoln
7.36pm
"Larry's very fast and he's as forward as the other fella but I don't know how tough he is yet. The draw's a bit tricky."
Race 4: Man Of Action
7.36pm
"He trialled super last Friday and never goes a bad race. We chucked him in the deep end with the bear cats in his last few runs and I think he'll go well in this field. He's on the up and is a much stronger horse now."
Race 7: Copy That
8.56pm
"He's the class horse of the field but he won't be on top of his game yet. I'll be instructing Maurice not to send him on a mission, especially as it's over 2700 metres. He'll still go well but I'm not expecting him to just line up and win. I couldn't label him first-up."