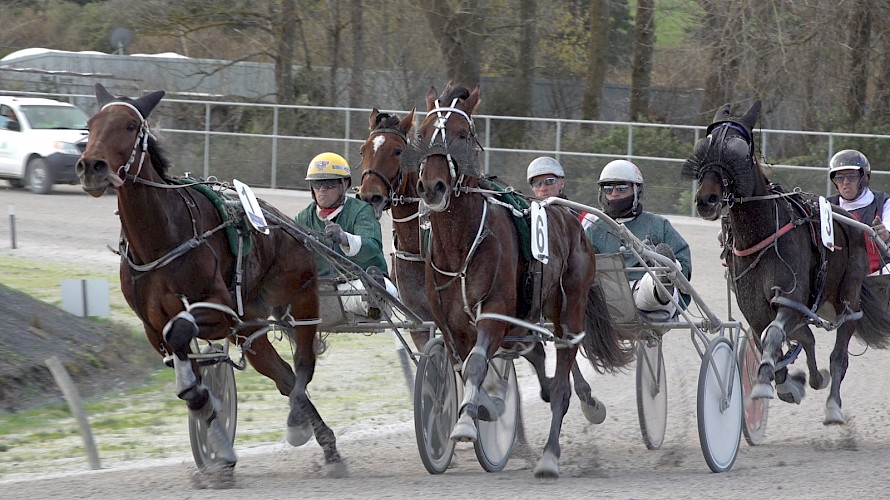 Ray predicting there's plenty of fun ahead for Lincoln Farms' owners after busy workout day
Trainer Ray Green is tipping Lincoln Farms and its owners will be in for plenty of fun when his team hits the racetrack next month.
Green lined up 14 horses at the Pukekohe workouts yesterday and, despite it being their first serious hitout since lockdown, a swag of them impressed.
Green produced nine horses in the last four heats, notching a perfect three quinellas and a trifecta, and three of his earlier five runners ran improver's placings.
Among those to catch the eye were Larry Lincoln, who beat stablemates American Dealer and Man Of Action, and Tommy Lincoln who nosed out Copy That.
Two early winners, Larry Lincoln leads American Dealer in their heat at Pukekohe on Saturday.Larry Lincoln, an impressive winner of his sole start last October, looked a winner-in-waiting when he led all the way for Andre Poutama in a 2050 metre heat for rating 53 to 57 pacers.
The sweet going Sweet Lou colt had two lengths in reserve at the line, after reeling off his last half in 57.7 and quarter in 26.9 to record the fastest time of the day of 2:35.6.
Green has made no secret of how much he thinks of Larry Lincoln.
"He was lame as a cat when he won his debut at Cambridge," said Green. "He had soft bones and kept going sore when we put the pressure on him."
Green wisely sent the horse for a long spell after his win and he has come back with a vengeance.
American Dealer also made an auspicious start to his career last February, winning a Young Guns heat at Auckland before running a game fourth in the Final. He looked ready to carry right on with that form when cuddled up in the trail yesterday by David Butcher and not hooked out in the run home.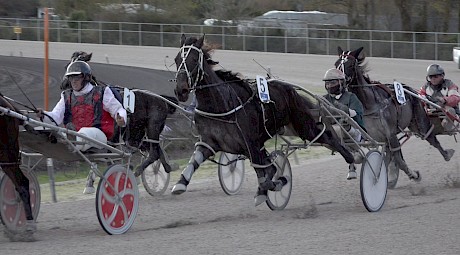 Man Of Action (5) in full flight for Zachary Butcher.Man Of Action was only a nose back third for Zachary Butcher, despite smashing the wheel discs.
Tommy Lincoln, unsighted since the Northern Derby in March, also looked an early winner when he led throughout the rating 53 and faster 2050 metre heat for David Butcher, ripping home in 56.9 and 26.9 to photo-finish top three-year-old Copy That in 2:36.1.
"Tommy's always been a nice horse," said Green. "He tries very hard and loves to roll along in front."
Grade A report card
Green could not say enough about Copy That who got an A report card from Zachary Butcher.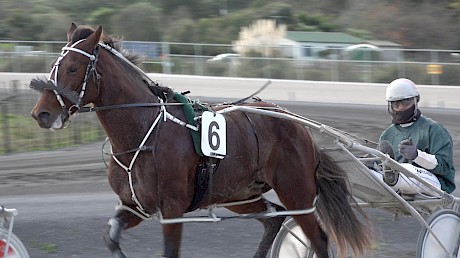 Zachary Butcher checks his stopwatch as Copy That cruises along in his workout."I was really happy with him," said Butcher. "He didn't put in any of the fancy steps he used to have and, while he ran out a bit on the second last bend, when he was up and running on the last bend, and concentrating, he felt super.
"He knocked off a little in the straight but when I gave him a slap on the arse he picked it right up again. Those good horses know when they have to do it and when they don't."
Green couldn't believe just how low Copy That's heart rate was afterwards when he was scraping him down. While Tommy Lincoln had a rate of 88, Copy That's was just 76.
"He's always had a tremendous heart and recovery rate. He's so laid back and has always had a big engine. He can carry his speed that much further than most other horses."
Copy That trialled yesterday with no boring pole and no spreader, another indication that the horse had really lifted his game from last campaign, said Green.
Owner Merv Butterworth was keen to tackle the A$50,000 South East Derby at Albion Park in Queensland on July 18 but Green said he didn't know whether he could overcome COVID-19 restrictions.
Queensland's borders are still closed and Green said he didn't fancy "simply posting the horse over" and not being able to train him himself.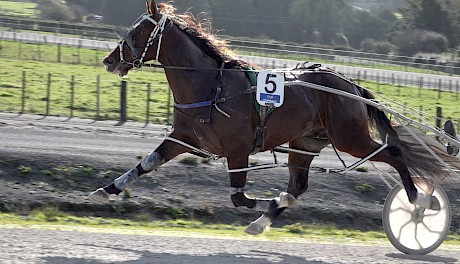 Jeff Beck is in for the unkind cut.Jeff Beck nosed out stablemate Brian Christopher in the final learners' heat, taking the lead a few hundred metres after the start for Zachary Butcher and clocking a sedate 2:46.7.
He was solid over his last 400 in 28.4 but Green has booked him in to be gelded this week.
"I think it will be the making of him," said Butcher.
Green said Brian Christopher was making progress but was more a long term proposition.
Speedy unraced Captaintreacherous filly Spice It Up shaped up nicely when second in her learners' heat for David Butcher.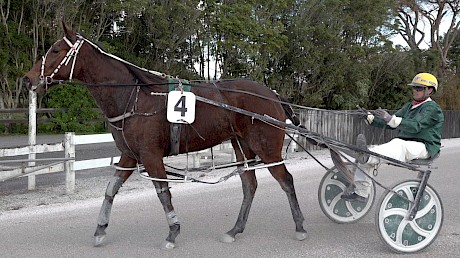 Spice It Up (David Butcher) looks to have a nice future.Handled patiently five back in the running, Spice It Up improved four and five wide around the home turn and sprinted nicely to finish within a length of winner Goodealehmaddie, who capitalised on a perfect trail and marker run up the stretch.
Louie The Punter, a brother of former Lincoln Farms' Mr Consistency Double Or Nothing, continued his dramatic improvement in recent weeks when he finished only a nose back third.
Aurora Stride ran a distant last after mixing her gait several times in the running.
* Check out the earlier story on Ryan Fox to see how Green's other runners Captain Nemo, Apieceoflou, Franco Nandor and Bondi Shake fared.
Our runners this week:
How our trainer rates them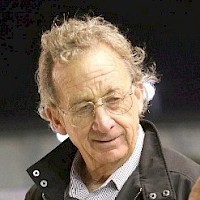 Ray's comments
Wednesday night at Auckland
Race 1: Apieceoflou
6.11pm
"He's really only in the field to get experience. He's not up to the other two at this stage. He's a big, slow maturing horse. He keeps improving without being spectacular but he's a real trier."
Race 1: Captain Nemo
6.11pm
"He's been going well at the workouts without winning. He and Franco Nandor are both nice colts and I expect them to develop into tidy three-year-olds."
Race 1: Franco Nandor
6.11pm
"He's won his last two workouts but has a tricky draw and there are a couple of others in the race who go well. He'll definitely improve with the outing."
Race 4: American Dealer
7.36pm
"I like him as a horse and he's likely to take the most improvement out of his latest trial because of his temperament. He's a laid back individual and looks the best of our lot."
Race 4: Larry Lincoln
7.36pm
"Larry's very fast and he's as forward as the other fella but I don't know how tough he is yet. The draw's a bit tricky."
Race 4: Man Of Action
7.36pm
"He trialled super last Friday and never goes a bad race. We chucked him in the deep end with the bear cats in his last few runs and I think he'll go well in this field. He's on the up and is a much stronger horse now."
Race 7: Copy That
8.56pm
"He's the class horse of the field but he won't be on top of his game yet. I'll be instructing Maurice not to send him on a mission, especially as it's over 2700 metres. He'll still go well but I'm not expecting him to just line up and win. I couldn't label him first-up."