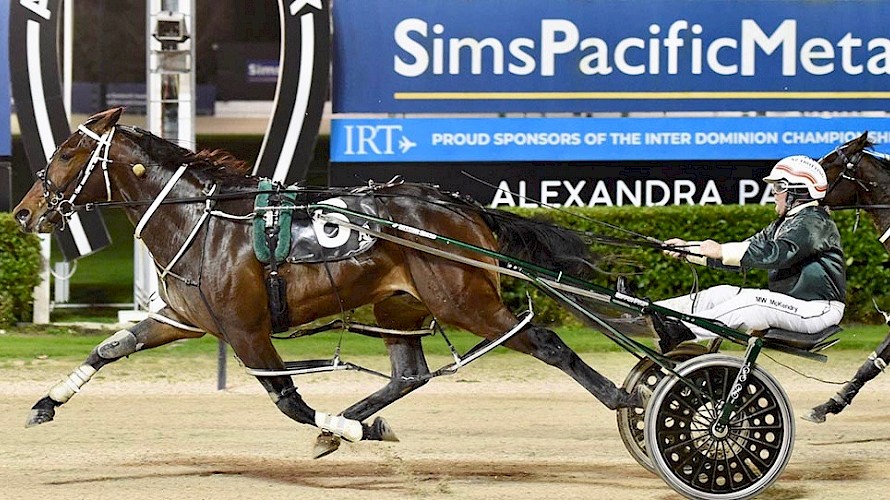 Ray: Simply Sam's very fast but he lacks the tools for a Queensland Derby campaign
Simply Sam once again showed his great turn of foot at Alexandra Park tonight but he will need to develop his all round game further before trainer Ray Green tests him further afield.
Thoughts of a winter campaign in Queensland have been shelved despite Simply Sam notching the third win of his career with consummate ease.
While the American Ideal three-year-old showed blistering speed to reel in the leaders in the last 150 metres, and win by two lengths going away, it's the first part of his races that he needs to work on.
As usual, Simply Sam showed no gate speed, and was running last for driver Maurice McKendry after just 200 metres, a profile which Green says has in part KOed a tilt at next month's Queensland Derby, a race the stable's American Dealer won last year.
"He needs to develop gate speed to warrant taking anywhere. Brisbane is a long way to go to end up in the back half of the field.
"You need to be able to take up a position at Albion Park, where they run very fast closing sectionals, and until he improves his gate speed, he's not going anywhere."
Green says the fact there are a couple of very good three-year-olds in Queensland was also a factor in passing on the trip.
"He's had only a handful of starts and hasn't fronted up to the top three-year-olds yet.
"Last year Krug was the big talk for the derbies over there but little Dealer had beaten him several times before so I wasn't worried about him.
"We'll just pick away here and see where he takes us. We'll try to develop him to the top level and target races round Christmas like the New Zealand Derby at Addington, a track that should really suit him."
Green believes given another six months Simply Sam will be right up to competing with the best three-year-olds.
"He's a lovely pacer and has very high speed."
Simply Sam clocked 2:43.4 tonight, a mile rate of 1:59.5 and, coming from three back on the outer, ran considerably faster closing sectionals than the leader's 56.4 and 27.2.
The son of Simply Stunning now boasts earnings of $28,850 from just nine starts for Lincoln Farms' John and Lynne Street, Kim Miller, Robert and Donna Best, Priscilla Edmunds, the Red and Blue Syndicate and the Green Machine Racing Syndicate.
Our runners this week:
How our trainers rate them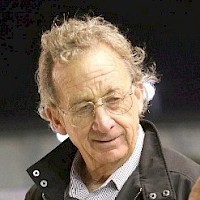 Ray's comments
Thursday night at Cambridge
Race 2: Next To Me
5.50pm
"He's starting to put it together and looks a serious chance. He's gone some nice races. He was entitled to run last there one night (when badly checked) and finished fourth so he's tough enough. He should get every chance from the draw."
Race 2: Whiz On Bye
5.50pm
"I don't think there's much between him and Next To Me. He's pacing much better now and he was quite good in the last of his three workouts. I hope they can both run in the money."
Race 3: Riverboy Ben
6.15pm
"The second row draw is awkward for him over only 1700 metres - obviously he'll get back. I think he's a horse who will need a trip and he's not likely to get one from there. He'll need to be lucky."
Race 7: Riverman Sam
7.55pm
"I think he's the best horse in the race and I don't see why he can't do it again. The 2200 metres won't worry him. He's no slug, he's got speed. I got him home in 27.2 when he won over 2700 metres."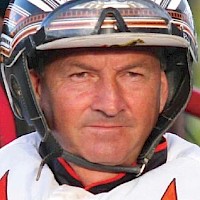 Mark Dux's comments
Friday at Albion Park
Race 6: Captain Nemo
6.07pm NZ time
"It's a pretty strong field - every bit as good as last week, maybe stronger - and while he's starting to get back to where he was, he's not quite there yet. We'll come out steady on, get into the running line, and play it by ear."
Saturday night at Albion Park
Race 1: Tommy Lincoln
7.15pm NZ time
"He's first emergency so I'll give him a week off to freshen up and then start again. I don't know whether he just had an off night last week or if the 26.6 first quarter played into it. That other horse was in our face the rest of the way too."