Ray sorts out his Sires Stakes challenge: Line Up primed but Copy That not on his A game
Trainer Ray Green has nominated four horses for Friday night's Sires' Stakes heat at Auckland but might start only two after Copy That and Tommy Lincoln showed they're not quite on their game at Saturday's Pukekohe workouts.
Green was delighted with the run of Line Up who sat parked from the 500 and closed strongly for second to winner Mighty Looee in the rating 58 to 70 heat over 2050 metres.
And he will give Double Or Nothing his chance against the better three-year-olds at Alexandra Park this week after his gritty win at Cambridge last Friday night.
But while Tommy Lincoln trailed in yesterday's workout and held on for third, only a length behind Line Up, Green says he might need another run before he's fully fit.
"His heart rate was up a bit afterwards so I'll probably look to run him in an easier race on Friday night."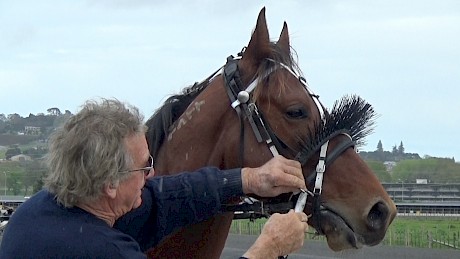 Trainer Ray Green adjusts the boring pole on Copy That before his workout.Green wants to see improvement in Copy That this week before confirming a start for the smart colt on Friday.
Copy That sat last throughout the heat yesterday and driver Zachary Butcher reported afterwards that while the colt stayed with them over a fast last 400 in 26.2, he didn't feel as sharp as he can.
"He might be a bit jaded," Green said. "I wasn't happy with the way he went last week at the workouts and a blood test showed his stress levels were up a bit."
Green also discovered Copy That was touchy in the back and had that injected during the week.
"We gave him an easy week and obviously he's still not 110 percent yet but hopefully he will be by Friday.
'We've got time up our sleeve though and he doesn't have to go round on Friday as he's already qualified for the final."
Fine mare The Empress ran fourth in the rating 67 and faster stand but was only two lengths behind talented pacers Blazen River and Bare Knuckle, driver David Butcher just sitting on her at the line.
The 2500 metre stand was cut out in 3:17.4, a mile rate of 2:07.4, the leaders home in 58.5 and 26.9.
A last-start winner on October 3, The Empress is now rated 67 but Green expects her to maintain her consistent form.
Bettor My Dreamz ran last in the heat but Green wasn't too disappointed because the horse did a stretch at the start by galloping.
"He burned a lot of petrol to catch them and still ran his last quarter in 26."
Bettor My Dreamz, who is also on a rating 67, could be only one win away from being whipped across the Tasman by owner Merv Butterworth.
Commander progressing well
Ace Commander showed he was continuing to do well on the comeback trail when he ran third in the rating 61 and faster heat, nabbed late by Galleons Victory and Majestic One after pacemaking.
Ace Commander started from the outside, was wide around the first turn then showed speed for David Butcher to take up the running, tiring late to be only two lengths and a head back.
"He's creeping up there in fitness. He's been off a long time and will need one or two more runs before he's ready.
"He's a nice old trotter with a few issues that need managing but he'll come to it in time."
The winner cut out the 2500 metres in 3:25.1, a mile rate of 2:12, with closing sectionals of 59.3 and 28.5.
Hampton Banner ran fourth in his heat behind all-the-way winner Benjamin Button but again didn't travel well on the bends, pacing especially roughly when the speed went on round the home turn.
"We need to address that before he races. He's always had a problem with soundness - he's one of those soft boned horses - and we just have to let nature take its course, you can't accelerate him until he's ready."
Benjamin Button showed plenty of speed for trainer-driver Sailesh Abernethy and cut out the mobile 2050 metres in 2:35.6, a mile rate of 2:02.1, with the final 800 in 57 and 400 in 27.4.