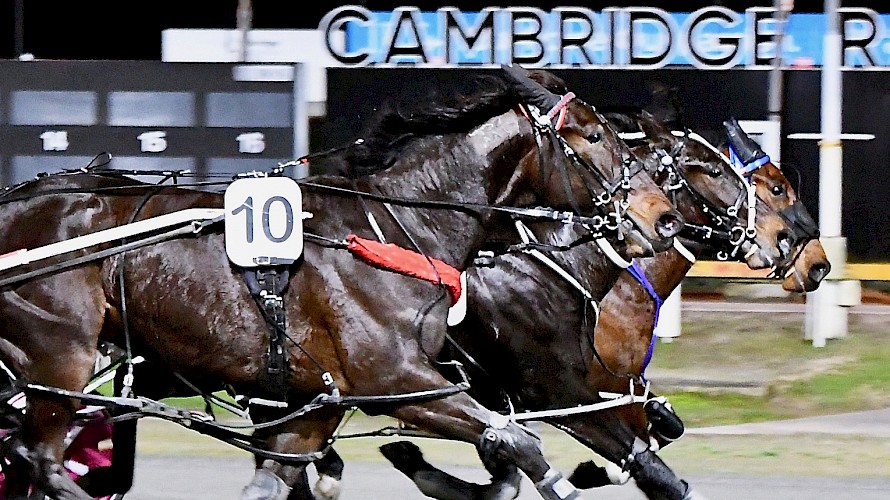 Ray wooing Lady Luck after wide draws hamper Friday night's runners at the Park
Luck is the name of the game for Lincoln Farms at Alexandra Park on Friday night with three of its four runners drawn very wide.
Hat-trick winner Argyle leaves from seven on the gate in the sixth race, the in-form Riverman Sam is even worse off on the outisde of the arm in the seventh race and last-start winner Frankie Major is at an identical disadvantage in race 10.
Frankie Major's stablemate Ideal Kingdom has been treated more kindly, with the three alley in the same race, but he faces a good line-up including impressive debutants Gandalf and On Deadline.
Trainer Ray Green liked the way Ideal Kingdom sustained a long run at Cambridge at his last start to miss by only half a head
"He's a nice little horse who keeps getting stronger and the way he's racing you couldn't leave him out. If he doesn't win, he'll make it hard for them."
Frankie Major … will need a solid tempo. PHOTO: Chanelle Lawson.Frankie Major copped the outside alley under the preferential draw as the sole two-race winner in the field and, from there, Green says he'll need some luck.
"He'll go back and hopefully get into it late. If you look at his last two wins he's got home beautifully. He's had good trips, three back, and gone bang. He's got that high speed if he can get sucked along.
"A steady pace suited him last time at Cambridge - they went 2:42.2 - but if they walk and sprint, and he's back, he's up against it. And often that's what happens in these small fields."
As well as smart debut winner Gandalf, Frankie Major faces On Deadline, a nice debut third behind Rocknroll Hammer and Colonel Lincoln, and Steve Telfer's smart trialist Medina Magic, a half brother to Lincoln Farms' previous good performers Make Way and Man Of Action.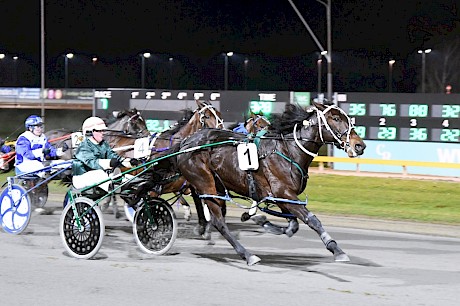 Riverman Sam … never goes a bad race. PHOTO: Chanelle Lawson.Riverman Sam is chasing a $20,000 purse in the Winter Rewards Pace after his excellent third in the Winter Cup, won by up-and-coming stablemate Simply Sam.
"He's been very competitive in this grade," says Green. "He'll go his usual good race and because he's not quick out of the gate anyway, being out there in eight won't make a hell of a lot of difference to him.
"A little bit of luck will be required but he's always in with a chance."
Riverman Sam was kept ticking over with a 2500 metre workout at Pukekohe last Friday which he won, downing Argyle a neck.
Argyle ran in the same heat to give him some practice before qualifying for standing start races but he completely botched the start.
"He didn't know what to do," says Green who watched the horse can can and run to the outside fence, losing such a big stretch that commentator Jason Teaz said he'd need to come back another day.
But the field was going so slowly Argyle quickly tagged on at the rear then, with a lap to run, driver Andrew Drake let him swish round to lead.
At the finish, after closing sectionals of 57.1 and 27.2, he was only a neck behind his stablemate.
Drawing wide is a real hindrance to Argyle as he has run his best races when allowed to roll along - two of his recent wins have been from the front and the other when parked.
"He doesn't appear to be as good coming from behind but that's Zac's problem and, if things go his way, I don't see why he can't get some money."
Our runners this week
Thursday night at Cambridge
Whiz On Bye (Scratched).