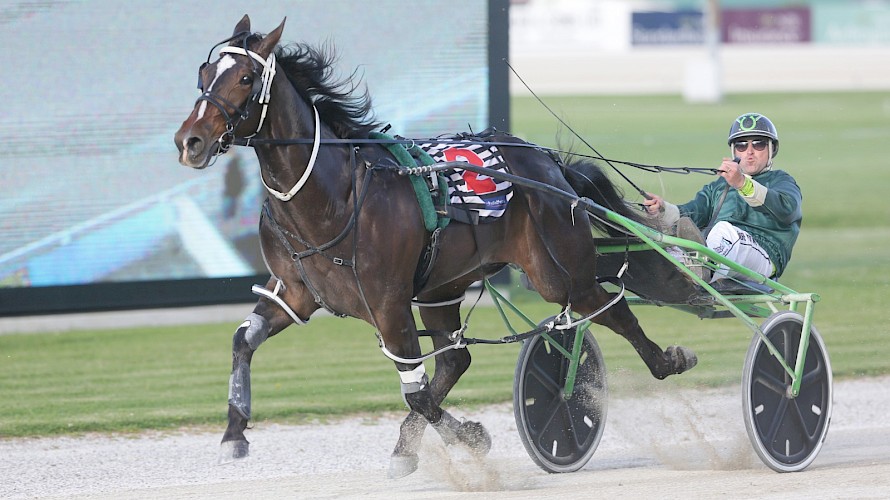 Ray's faith in Apieceoflou justified - but his mates in the pub didn't back him!
Apieceoflou showed in emphatic fashion at Alexandra Park tonight why trainer Ray Green has been resisting sending the horse to Brisbane.
For the first time in his short career, Apieceoflou enjoyed the run of the race in the opening event, the fourth $20,000 Sires' Stakes heat.
And he delivered on the promise Green has seen in him for many months when he swept up the passing lane under the urgings of Andre Poutama to down the heavily backed favourites Luke John and General Montana.
The Sweet Lou three-year-old clocked a tidy 2:02.6 for the 1700 metres, a mile rate of 1:56 flat, and reeled off impressive closing sectionals of 55.1 and 26.9.
Watching the race from a pub in Christchurch, where he is preparing Copy That and American Dealer for features at Ashburton on Monday, Green delighted in the success.
"That was very satisfying for me. They've been nagging me to send the horse to Brisbane for quite a while but he's too good for that.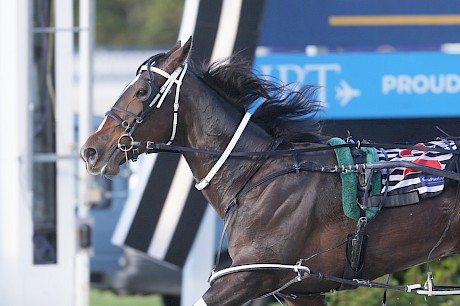 Apieceoflou scores at outsized odds in the Sires' Stakes heat. PHOTO: Trish Dunell."I'm sitting in the pub here telling everyone about how incredibly unlucky he's been but no one backed him - and he's paid $26 and $7!
"That's the first decent trip he's had and it was against better class horses than he's been racing.
"I've been saying for a long time that he's a nice horse who's only going to get better and better. He's got a ton of potential."
Green says Apieceoflou has always shown plenty and has a beautiful attitude.
"He's a big horse and if anything he's still a bit weak. We gelded him, which sucked a bit of strength out of him, but he'll get stronger with time.
"His pedigree tells you he needs time. The mare's half sister went 1:47 in the States but not 'til later. It's a slow maturing breed."
Apieceoflou is out of the unraced Rocknroll Hanover mare Wantapieceofme whose half sister was world champion Shebestingin (1:47) winner of 18 races and $760,000.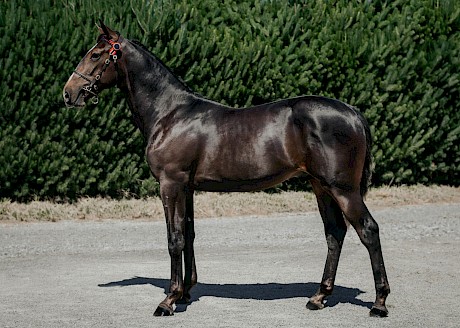 What Apieceoflou looked like as a yearling when sold by Noel Kennard and Pembrook Park.It's family full of big winners with her other relations including Hop Sing (1:48.6, $973,000, 27 USA wins) and Bono Bests (1:49.6, $532,000, 25 USA wins).
Green credited Woodlands Stud principal Andrew Grierson with alerting him to that fact late on sale day in Chistchurch, and led to Lincoln Farms' boss John Street paying $85,000 for the colt.
Green doesn't intend wrecking the horse by rushing him into the $150,000 Woodlands Stud Sires' Stakes Final at Addington next month against stablemate American Dealer and the likes of Krug.
"I don't think he's ready for that yet. Maybe he'll be ready for the derbies later on when the longer distance will suit better. He'll be a different animal then."
Our runners this week:
How our trainers rate them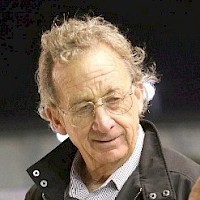 Ray's comments
Friday night at Auckland
Race 1: Tommy Lincoln
6.26pm
"They went fast last week and he was drilled down the back so he did well to hang on for second. He's drawn to lead and will go another good race."
Race 2: Apieceoflou
6.56pm
"If he gets a good trip, he's the one to beat. Being hung out last week didn't help but he still whacked away for second. He's not as strong as he will be but he's as honest as can be."
Race 2: Franco Nandor
6.56pm
"He raced up like he was going to beat them last week but you have to forgive him as he hadn't raced for a while."
Race 4: Revitalise
7.56pm
"He was in a bit of strife for a couple of weeks but we've done a fair bit with his foot, we've swum him for the last week, and he's training super. I'm very happy with him. He just needs some luck from the inside of the second row."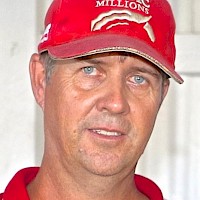 Al's comments
Saturday night at Albion Park
Race 7: Northview Hustler
11.47pm NZ time
"We haven't had him this sound for ages and he's been sharp in training this week. His last three races have been really good and he'll go forward and hopefully get the one-one behind Colt Thirty One. "They'll know he's alive if he's on their backs."