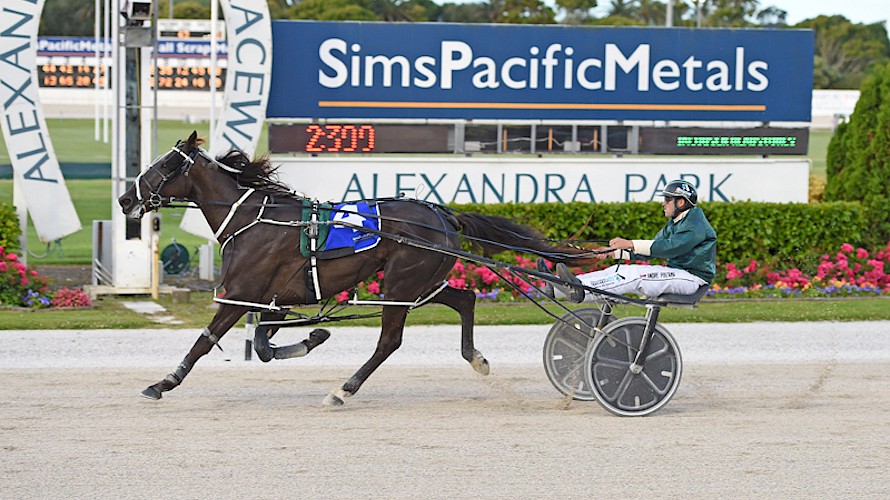 Ray's on-again off-again love affair with Recco is back on again
Recco Lover hadn't even reached the finishing line and trainer Ray Green was downing his first glass of wine.
But 75 metres out, with a three length lead, it was obvious that the horse was finally going to deliver - 14 months and 12 starts since his last win.
"I've been saying for that long that he had the ability of a cups horse and people were starting to look at me strangely," says Green.
"But you saw tonight what he's capable of and he did it quite easily.''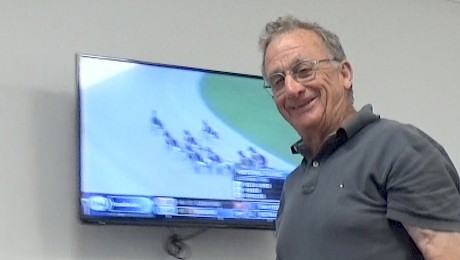 Recco Lover has just crossed the line and trainer Ray Green is on the way to greet his champ.Watching Friday's race in Lincoln Farms' office at Alexandra Park, where their many owners congregate on race night, Green let on what he was thinking a round from home with Recco Lover highballing in front.
"Now if this had been a year ago I'd have said they couldn't beat him.''
But during that time Green has watched, frustrated, as the horse turned in one disappointing run after another, running close-up but never quite giving his best.
But this night things were a bit different.
After a nice freshen-up, the horse was sporting blinds and removable deafeners, gear changes which Green hoped would spark the horse out of his lazy ways.
And within the first few seconds of the race there were signs the trick might be working as driver Andre Poutama was able to gun Recco Lover out of the gate and cross over from six to lead by the first turn.
"He's not normally that quick,'' says Green. "But he left the gate super tonight.''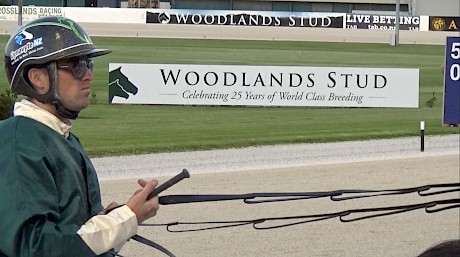 Andre Poutama after his excellent drive to keep lazy Recco Lover going.Poutama had a few worrying seconds, however, as Recco Lover skipped and nearly broke - "that's just him, he's clumsy as.''
But once underway, Recco Lover paced along fine - until halfway up the home straight when he again tried to switch off.
"He would have heard the others drop off,'' says Green.
Poutama, desperate to keep Recco Lover interested, continually ran his whip through the horse's tail until he hit the line three and a half lengths clear of Parker, with red hot fancy Revolver battling into third.
It quickly became obvious why the beaten contingent struggled to make up ground on Recco Lover, his 2:40.2 clocking for the 2200 metres beyond many of them.
"He's done some brilliant things, this horse,'' says Green. "His Sires Stakes performance was phenomenal.''
Fifth behind Chase Auckland in the New Zealand record-run 2017 Final at Addington, Recco Lover clocked the fastest sectional in the race, pacing his last 800 metres in 54.48.
"He has enormous ability but he's just such a blasé individual.''
Green says it remains to be seen whether Recco Lover will respond as well to the gear changes next start.
But just when and where that will be depends on continuing negotiations for a possible sale to Australia.
Lincoln Farms' business manager Ian Middleton revealed offers had been made for the horse recently but none had been accepted.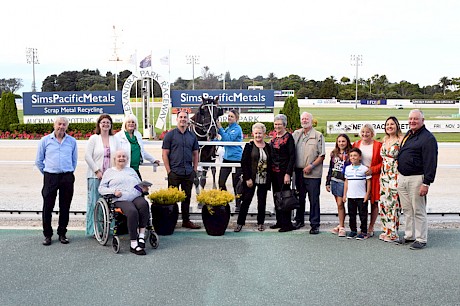 Lincoln Farms' support crew in the winners' circle after Recco Lover's win - and, yes, two of them are partners in the horse.The partnership which races Recco Lover is no stranger to horses being sold - the mostly South Island team has enjoyed racing a succession of Lincoln Farms' horses who have fetched good money including Beaudiene Boaz, Killer Queen, Zach Maguire, Spring Campaign and most recently Beaudiene Western.
Only Middleton and Margaret Rabbitt were there to enjoy the occasion on Friday night, their partners watching from afar including Rabbitt's brother Brian, Michael Brereton, Martin Letton, Kevin Bell, Denis James, Steve Beckett, Deane Hutchinson and Gerard Collins.
Missing was one of their lynchpin members, the late John Dias, who died in February, Margaret Rabbitt making special mention of their former larger-than-life partner.
"This would be the first trophy we've won since John died. I'm sure he would have been beside himself.''
Middleton, deputising for Lincoln Farms' owners John and Lynne Street, who share in the ownership of Recco Lover, thanked sponsors Jacobsen Headstones, hoping none of the remaining team would be needing their services any time soon.
Our runners this week:
How our trainer rates them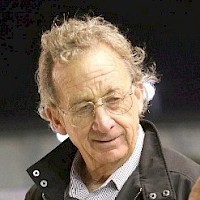 Ray's comments
Friday night at Auckland
Race 2: Northview Hustler
"I'm a bit worried about him. He's training OK but he's not the horse he can be. He's as light as I've ever seen him. He didn't look himself in the preliminary last week either but I treated him after that. We'll just have to see how he goes."
Race 3: Trojan Banner
"His draw looks bad but if he can secure a nice run through behind Sezana he could end up getting a good trip and then should beat them. He's been racing the bear cats recently and he's trained particularly well this week.''
Race 4: Make Way
"He just need some luck. He won't leave the gate from out there, he'll go back, but if he gets a drag into it at the right time, he'll be the one to beat. He's been racing the best of the best lately and this is a big drop in grade for him."
Race 6: Zealand Star
"I was initially a bit disappointed in him last week until I saw the time he went. The mile this week will suit him and he just needs some luck from the draw. He's not one you can put in the race so Andrew (Drake) will go back and try to get a suck up.''
Lincoln light
News in brief
TIGER GETS TIME STRIPES: Sir Tiger may have run only seventh in the Young Guns race at Auckland but you couldn't fault him on the clock. He ran the equal fastest last half of 56.5 along with the winner Smooth Deal and was one tenth of a second faster over his last mile (1:57.1) than stablemate and runner-up Double Or Nothing. He was slightly back at the start after racing greenly in the score-up.
BYE BYE VINNIE: Vinibaka again showed he didn't want to be a racehorse at Manawatu so now he isn't. The four-year-old disappointed in all six starts and is now the galloping pacemaker for Pukekohe trainer James Stormont.
RUPERT STIFF: Lincoln Farms' graduate Rupert Of Lincoln finished a desperately unlucky third at Ballarat on Tuesday night. Bottled up four deep on the markers, he flew late when finally clear. He has now racked up three wins and two placings from five starts since being sold to Merv Butterworth.
TWO ENTERED FOR CUP: Northview Hustler and Recco Lover are among 23 horses nominated for the $250,000 Auckland Cup on New Year's Eve. The entries are: American Empress, Recco Lover, Tennyson Bromac, Classie American, Mach Shard, Triple Eight, Raptors Flight, Check In, Ashley Locaz, Turn It Up, On The Cards, Sheriff, Sicario, All U Need Is Faith, Northview Hustler, Pat's Delight, Jack's Legend, A G's White Socks, Lets Elope, Elle Mac, Utmost Delight, Star Galleria, Dream About Me.