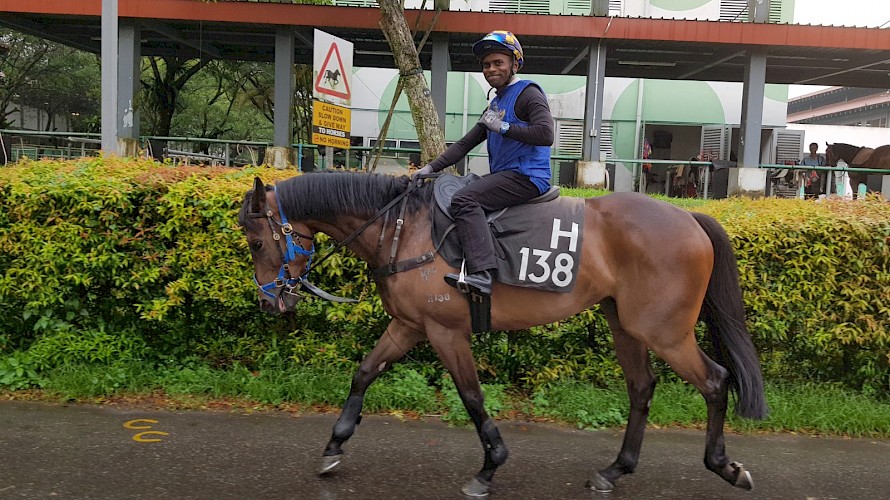 Really, what next? Miracle Time stumbles out of the gates and is eased out of race
The drama that has recently dogged Lincoln Farms' team in Singapore continued last night when Miracle Time was eased out of his race in the home straight, his rider suspecting he had gone amiss.
Miracle Time, expected to be right in the fight by trainer Stephen Gray, stumbled badly on jumping out of the gates and went down on his nose, stewards' video footage showing jockey Callan Murray was lucky to retain his seat.
The horse bounced back up and while he lost a little ground Murray pushed him up the fence, says Gray.
"Not long after that the jock said the horse felt a bit awkward. He kept going to see if he'd work out of it but on the turn and into the straight he said he felt worse and he thought he'd gone amiss so he eased him up.
"When I looked at him afterwards I couldn't see anything wrong with him. He hadn't bled as he scoped clean.''
When later trotted up for the club vets, Miracle Time seemed OK too.
"The vets think he must have struck himself, hit his coffin bone or back part of the heel or foot or fetlock. They said it would have hurt like hell.
"But I couldn't see any marks so everyone's guessing.''
Miracle Time was found to have cast the shoe on his near foreleg and stewards ordered he pass a 1000 metre gallop trial and vet examination before being allowed to race again.
"It's frustrating because I thought he'd be right in it.
"You've had some drama with your horses in the last couple of weeks but this isn't a game for sookies.''
Gray is nursing Lincoln Farms' Cru Bourgeois back to health after he whacked his head in the starting gates last week and fractured a bone above his eye, which required surgery.
Stablemate Rock Me Easy didn't even make it to the start line on Sunday - he coughed several times after a track gallop earlier in the week and is now on antibiotics.