Riddell out to make amends on unlucky Lincoln King at Avondale
Jockey Jonathan Riddell will be out to set the record straight on Lincoln King at Avondale on Thursday after blaming himself for not winning on the horse at his last start.
And trainer Stephen Marsh says Riddell needs only an ounce of luck from his wide barrier to be extremely hard to beat in the opening race on Anzac Day.
Marsh was expecting Lincoln King to win last time when he contested a weak highweight at Rotorua, content to put the line through his previous run at Te Aroha when, from a wide gate, the race was a disaster from start to finish.
But Lincoln King was dealt to in the opening few strides of the race when the inside horse veered out into his path, forcing Riddell to take hold.
It put Lincoln King back a spot or two further back than anticipated and in the end cost him the race as he was held up behind a wall of horses turning for home.
"Jonathan said he was very sorry afterwards as the horse should definitely have won. But he'd been suspended that much lately he was too scared to push out and risk being put out again.
"He was just a victim of circumstances after that first check put him into a bad spot.''
Riddell had to wait until close to home when Marbuzet weakened to find room along the rails and by then it was too late. Lincoln King not being the type to sprint quickly, went under by just a long head and a neck.
While the 1950 metres at Rotorua was a good stepping stone up to a middle distance for Lincoln King, Marsh says the four-year-old should go even better at Thursday's 2200 metres on the bigger Avondale track.
"He's very well and Riddell's got confidence in him now. The horse won't mind what track conditions he gets, he just needs luck from the draw.
"It's a maiden 2200 so there are no stars and he's got fewer convictions than the others.
"Jonathan will go out and ride him where he's happy and all things being equal he'll be awfully hard to beat.''
Our runners this week:
How our trainers rate them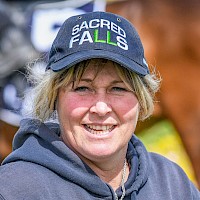 Lisa's comments
Wednesday at Hastings
Race 5 & 7: Platinum Appeal
"She hasn't been 100% in her action in the last three or four days and we have some foot issues to sort out. She won't be running. We'll wait for Palmy next week.''
Race 6: Authentic Charm
"I have chosen to back her up as this will be one of the last good tracks we will get - it's a dead 4 today. We've got the in-form Zinjete Moki who claims 2kg down to 54.5kg. She meets a small line-up and this looks like a nice race for her in her last run for the season.''
Race 8: Lincoln's Gal
"She has come through her last start at Woodville very well. She beat herself that day when she missed the kick and ran home very well. With the rating 65 having being split, it means she meets a small but even field. From the good draw Jonathan Riddell should be able to possie up and be right in the finish.''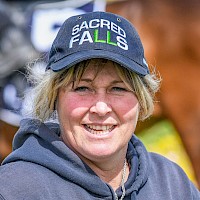 Lisa's comments
Saturday at Trentham
Race 7: Platinum Rapper
"She galloped really well on Thursday and has progressed very well since her last run. The big, roomy track suits her and the conditions won't worry her so I'm confident she's a big chance."
Race 8: Lincoln Fury
"I don't want the track too heavy for him. I'll wait until race morning to see how it is and what's scratched but we may wait for Wanganui next Saturday. His work has been good but he just may be coming to the end of his preparation.''
Lincoln light
News in brief
GREEN FIBRILLATES: Lincoln Green had an atrial fibrillation at Otaki on Thursday and will need a vet clearance before racing again. The horse raced keenly early but gave ground quickly near the 600 metre mark and rider Robbie Hannam did not persevere with him in the run home when he suspected there was something amiss.