Riddell's our man - we know he'll ride Platinum Invador to the letter
The choice of Jonathan Riddell as Platinum Invador's jockey for Saturday's A$2 million Australian Derby at Randwick was driven by one crucial factor - owners Neville McAlister and John and Lynne Street wanted someone who would do exactly what they were told.
Riddell might not have ridden in Australia for three years but he was once the go to guy for all their big targets - he rode Platinum Kingdom for them to win a Listed race at Randwick in April 2013 and a Group III race at Doomben a month later.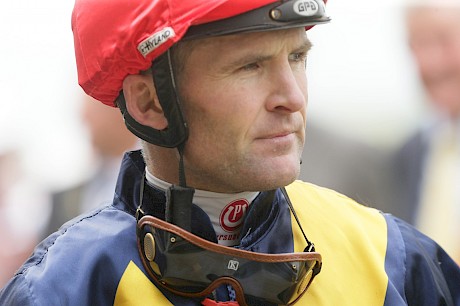 Jonathan Riddell … rode Platinum Invador in his debut.Riddell is also a strong laid back jockey who won't be pushed around but more importantly, says McAlister, he's someone he can trust implicitly to carry out instructions.
"Aussie jockeys tend to ride horses how they think they should be ridden rather than what you want.
"Last week Blake Shinn had Platinum Invador right on the speed in the first 400 metres - he could have led - and that's not what we discussed.
"He rode a beautiful race but it didn't suit the horse. On the right horse it would have been a perfect ride.''
McAlister says no one will ever know why Platinum Invador faded out to beat only one home in last week's Tulloch Stakes - "but he was ridden too handy, against his normal racing pattern.
"On Saturday we'll ride him for luck, like he was ridden in the New Zealand Derby and see what happens. He'll do nothing early and either the gaps will open in the straight or they won't.
"I just want to see him running on strongly and if he could finish in the first six or seven that would be great and we'd know last week was just a glitch.''
McAlister says a number of theories have been advanced by different people on why Platinum Invador ranged up to the leaders 400 metres out at Rosehill but didn't go on with the job.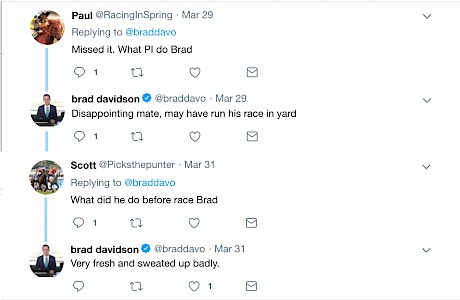 One local tipster, Sky Racing form analyst Brad Davidson, said he thought the horse was way too fresh and sweated up badly.
"He was on the toe a bit but he was like that before the Avondale Guineas as well,'' says McAlister.
Trainer Lisa Latta doesn't subscribe to the excuse that Platinum Invador simply could not cop the track. "I thought he would have handled it.''
But McAlister says the horse had never seen conditions so bad, 30 ml of rain turning the track into a bog.
"There's been no rain all this week and all they're forecasting is 2ml today so the track on Saturday should come up perfectly for us.
"It was a soft 5 when they raced there yesterday on the inside Kensington track and that's equivalent to our dead 4. And if it came back to a good 3 that would be outstanding.''
Platinum Invador had a solid gallop under Peter Robl this morning - "he needed a good gallop to knock the edge off him'' - and Latta says the local trainer is very happy with how the horse has done this week.
"The vet's been and the horse is sound, he's been scoped and his blood is good but it's hard to see him improving nine lengths in a week,'' says Latta.
McAlister accepts given most derbies are won from the inside eight barriers, Platinum Invador faces a tough task from 14.
But then again so do four of the other five Kiwis in the race, The Chosen One drawing 17, In A Twinkling 15, Arrogant 12 and Madison County 11.
Tony Pike's Surely Sacred in six is the only one to escape the visitors' draws.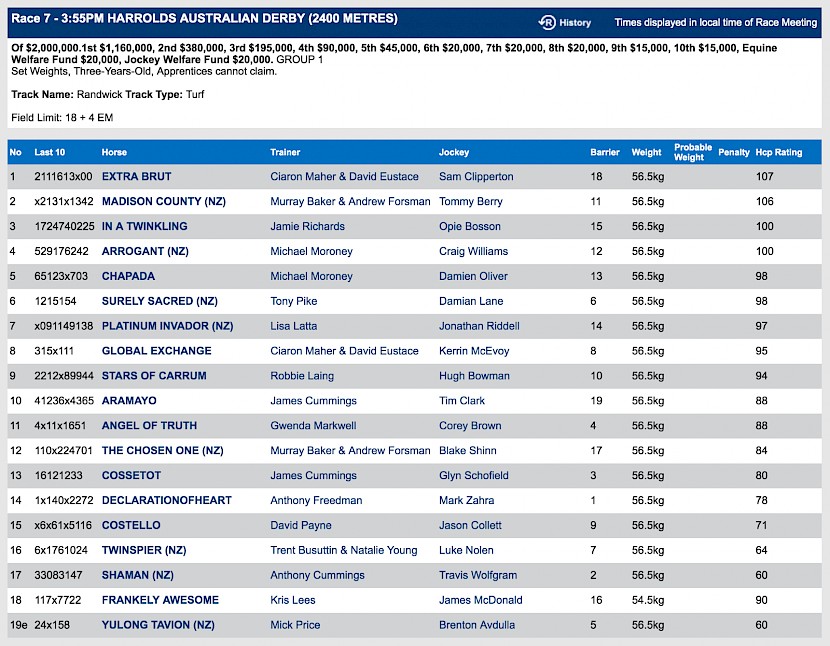 Our runners this week:
How our trainer rates them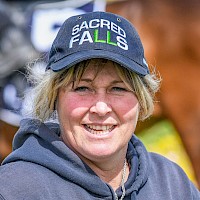 Lisa's comments
Saturday at Otaki
Race 6: Kamanda Lincoln
3.39pm
"He had a couple of quiet weeks after his good Wellington Cup run and we are using this race as a lead-in to the NZ St Leger. The track has come up a slow 7 after some rain overnight and there is more forecast for Saturday which will further help his chances. From a good draw he should be able to get a cosy run just in behind the pace."