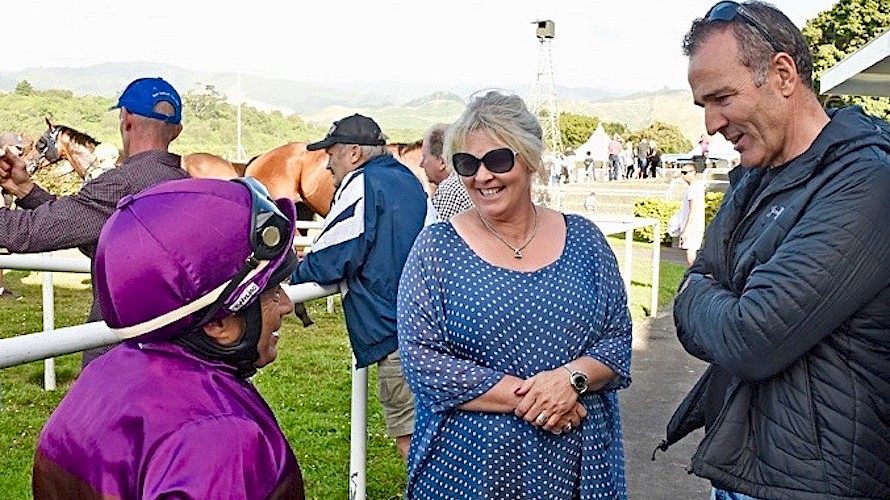 Robbie: I've got a lot of confidence in Platinum Invador as a stayer
Lincoln Farms' emerging stayer Platinum Invador has been flying under the radar until now but with each run rider Robbie Hannam is getting more and more confident he can be competitive in the New Zealand Derby.
Platinum Invador thrashed his older rivals at Otaki yesterday in his first run over a middle distance, putting together back-to-back wins, and it was the way he did it that has even Hannam thinking the bookies have got it wrong offering $61 odds on the horse for the March 2 classic at Ellerslie.
"I've ridden some nice stayers and Group One horses and one hundred percent this horse is one of the most promising stayers I've ridden recently,'' says Hannam.
"I've also ridden in the derby so I know what it takes for a horse to be good enough to run in it.
"He won't have any problems seeing out the distance and what I really like is the turn of foot he's got.
"When I needed him to quicken up I slapped him on the shoulder and showed him the stick and he gave it to me - it was instant.
"You don't normally get that when horses are having their first time over a trip - they over-race, fight you, hit a flat patch, then they don't know you want them to go again.''
Platinum Invador, however, relaxed perfectly yesterday, says Hannam, the result of the patient approach taken by trainer Lisa Latta.
"People will say he hasn't beaten much but the reason he hasn't been up against the better horses is he's been mentally immature. He used to throw his head and race a bit keenly.
"The first time I rode him at Trentham my instructions were to jump him out, sit, and let him run home.''
Platinum Invador did just that, unleashing a dazzling late burst when clear very late, getting within 2.6 lengths of the winner when ninth.
"The other two times I've ridden him my job was to get him to relax off the bit and he's done it beautifully.
"The pace was quite strong yesterday and he was off the nickel. I just waited for the leaders to come back to me, and they did.
"The worry was when the grey horse (runner-up Deep Blue) took off, he went quick. I was giving it a five to six lengths head start and when I needed to go at the 600 he did hit a flat patch, but as soon as I got into the open he kicked again.''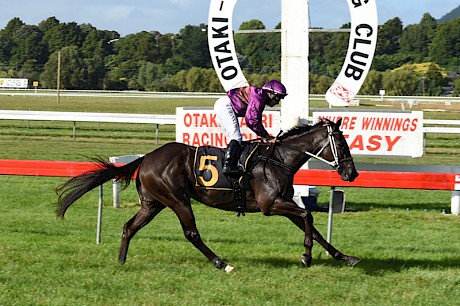 Platinum Invador and Robbie Hannam are three lengths clear and cruising at the finish yesterday. PHOTO: Race Images.What really impressed Hannam was how quickly Platinum Invador put his rivals to bed, in the same manner as his previous win at Otaki over 1600 metres.
"He's still a work in progress but he's gonna stay no question. He's a nice horse who's got it all there and if he doesn't make the derby he'll be a nice cups horse as a four-year-old.
"But he's done more than most three-year-olds at this stage of their derby preparation, gone from a mile to 2100 metres against older horses.
"He's just stepping up quietly, learning, and while he's still not mature yet, he's getting better and better.''
Hannam says he is confident the Redwood gelding can match the headline three-year-olds, like his glamour stablemate Lincoln Falls, at the derby trip.
"He hasn't done what those big name horses have done in better class but most of those have been running over 1600 metres not over a trip.
"Lincoln Falls is a naturally brilliant galloper, and a way better class of horse, and my fellow would struggle to beat him in a race like the Avondale Guineas (2100m) because he'll get off the pace a bit. But come the derby it could turn all around.
"This horse would have a bit on Lincoln Falls over a longer trip at this stage. Lincoln Falls is unproven over ground. He might be too brilliant to get 2400 metres, we just don't know yet.''
Platinum Invador's next test will be over 2200 metres at Trentham in 11 days.
Lincoln light
News in brief
GREEN FIBRILLATES: Lincoln Green had an atrial fibrillation at Otaki on Thursday and will need a vet clearance before racing again. The horse raced keenly early but gave ground quickly near the 600 metre mark and rider Robbie Hannam did not persevere with him in the run home when he suspected there was something amiss.