Rollercoaster ride comes to an end for little warrior Make Way, a favourite with everyone
The rollercoaster ride of one of Lincoln Farms' wackiest partnerships has ended with the retirement of Make Way.
The little warrior who first brought them together for fun nights at Alexandra Park then went on to butt heads with some of the best pacers in Australia has almost certainly run his last race.
When Make Way came back from an eight month injury spell in mid August with a brilliant second at Mildura, the camp was full of hope he would return to his winning ways.
But while the sesamoid bone he fractured had healed, he came out of the race with swelling in the same joint and scans revealed the tendon had detached from the bone.
Lincoln Fams' business manager and co-owner Ian Middleton said veterinary opinion was the injury would take a long time to heal, if at all, prompting the decision to pull pin on the horse.
"He is rising six and he has done a great job for his owners, winning 14 races," Middleton said.
"The last two seasons have been rough on him and the doubt that he can recover sufficiently to race again, along with the associated costs, makes it marginal."
Make Way will spend the next month being looked after in a box by trainers Sonya Smith and her partner Anthony Butt, Middleton said.
"Sonya loves the horse so much and is prepared to box him at their own cost before retiring him to a paddock next to their home.
"If there had to be a choice between Ants and the horse I think Make Way would win again."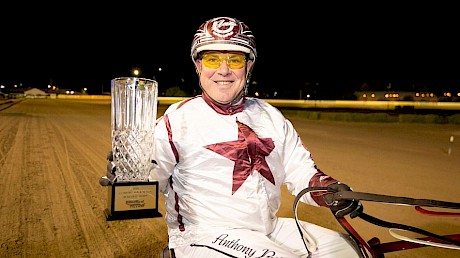 Anthony Butt with Make Way's Redcliffe Derby trophy - "He was the perfect little racehorse."Butt said today Make Way, known as Tommy, had always been a favourite of theirs around the stable.
"He was definitely No. 1 with Sonya, still is. She was in his box today, brushing and playing with him.
"He's always been a good little horse to have around the place. He had perfect manners like all the Lincoln Farms horses who come over here.
"He was a fast little fella and a wee ripper on the track. He raced with no gear and was perfect to drive in a race. He had good gate speed and could stop and start on a dime.
"He raced up to a good level - they had a lot of fun with him and he won a bit of money."
Butt said veterinary advice was Make Way would need at least 12 months' complete rest.
"There is a chance he could recover as the tendon isn't damaged. We'll X-ray him after nine months and re-evaluate after that."
Make Way, once the Mr Consistency of pacing in Australia, won just one of his 13 starts in 2020, enduring one problem after another including a bad foot abscess, an inflamed throat from a virus, an ulcer on his epiglottis and, finally, the fractured sesamoid which happened when he copped late interference in a race and hooked wheels with another horse inside him, knocking him sideways.
But while there hasn't been much joy in the last 18 months no-one could tell the syndicate that they haven't been blessed since Make Way started racing in February, 2018.
After leaving New Zealand the winner of three of his 21 starts he became a regular EFTPOS card for the partners winning 10 of his 22 races in 2019 when he was seldom out of the money.
Best of his 14 wins were the Redcliffe Derby, Canterbury Bankstown Cup and Fred Borg Memorial but it was his last race of 2019 that really got the adrenalin running for his owners.
Pitted against some of the best pacers in Australia in the Shirley Turnbull Memorial he was collared only late by Alta Orlando and Our Uncle Sam, beating home Miracle Mile winner My Field Marshal.
That performance earned him a place in the $200,000 Group I Chariots of Fire won by champion Lochinvar Art.
But while Make Way struggled to match the very best horses he was a terrific competitor for his admiring team, taking a best mile mark of 1:51.7 at Menangle and earning A$152,295 from 14 wins and 15 placings in 57 starts.
It was an experience never to be forgotten by Middleton, Lincoln Farms' owners John and Lynne Street, Northland brothers Duncan, John and Dave Chisholm, Warwick Orr, the 10-strong all women Excell Syndicate, Auckland veteran Bob Best and Amy and Lance Myocevich.
Our runners this week
Friday at Albion Park
Captain Nemo.
Friday night at Auckland
Copy That, Pasquale, Louie LeBeau, Bet On The Tiger, Arden's Horizon.
Saturday night at Albion Park
Tommy Lincoln.