Romance of The Derby captures all - it's so much more than a $1 million race
The Derby.
All around the world there's a special romance about those two words.
Owners everywhere spend fortunes looking for a horse good enough to run.
Trainers challenge themselves, often walking a tight rope to get their charges to the starting line.
And punters spend hours studying the form trying to find the winner.
On Saturday at Ellerslie, the New Zealand Derby, which has been contested since 1860, will be run for a purse of $1 million.
But for Lincoln Farms' boss John Street it's not the prizemoney which has him losing sleep.
When Lincoln Falls and Platinum Invador walk into the starting stalls at 4.55pm, his adrenalin will be pumping at the thought of experiencing a thrill so few get to enjoy.
Winning a $1 million race at Ellerslie would be nothing new to Street and his wife Lynne. They've been there, done that, thanks to the feat of Fort Lincoln, whom their trainer Lisa Latta produced for a brilliant rails-hugging win in the 2011 Karaka Million for two-year-olds.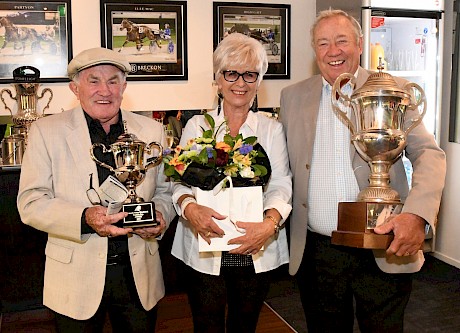 John Street, right, pictured with Jim and Anne Gibbs who, along with Roger James, trained 1986 New Zealand Derby winner Tidal Light.And Street has been lucky enough to chalk up wins in just about every other major race an owner could wish for at both the gallops and trots.
He's won a 1000 Guineas with Platinum Witness, a Zabeel Classic with Mikki Street, an Auckland Cup with Sir Lincoln, an Interdominion Trotting Final with Galleons Sunset, a Breeders' Crown Final with King Of Swing and a New Zealand Derby and Great Northern Derby with Badland's Bute.
But winning a galloping derby has so far eluded the Streets, despite a quarter of a century of trying since their first thoroughbred winner Weekend Warrior scored in 1993.
"We've only had a bucking bronco,'' jokes Lynne Street of their first great white hope, Lincoln Blue, two years ago. His chances were extinguished soon after the start when he started bucking.
Derby challenge fuels James
You have only to talk to New Zealand's most successful derby-winning trainer Roger James, who has stood on the winning rostrum five times, to realise why it's a mission to get a three-year-old into the derby, let alone win it.
James doesn't have a runner on Saturday, and has not won the race since Silent Achiever scored in 2012.
But he became known as the derby king in the 1990s when he struck with Roysyn (1995), Zonda (1997) and Hades (1999).
"Each of them were different kinds of horses but they all shared one thing - they had the ability to relax in a race.''
James thrives on trying to win the derby, noting the English equivalent is one of only five classics with a special aura around it.
Geoff Lewis brings Mill Reef back to scale after winning the 1971 English Derby.It's no coincidence that James named his stables Kingsclere - where Mill Reef's trainer Ian Balding, one of the greatest derby-winning trainers of all time, had his stables in Berkshire, England.
"From a trainer's perspective I like the challenge of working with relatively immature horses, trying to get the work and experience into them, without getting to the bottom of them.
"You're often on a knife edge to get them there. Some make it and some don't.
"First the horse has to have the ability to win but you also have to cajole it through, often with kid gloves.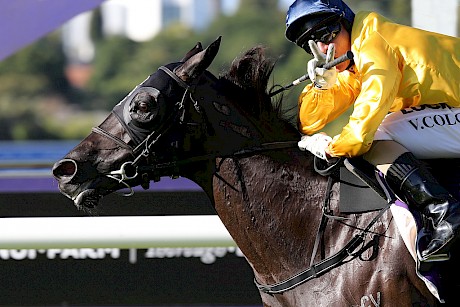 Silent Achiever was so weak, trainer Roger James had to nurse her to the start of the 2012 New Zealand Derby. PHOTO: Trish Dunell."Silent Achiever was as weak as a kitten. There were seven Cambridge horses in the race that year. Most had similar lead-ups and I was watching them like hawks. Some had four gallops before the race, others three, but I gave her one.
"She was eating as much as you'd find in a cat and I couldn't afford to do any more with her.
"When it turned wet on the day I was dry retching, thinking I'd stuffed it up by not having her ready for the conditions.''
James can sympathise with Latta over her fears Lincoln Falls will be too brilliant to get the 2400 metre trip on Saturday.
"You have to train them to get the distance. I remember after Gibbsy (Jim Gibbs) and I won the derby with Tidal Light (in 1986) we drove to the track the next morning and he said to me: 'We've got to take a bit of the credit for that. Some people would have had her in the Railway Handicap'."
But then there's no set formula for Derby winners - 1971 English Derby winner Mill Reef had blazing speed as an early two-year-old and belied knockers with his win, going away at the finish to score by two lengths, despite not being bred to stay.
Price tag no predictor
Price tag is no predictor of derby success either. The 1977 Kentucky Derby winner Seattle Slew, who went on to take the Triple Crown, cost only $17,500 at auction. The 1971 winner Canonero II was even more of a bargain at just $1200.
In Lincoln Falls and Platinum Invador you wouldn't find two more different horses.
How Lincoln Falls looked as a ready-to-run two-year-old.On the one hand Lincoln Falls is a flashy and brilliant colt, a $200,000 Ready To Run graduate whose dam Causeway Queen won eight races, including the Tasmanian Oaks. He looked outstanding from the outset, winning his first two trials and he was super impressive on debut.
Then there's Platinum Invador, a gelding who was sold for just $25,000 at New Zealand Bloodstock's third tier Festival sale nine months earlier, and was unplaced in his first two trials and took four starts to win a race.
Platinum Invador, stable name Rufus, might have been cheap but he was part owner Neville McAlister's top choice at the sale.
Somewhat of a pedigree buff, the fact his dam failed to win a race was no turn-off for McAlister who expected to have to pay considerably more.
His second dam Bomba Atomica was a four time winner in Italy and is from a family of successful stayers.
Latta initially feared Platinum Invador would be too immature to make the derby - "you could just see how he had so much building up to do.''
"But he always had a bit of charisma and just kept on improving and stepping up every time we asked him to.''
Latta says she won't really know until Saturday whether all the recent racing and travelling has got to Platinum Invador, but all the signs are positive.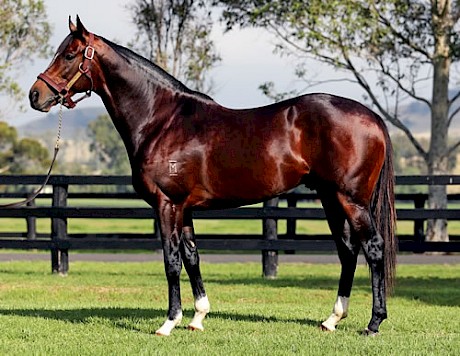 A derby win would see the value of Lincoln Falls soar, just like his sire Dundeel, pictured above.For his part, Street would be far more excited to see Lincoln Falls, a son of Dundeel, cross the line first on Saturday because as a colt with a Group I Derby to his name his value as a potential stallion would soar.
Street and his partners in Lincoln Falls, Kevin Pratt and Chris Grace, passed up several chances to sell Lincoln Falls for a seven figure sum at the start of the season, intent on having a derby runner.
"We've had the derby in our minds for the last six months," says Street.
But now that he is there, the camp fears Drew, as he is called around the stable, may be simply too brilliant to run out the trip, especially from a very wide barrier.
"But he'll strip a very fit horse and I'm hoping that will really help,'' says Latta.
"Winning the derby would mean everything to me. It's one of the most prestigious races in New Zealand and I've always wanted to win it.''
Our runners this week:
How our trainers rate them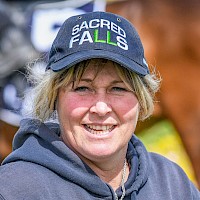 Lisa's comments
Saturday at New Plymouth
Race 7: Platinum Volos
"It's not an ideal race for him and I'm a bit worried about the 1400 metres. We'll have to ride him back last and look for runs through them to give him the chance to see the distance out."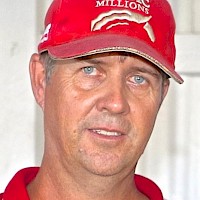 Al's comments
Saturday at Kilcoy
Race 5: Lincoln's Command
4.59pm NZ time
"He looks fantastic and his work has been good. Kilcoy is a very tight track and you need to be up front so we'll be going foreward even from the wide draw. We rode him back last time and it didn't work as he's too one-paced."