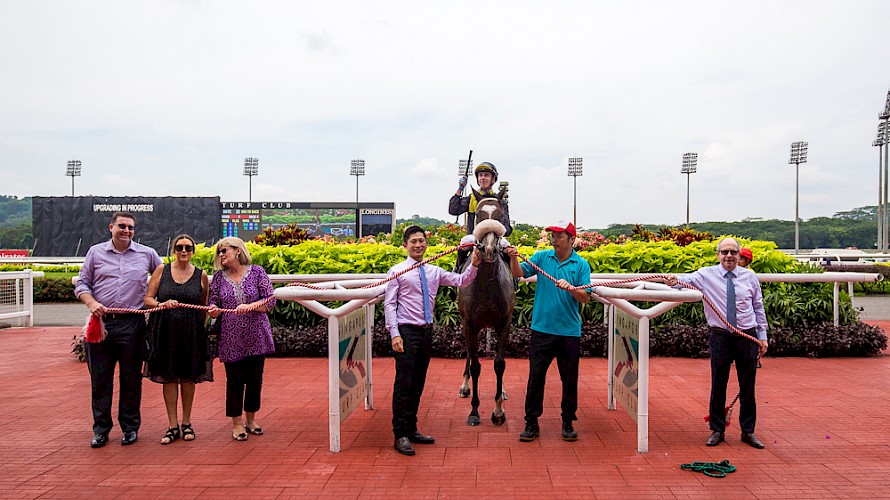 See what happens when blinkers come off O'Reilly Bay and Troy's more patient
Trainer Bruce Marsh is tipping O'Reilly Bay as a strong chance in Singapore on Sunday- with a gear change and a better ride.
O'Reilly Bay looks well placed in a S$38,000 Kranji D race on the grass over 1600 metres, the distance of his last win in June.
And Marsh says apprentice Troy See was particularly impressed by the way the horse worked in his final gallop yesterday.
See was aboard the O'Reilly six-year-old last start when he raced over 1800 metres, running second on the outer before disputing the pace 700 metres out and taking over at the 500.
O'Reilly Bay was swamped 150 metres out and ran fourth, beaten three lengths.
"Troy admitted he let the horse roll to the front too soon on the long course and he just died on his run," says Marsh. "I also think the fact he raced with blinkers and a pacifier made him travel too keenly so we have taken the blinkers off.''
Marsh is hoping that from barrier seven, See can get O'Reilly Bay some cover in the first three or four and be more potent at the finish.
"I feel quite confident we will get a result."
Marsh's other runner for Lincoln Farms, Pratt Street, is second emergency in the final race and unlikely to get a start.
Shane's pair likely to struggle
Trainer Shane Baertschiger will be surprised if either Saint Lincoln or Silent Prince feature this weekend in Singapore, neither horse really suited by their races.
Saint Lincoln contests an 1100 metre race on Friday night, a distance Baertschiger says he'll likely find too short, and Silent Prince has been forced into a higher grade on Sunday after the race he was targeted at was cancelled through insufficient entries.
Saint Lincoln, who runs at 3am Saturday morning NZ time, is resuming after a spell of more than four months, having bled in his last race on June 22.
But even though the horse goes his best races when fresh - he was placed in his first start then won fresh the next campaign - Baertschiger says he might find 1100 metres too sharp.
"I would have preferred a 1200 metre race for him but he's gone his best races on the polytrack and there wasn't one at 1200.
"He's also drawn the car park (12 of 12) which will make it hard for him. He'll have to try to get across without using too much energy.
"But I think the speed could be too hot for him. When he won his race it was class five and this is a higher grade so it won't be easy.''
Little Prince will try hard
Baertschiger wanted to run Silent Prince in a class four race over 1800 metres but when it was dropped he was forced into a class 3 race over 1600 metres.
The eighth race, scheduled for 9.55pm on Sunday, will see him face much stronger opposition than he's used to.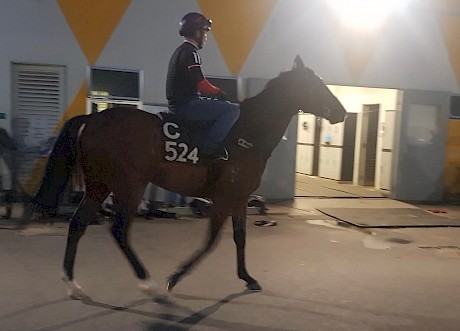 Silent Prince heading out to work early at Kranji this morning. PHOTO: Scott Bailey."Going from class four to class three is a big jump, probably the biggest. A lot of horses get to class four but they struggle in class three.
"But it's already been four weeks between runs so he needs to go round.''
Baertschiger says the plus side is that Silent Prince gets plenty of weight relief - he is carded to carry the lightest weight of 50kg - which will really help as he's only a small horse.
"He's only 430 kilos but he tries hard and he might surprise us and run a place. It's not an overly strong class three field.
"We've worked out how to ride him now - cold out the back. When he first started he'd box seat but that was in the lower grades. He's better if we let him find his feet and work home.''
Baertschiger says Saint Lincoln and Silent Prince came to Singapore on the same plane and in the early days Saint Lincoln showed a lot more.
"But Saint Lincoln hasn't improved at all.''
Saint Lincoln's record is one win from 12 starts for $21,000, while Silent Prince has won twice from 17 starts for $76,000 in stakes.