Shane home hoping for Lincoln pick-me-up after Moonlight thieves strike in Thailand
Singapore trainer Shane Baertschiger will be hoping all his bad luck has been used up when progressive galloper Lincoln Moonlight goes into the barriers at Kranji on Friday night.
Lincoln Farms' most exciting galloper was robbed of a win at his last start when taken back in the trail but that was nothing compared with the trauma Baertschiger and his family and friends went through when robbed while on holiday in Thailand this week.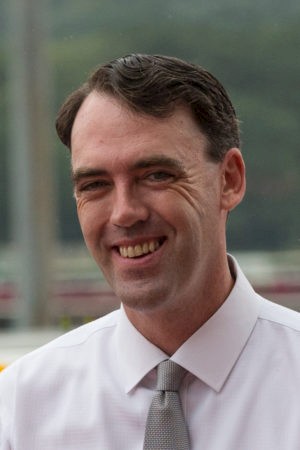 Shane Baertschiger … his Thailand holiday ended on a traumatic note.Thankfully his party lost only a few thousand dollars and a gold chain to Koh Samui thieves but the ex-pat Australian admitted it felt good to back in the safety of Singapore.
And in Lincoln Moonlight he has a runner who has the ability to put him back on track training winners - he lies second on the premiership behind Lee Freedman.
Had Lincoln Moonlight drawn better than 10 in the 12-horse second race at 11.50pm NZ time, Baertschiger would have happily labelled him.
"It's awkward from that gate but if he can get across and slot in third or fourth and one-off he's still the one to beat.
"He should have won his last start but when the leader put the brakes on he went from getting a gun run to being another pair back and losing all his momentum.''
In the video you can clearly see jockey Matthew Poon in the trail trying to angle off the leader's heels 670 metres from home, only to abruptly lose his position.
Stewards later warned jockey Nooresh Juglall that slowing the tempo to a degree where riders were left endangered would not be condoned.
"Matthew came back and said when horses are knocked down like that they don't usually get back up again.''
Lincoln Moonlight, however, rallied like a good horse and, after coming across heels and finally getting into clear air, he closed to within 1.3 lengths of the winner to grab third place.
"He's worked well since that run and he performed on the polytrack in his first start so that's not an issue.
"He drew badly that day and had to work and work and work to get to the front and, when he was entitled to drop out, he kicked on well (for third).''
With both John Powell and Matthew Kellady suspended, Baertschiger has engaged premiership leader Vlad Duric to ride Lincoln Moonlight on Friday night.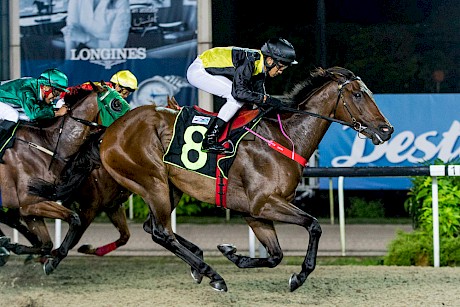 Saint Lincoln powers home to score fresh-up at Kranji. PHOTO: SGRacing.Kiwi jockey Craig Grylls will be on Lincoln Farms' other runner, Saint Lincoln, in the eighth race at 3am NZ time.
But Baertschiger says he can only hope that the horse has shed his previous habit of winning first-up then going poorly after that.
In his first race for more than four months on November 2 Saint Lincoln came with a terrific run from well back to score a course-distance win.
He tackles another non premier class 4 race on Friday and Baertschiger says if he can run as well again he's a chance, especially with his ability to race well on the polytrack.
"But I can't tell from his condition or his trackwork if he's gone backwards. We'll know a lot more on Friday.''
Saint Lincoln would again be ridden back, a formula which Baertschiger says is proven to help bleeders - it gets them to relax instead of placing them under undue early pressure.
"If he goes badly it will be back to the drawing board. We'll change his training and do a lot more slower pacework.''
Baertschiger's third Lincoln Farms galloper Silent Prince is having a month off.
"He doesn't act on the poly and we're not back on the turf until the second week of January.
"He's kept on improving each preparation and now that we know how to ride him (back) he should have more wins in him.''