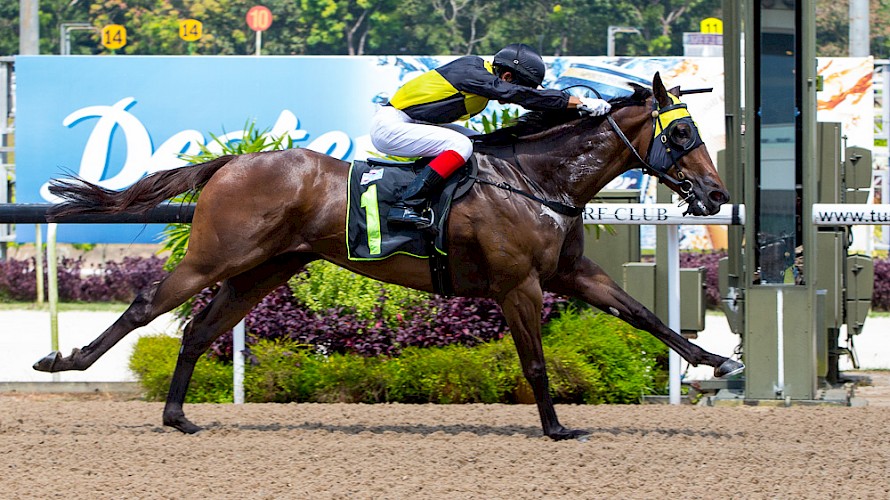 Shane: Step-up in class, and awkward draw, makes it tough for Lincoln Moonlight tonight
Lincoln Moonlight may have won his last start in impressive fashion but trainer Shane Baertschiger rates him no more than a chance at Kranji tonight.
Baertschiger says while Lincoln Moonlight scored by three and a half lengths on August 18, it was against a lowly S$20,000 maiden field, and he steps up to class four company this time for S$50,000.
"The opposition is twice as good as last time and he's drawn awkwardly in 10."
Baertschiger admits he's disappointed in the horse who took nine starts to win.
"He hasn't shown much improvement in the last six months. Early on I thought he was better than he's turned out to be. He's certainly no world beater."
Baertschiger says Lincoln Moonlight will have to run much faster to win tonight's seventh race at 8.20pm NZ time.
"His winning time was very slow - 1:06.05 - which is well above standard."
By comparison, tonight's toughest rival Yulong Fast Steed clocked 1:05.11 in winning his 1100 metre maiden.
Baertschiger believes class four, and no higher, is where Lincoln Moonlight will be competitive.,
"This is his mark. If he got to class three he'd struggle."
Baertschiger says he hasn't noticed any real improvement in the horse since his win.
"He's a chance, more for a place, but it won't be easy for him."
O'Reilly Bay, who runs in the last race at 9.30pm, will find 1200 metres on the polytrack too short for him, says Baertschiger.
"This will be another fitness run for him, to get more mileage into his legs, then we'll step him up to a mile."
O'Reilly Bay finished 10th of 12 when resuming on August 9, his first race for Baertschiger and first for nearly nine months.