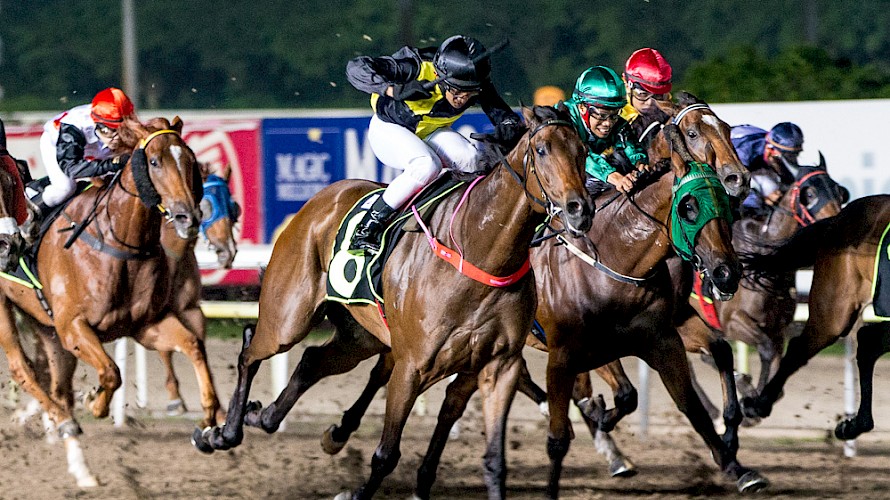 Shane's late call helps this Lincoln upset first-up - but he ain't no Saint
A decision by trainer Shane Baertschiger just before the race proved decisive when Lincoln Farms' Saint Lincoln scored an upset win at Kranji on Friday night.
Saint Lincoln's previous racing style was all on-pace but after studying speed maps, Baertschiger figured it would be folly for jockey Matthew Kellady to try to cross from his barrier draw of 11.
"There was too much speed inside him and he would have been left three wide, punching the breeze,'' says Baertschiger.
"So we went back and even though he was still caught three wide at least he had cover.''
Saint Lincoln had only three or four behind him turning for home, and was four and five wide, but he made up what seemed an impossible eight length deficit in the home stretch to win, going away, by a length.
It was the five-year-old's first start since bleeding in June, another factor which swayed Baertschiger into letting the horse find his feet early.
"Once they've bled once they're at high risk of doing it again and if you bust them early, it puts too much pressure on them.
"So we'll ride him off the pace now.''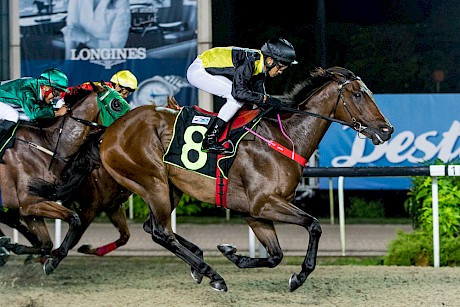 At the line and Saint Lincoln has the opposition well covered. PHOTO: SGRacingPhoto.The win kept up Saint Lincoln's record of going his best races while fresh. He ran third on debut, won when first-up on his next campaign, and repeated that on Friday night.
The trouble is, says Baertschiger, Saint Lincoln has a history of being very ordinary after his first run. And that's why he's not getting carried away with the win.
The horse's time of 1:06.53 for the 1100 metres was also comparatively very slow, the premier class four event the same night taken out in 1:05.29.
Saint Lincoln will stay in class four for his next start but will have to face that better premier class. And if Saint Lincoln ever made it to class three company, "that would be the end of him," says Baertschiger.
"He's just not good enough and, being a bleeder, I can't do too much work with him so I won't even try him at 1400 metres or a mile.
"I'll give him four weeks between runs and won't do much with him.''
Saint Lincoln now has a record of two wins, a third and a fourth from 13 starts, his S$24,098 share of Friday night's purse of S$45,000 taking his bankroll to S$45,911.
* Singapore rules allow horses prone to bleeding to be trained on lasix but it cannot be used on raceday.