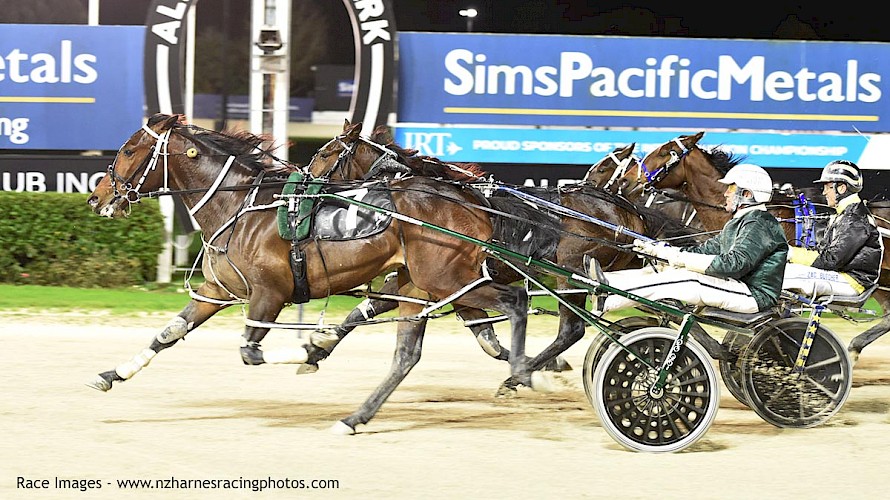 Simply Sam's thunderbolt win has Ray plotting Group race bonanza down south
Trainer Ray Green was today checking out which Group races to target with Simply Sam after yet another superlative win at Auckland on Friday night.
Second last and six and a half wide turning for home, Simply Sam unleashed such a wicked sprint he put his rivals away 150 metres later, a performance which had even champion reinsman Tony Herlihy reaching for the superlatives.
"Tell McKendry I want to know how he got beat on this horse," Herlihy said to Green on returning to scale, a tongue-in-cheek reference to regular driver Maurice McKendry being blocked in the run home last month, an option which later saw him suspended for three weeks.
"That was a really good effort," said Herlihy after scoring the 3624th win of his career.
Tony Herlihy salutes on Simply Sam. PHOTO: Megan Liefting/Race Images.The rap, in the horse's first attempt at 2700 metres and first race from a stand, only served to confirm what Green has believed for a long time.
"Dare I say it, he could end up being a serious horse, one capable of fronting up to the very best horses," Green said.
Simply Sam's closing sectionals of 56.2 and 28.4 were outstanding considering he was four wide from the 800, five wide from the 600 when the leader Wild Bill ran off the markers, and six plus wide around the home turn.
It was at about this moment in the race when Green thought stablemate Riverman Sam might win as he took the passing lane inside Bad Medicine and lodged his challenge.
But Riverman Sam had no answer to Simply Sam's acceleration and also lost second to Zarius, excelling late after an early mistake.
Green today lamented how tricky it's going to be for him to map out a big race campaign with Simply Sam, southern chiefs seemingly indifferent to the plight of northerners.
"Looking at the schedule of group racing it seems we'll have to go to the South Island at some stage.
"I'll probably back off him a bit now. He's not eligible for a $20,000 race at Auckland in two weeks that Riverman Sam can run in."
Green is hoping he could have four, and even five horses to take south.
'I'll see what's down there for Riverman Sam, and there's Copy That and hopefully Colonel Lincoln."
Copy That super
Green can hardly believe how well Copy That is going after his long break from the racetrack.
"He's super. I think he's bigger and stronger. He's grown taller and filled out.
"The way he feels, for what he's done, he's just enormous and I wouldn't be surprised if he enhances his cup performance of last year."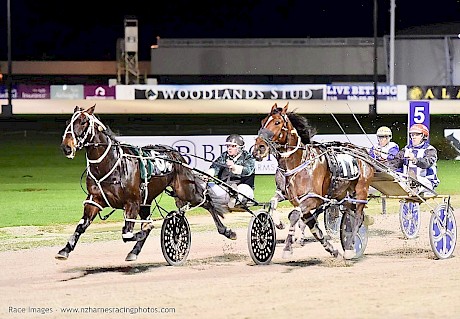 James Stormont keeps Argyle going to upset the hot favourite Chimichurri. PHOTO: Megan Liefting/Race Images.Friday night's upset winner for Lincoln Farms, Argyle, has a bit more to do before he can justify a trip south.
Though he racked up a hat-trick last night, Green says he lacks the turn of foot to be a really good horse.
"His last three starts have all been front running wins and that's where he needs to be. When he races off the pace and they kick on the turn he can't go with them. In front he can control things and be rolling along before they come."
That's how it panned out on Friday night for stand-in driver James Stormont and, despite being tackled in the run home by the hot favourite Chimichurri, he held on to score by a neck in a 1:55.4 mile rate for the 1700 metres.
"He's handy and at least he tried last night and kept running. And he might get stronger as he gets older."
The $210,000 Bettor's Delight gelding is raced by John and Lynne Street, David Turner, Barry and Marie Jones, and the Friday Frenzy Racing Syndicate (Ian Middleton, Peter Jeffares, Bernie McCahill, Mike Ledger and Rob Redwood).
Our runners this week
Thursday night at Cambridge
Whiz On Bye (Scratched).