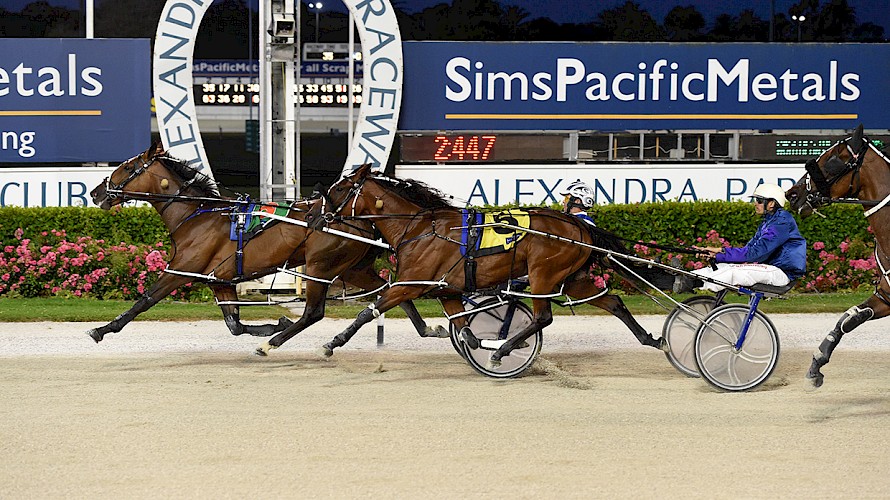 Sir Lincoln filly's stubborn streak earns her a start in the Oaks
Halfway down the home straight at Alexandra Park on Friday night, trainer-driver Todd Mitchell was sure he was going to run only second on Sir Lincoln filly Lady Cherokee.
After all, it was her first run at Auckland, she'd been parked outside the leader for the last 1200 metres, and could be forgiven for running out of petrol.
"I was thinking, oh well, she'll run second but she's gone well anyway,'' said Mitchell.
But Mitchell hadn't banked on Lady Cherokee's stubbornness kicking in - and she simply refused to let the favourite Best Western run past her.
"When she saw the other horse she went again.''
So tough was Lady Cherokee, she had edged ahead again by three-quarters of a length at the line, clocking slick closing sectionals of 56.5 and 27.2.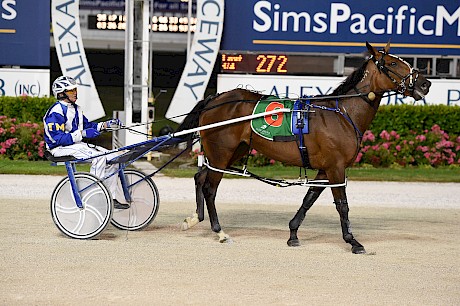 Todd Mitchell brings Lady Cherokee back to scale, next stop the Northern Oaks. PHOTO: Race Images.The win extended Lady Cherokee's unbeaten run to three and convinced Mitchell that she is worthy of her place in the $125,000 Northern Oaks on March 1.
"I wasn't expecting to win tonight,'' said Mitchell, who threw in a nomination for the Oaks earlier in the week.
"As long as we were hitting the line well I'd have been happy finishing fourth, fifth or sixth as she's still learning.
"But we might as well have a go at the Oaks now - she should get the distance.''
The Oaks is run over 2700 metres, 500 metres further than Lady Cherokee has been, but the filly has one attribute which Mitchell says will really stand to her.
"She just relaxes and only goes when you ask her to. I was expecting them to go a bit harder but wasn't worried about doing work early and going up to sit outside the leader, I knew she'd relax.
"She does that even in her work at home. Crystal Hackett has been driving her in fast work during the holidays because she's so lovely to handle.''
Mitchell says there's no sign of any flightiness in the filly and he sometimes wonders why she came to him with the nickname Sassy.
Walton part-owner Adele Chester, who reared the filly, has an easy answer for that.
"I've had her at my place since she was a foal and she's always had an attitude. She's very strong willed and knows what she wants to do.
"It was her stubborn streak that kicked in down the home straight - she would have been thinking: 'You're not running past me'. Her mother was the same.''
Midlife crisis
Mum, Cherokee Franco, was the solution to part-owner Craig Edwards' midlife crisis 10 years ago.
In accepting the trophy in the club's hospitality room afterwards, the South Auckland accountant revealed he'd just turned 50, was depressed, and decided he was meant to do something with his life so he bought a racehorse.
The Falcon Seelster filly, bought from Canterbury's Spreydon Lodge after two starts, won four races for Edwards and his partners Chester, George Franich and Ivan Vuksich before they started breeding from her.
Her first foal Cherokee Warrior also won four races before they sold him to Australia.
Cherokee Franco's next consort was a no brainer given Chester was working at the time for Lincoln Farms, helping with their newborn foals, and watching Sir Lincoln clean up on the racetrack.
But the filly was born compromised and septic and, while she survived, she never made it as a racehorse.
Taking advantage of a return service, Cherokee Franco produced another filly in 2015 - Lady Cherokee - and in 2016 yet another filly named Cherokee Princess, now a two-year-old whom Mitchell describes as another lovely pacer.
The partners were looking forward to their mare foaling again to Sir Lincoln last year but the newborn colt died within 20 minutes before the vet could even get there.
Chester was devastated.
"It's the first foal I've ever lost.''
The team will wait until the new breeding season before deciding what's best for their mare.
But with a live foal guarantee, free return service, and the little matter of a smart filly named Lady Cherokee winning willy-nilly, it's odds on there'll be another Sir Lincoln foal in the pipeline next year.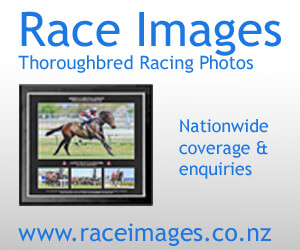 Sir Lincoln Top 10
Did you know…
1. CUP DAY BIRTH: It was preordained Sir Lincoln would be a headliner when he was born just hours before the 2006 New Zealand Trotting Cup at Addington. Three years later to the day, and almost the hour, he annihilated his rivals on the same course in the Sires' Stakes Final.
2. AGE NO BARRIER: In his second last race start, at the age of six, Sir Lincoln paced the fastest 1700 metres in New Zealand history, 2:00.5, beating Gold Ace and clocking a mile rate of 1:54 at Alexandra Park. Champion pacer Elsu held the previous record at 2:01.1.
3. ON THREE LEGS: Sir Lincoln ran his last race virtually on three legs, when second to Terror To Love in an Interdominion heat at Auckland. He had to be pulled out of the Melbourne series, and retired, when found to have a subluxated pastern joint - basically his ankle joint was dislocated.
4. SWIFT GOLDEN MILE: Sir Lincoln's fastest mile was recorded in the 2012 Group III Golden Mile at Menangle in Sydney when he was nosed out by Captain Joy in 1:51.4. He was known by the name Lincoln Royal in Australia.
5. AT THE REINS: One for the trivia fans - how many drivers did Sir Lincoln have in his 57-start career? Maurice McKendry was Linc's pilot throughout his career but he was MIA four times when the horse was handled by James Stormont, Ken Barron and Blake Fitzpatrick (twice).
6. WINNERS KEEP COMING: In only his third season with runners on the track, Sir Lincoln has already sired the winners of 30 races despite having limited numbers to represent him. Last season in New Zealand alone he had 16 winners from only 39 starters and this term he already has six winners from just 18 starters.
7. SOMEBEACH SOME RAP: Breeding buffs made a beeline for Sir Lincoln after superstar racehorse and stallion Somebeachsomewhere had to be put down with cancer. Sir Lincoln is 7/8th bred on the same cross as Somebeachsomewhere - by Mach Three out of a Beach Towel mare who is in turn out of a Cam Fella mare.
8. DISCOUNT FOR LOYALTY: Broodmare owners are returning to Sir Lincoln in droves. Taken by the attractive foals he is leaving, many book straight back to the Alabar-based sire and take advantage of Lincoln Farms' loyalty scheme which cuts his service fee in half to just $1250 plus GST.
9. TIME BEST FRIEND: Sir Lincoln's progeny are mirroring the sire's own start on the racetrack, benefitting from a little time to mature. The best the horse himself could manage as a two-year-old was one third from four starts but he was a different animal at three, winning four of his first five starts.
10. MEGASTAR'S FREAK DEATH: A freak accident claimed the life of valuable broodmare Lincoln's Megastar, a full sister to Sir Lincoln. The mare, who opened her career with a nine and a half length walloping at Auckland, was retired after six wins, but left only one foal. She was killed when crushed by a fallen tree in a violent storm. Woodlands Stud has another full sister in two-year-old Moonlighting who is in training with Ray Green.