Sir Lincoln headliners spread far and wide
Just when they were starting to put Sir Lincoln's name in lights, owner Lincoln Farms has sold promising pacers Rupert Of Lincoln and Lincoln Road.
But starting his sixth season at stud the well credentialled stallion has a host of new youngsters ready to fill the breach, in a year that promises to define his career.
Rupert Of Lincoln, winner of two of only three starts for Lincoln Farms' trainer Ray Green, is off to Aussie, snaffled up by big spending owner Merv Butterworth. And four-race winner Lincoln Road, who all but downed topliner No Doctor Need in the Te Awamutu Cup, is bound for Queensland.
With earlier Sir Lincoln flag bearer Aramis having already made his mark Stateside with a first-up win in 1:55 at Yonkers, Alabar Stud general manager Graeme Henley says the future is looking pretty rosy for the 12-year-old sire.
"Everything is going well for him so far - Linc's Tiger has done a nice job since being sold to Perth (where he has won five races) and it's a good sign that people will pay good money for his stock.''
Henley knows that with Sir Lincoln's oldest progeny now four, however, it is crucial that he really makes a statement soon.
"What he did on the racetrack is largely immaterial now but if he can leave a good horse in the next 12 months he will have a really nice career ahead of him.''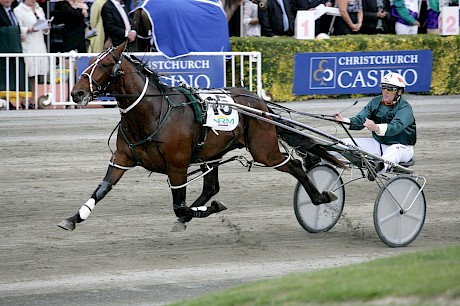 Sir Lincoln in full flight winning the Sires' Stakes Final at AddingtonAs a racehorse Sir Lincoln was exceptional. With 21 wins and $663,601 in earnings, he was one of the best of his era, racking up a string of big race wins between 2009 and 2013 for Lincoln Farms.
At three he bagged the prestigious Sires' Stakes Final and Harness Jewels. As an older horse he downed Terror To Love in the Auckland Cup. And he kept performing right until his retirement, beating Gold Ace in his second last start over 1700 metres at Auckland, clocking a record mile rate of 1:54.
With 7/8ths the same breeding as the ill-fated champion stallion Somebeachsomewhere, breeders flocked to the horse for his maiden season in 2013-14 when he served 140 mares here and in Australia.
And Henley says with two more seasons of 100 plus mares, the son of Mach Three and Clare De Lune has retained his popularity.
"People like the Sir Lincolns. They're not precocious early two-year-olds but looking at Sir Lincoln on type that's not unusual.
"Most of the bookings we get for him are from people coming back because they like the one they've already got.''
16 individual race winners
And with 16 individual race winners from only 39 starters in New Zealand last season, he has the right numbers on the board.
"On winners to live foals he's right up there with the very best sires,'' says Henley.
"And given he probably hasn't had the quality mares that's a big feather in his cap.''
Henley sees it as a big plus that Rupert Of Lincoln is out of a Bettor's Delight mare.
"If you can show you cross well with Bettor's Delight mares that's crucial because they'll be the dominant broodmares of the future.''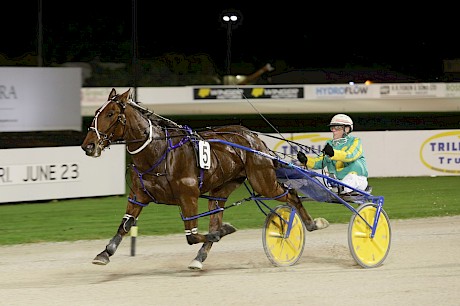 Aramis scored first-up at Yonkers in the United StatesLincoln Farms will be hoping for some headlines from the 39 racehorses and 49 yearlings by Sir Lincoln in Australia, where he is known as Lincoln Royal.
And ideally, says Henley, a couple of Sir Lincoln colts might make it to the Sires' Stakes Final at Addington this year.
"He's set a really good platform but now really needs a high profile horse. When breeders look where to send their mares they don't just want a maiden winner, they want a derby winner so he needs to show he can leave horses who perform at that level.''
While he's waiting for Sir Lincoln to achieve that, Henley knows he'll be no trouble at the South Auckland farm.
"Some stallions aren't very likeable but while he's a big, strong horse he's kind natured and pretty laid back in the paddock.
"He's pretty low maintenance. He just comes in and does his job and gets his mares in foal well.
"The only weird thing is when he jumps on the dummy he likes to go side saddle. He must have watched some funny movies in his life.''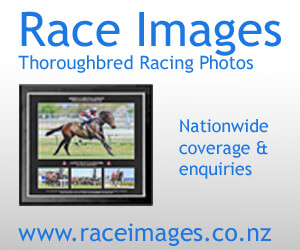 Sir Lincoln Top 10
Did you know…
1. CUP DAY BIRTH: It was preordained Sir Lincoln would be a headliner when he was born just hours before the 2006 New Zealand Trotting Cup at Addington. Three years later to the day, and almost the hour, he annihilated his rivals on the same course in the Sires' Stakes Final.
2. AGE NO BARRIER: In his second last race start, at the age of six, Sir Lincoln paced the fastest 1700 metres in New Zealand history, 2:00.5, beating Gold Ace and clocking a mile rate of 1:54 at Alexandra Park. Champion pacer Elsu held the previous record at 2:01.1.
3. ON THREE LEGS: Sir Lincoln ran his last race virtually on three legs, when second to Terror To Love in an Interdominion heat at Auckland. He had to be pulled out of the Melbourne series, and retired, when found to have a subluxated pastern joint - basically his ankle joint was dislocated.
4. SWIFT GOLDEN MILE: Sir Lincoln's fastest mile was recorded in the 2012 Group III Golden Mile at Menangle in Sydney when he was nosed out by Captain Joy in 1:51.4. He was known by the name Lincoln Royal in Australia.
5. AT THE REINS: One for the trivia fans - how many drivers did Sir Lincoln have in his 57-start career? Maurice McKendry was Linc's pilot throughout his career but he was MIA four times when the horse was handled by James Stormont, Ken Barron and Blake Fitzpatrick (twice).
6. WINNERS KEEP COMING: In only his third season with runners on the track, Sir Lincoln has already sired the winners of 30 races despite having limited numbers to represent him. Last season in New Zealand alone he had 16 winners from only 39 starters and this term he already has six winners from just 18 starters.
7. SOMEBEACH SOME RAP: Breeding buffs made a beeline for Sir Lincoln after superstar racehorse and stallion Somebeachsomewhere had to be put down with cancer. Sir Lincoln is 7/8th bred on the same cross as Somebeachsomewhere - by Mach Three out of a Beach Towel mare who is in turn out of a Cam Fella mare.
8. DISCOUNT FOR LOYALTY: Broodmare owners are returning to Sir Lincoln in droves. Taken by the attractive foals he is leaving, many book straight back to the Alabar-based sire and take advantage of Lincoln Farms' loyalty scheme which cuts his service fee in half to just $1250 plus GST.
9. TIME BEST FRIEND: Sir Lincoln's progeny are mirroring the sire's own start on the racetrack, benefitting from a little time to mature. The best the horse himself could manage as a two-year-old was one third from four starts but he was a different animal at three, winning four of his first five starts.
10. MEGASTAR'S FREAK DEATH: A freak accident claimed the life of valuable broodmare Lincoln's Megastar, a full sister to Sir Lincoln. The mare, who opened her career with a nine and a half length walloping at Auckland, was retired after six wins, but left only one foal. She was killed when crushed by a fallen tree in a violent storm. Woodlands Stud has another full sister in two-year-old Moonlighting who is in training with Ray Green.