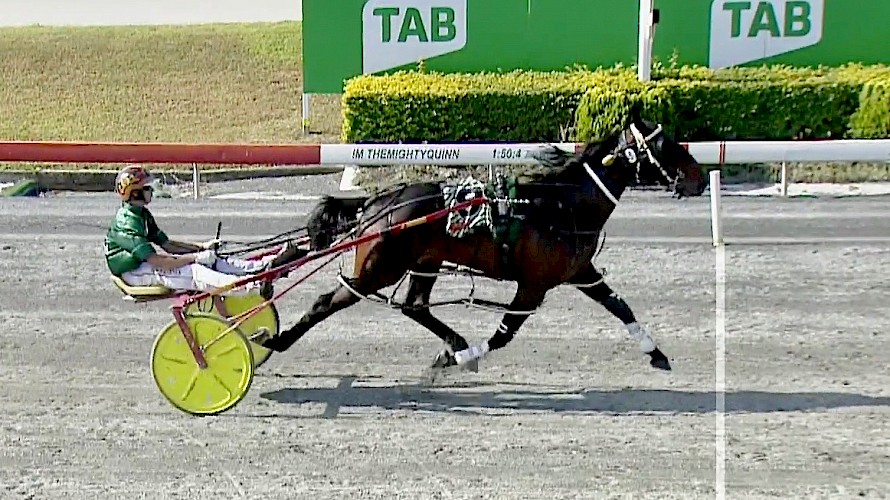 From the second row, Sir Tiger will sit coiled up on the markers, waiting for his chance
Sir Tiger will be driven quietly at Albion Park on Friday night, his chances completely dependent on what the pole runner does.
Drawn the inside of the second row, trainer Al Barnes says Sir Tiger will simply poke up the fence and take his chances late.
"He'll be in a good spot, either behind the leader or three fence, but either way he should earn a cheque, we just don't know what colour."
Barnes is hoping Special Reserve, "the best horse in the race" holds the front as he says he can't see a lot of speed.
That would put Sir Tiger in the trail with a good chance to run the leader down. Three deep and he could be in trouble as he lacks a yard of high speed.
"Special Reserve is an honest bread and butter horse and he'll be hard to beat, especially if it ends up being just a dash up the lane."
Barnes says Sir Tiger has had a couple of fast runs in training this week to make up for the quiet previous week when he was super fresh.
He will still parade a little fresh through missing last week's race, when the meeting was abandoned after heavy rain left the track unnegotiable for the mobile barrier car.
"We over-trained him the previous week when he was beaten in the Pot Of Gold Final," Barnes said, acknowledging they were still learning about their new recruit.
Sir Tiger endured a torrid run that day, three wide for the first 600 metres from the second row, before looping the field (with cover) to sit parked, the effort telling up the stretch when he weakened to sixth.
Sir Tiger kicked off his Queensland campaign before that with an easy 1:56.6 mile rate win over 1660 metres.
It is 16 months since the Grant Dixon-trained Special Reserve won a race at Albion Park and, while a consistent place getter, he has had nine starts since his last win at Redcliffe.

Sir Tiger races at 12.42pm NZ time at Albion Park on Friday night.