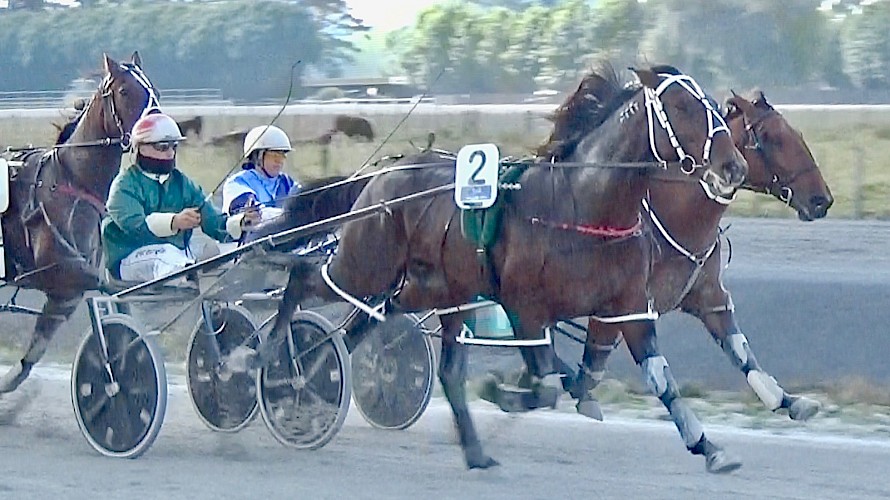 Sir Tiger still a little snotty but also a little too good for maidens at Pukekohe
Smart two-year-old Sir Tiger showed he had all but shrugged off his virus when he proved too good for a field of maidens at today's Pukekohe trials.
Sent from the trail after 500 metres by Zachary Butcher, Sir Tiger paced smoothly in the lead and, woken up turning in, repelled a bevy of challengers comfortably to win by a head.
The colt clocked 2:39.7 for the 2050 metres, a mile rate of 2:05.4, home in 59.3 and 28.
It was all trainer Ray Green wanted to see given he says Sir Tiger is still not completely over the virus which has ravaged his team.
"He's still got a bit of a snotty nose so he won't be on top of his game yet.
"All the horses on the place have had it or have got it to some degree. It's very difficult to get rid of. They're not sick, sick but they're still snotty.
'It's just the time of year when the weather is so changeable and it seems to incubate these things.''
Green was full off praise for the athletic looking colt. "He's a son of Sir Lincoln - say no more.
"He's such a nice, tractable, lovely driving horse who's a gentleman to work with.
"And he's a proper little racehorse - he tries hard.''
Butcher was surprised at how much Sir Tiger has improved in recent months.
"That's the first time I've driven him for a while and he's really come on.
"He did start loafing a bit today but he runs when you ask him to and he still clocked a 27.5 last quarter.
"I wouldn't mind seeing him in half blinkers though to help him when it gets down to the nitty gritty.''
Sir Tiger will have his next start at Auckland on April 5, a race exciting stablemate Line Up will also contest as a lead-in to a Sires Stakes heat at Cambridge on April 18.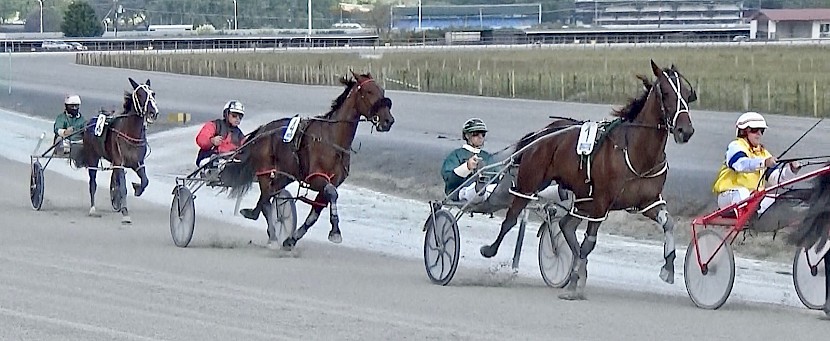 Super Easy (Andre Poutama) is about to spring out of the trail but Joey Lincoln is getting rough at the back of the field.Fellow two-year-olds Joey Lincoln and Super Easy are not quite ready for raceday competition.
The pair ran in a four-horse learners' heat over 2050 metres and both did plenty wrong.
Super Easy, having his first workout since December, was much too keen in the trail for driver Andre Poutama and got very rocky in the run home finishing third, a nose and a neck from the winner Godziller who flew late.
"We'll plug his ears next time,'' says Green.
"That's the first time we've trained him with other horses and he got a bit excited.
"He's a big, gormless thing and he'll go round and round and get better and better. But he needs time to fill out his big frame.''
Green is likely to spell Joey Lincoln who broke 400 metres from home, in the same spot as previous misdemeanours.
"I might try him in heavier hopples but he probably needs to go out. It could just be in his head.''
Butcher says Joey Lincoln got rough 15 strides before he galloped.
"It's annoying because he's so well gaited and he's not sore.''