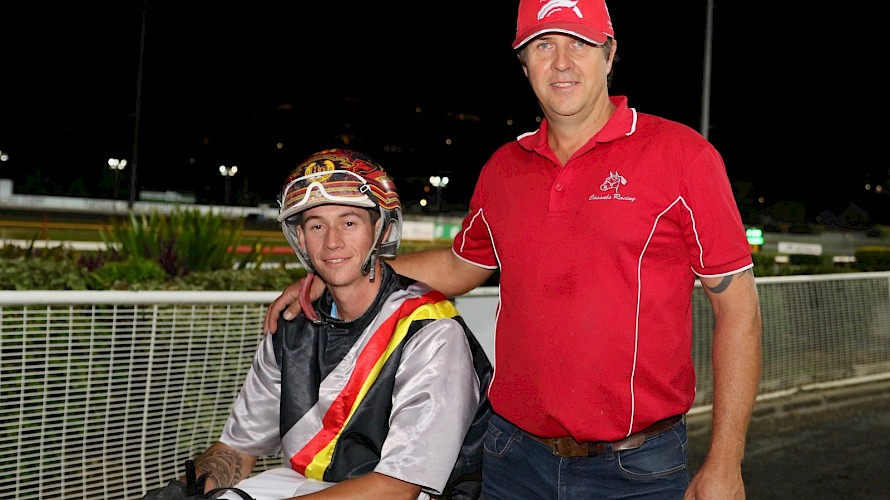 Sorry mate, that wasn't one of your best so the old man will show you what patience means
Marburg trainer Al Barnes is a typical dad, proud of the achievements of his two sons, Hayden and Brendan, who have just been named finalists for the Queensland young achiever of the year award.
But it hasn't stopped him from benching Hayden this week as the pilot of Northview Hustler, after a bad drive last week saw the horse finish down the track.
"I'm not sacking him, it's just a chance for him to reset and think about what's most important - to look after the horse first, with results second.
"I wasn't happy with Hayden's drive last week, I wanted him to show some patience and for the horse to be hitting the line, rather than be gutted."
"Hayden's driven some great races on Hustler but sometimes he pulls out without thinking. He pulled out 600 metres from home last week and was posted four wide from the 450."
Barnes was particularly keen for Northview Hustler to be driven quietly after he missed a race the previous week with an infected foot.
But it turned into a gut-buster with winner Watch Pulp Fiction pacing a 1:51.4 mile rate, and the Hustler coming to the end of his run and beating only two home.
So this week Barnes will take the reins himself "to show the kids how to look after a horse."
"I'm not the greatest driver in the world but I'm more patient than Hayden. I'll go back and save him for one sprint over the last 300 metres.
"He's about 90% to 95% fit and I want to give him some confidence by hitting the line hard.
"It's hard to predict where he'll finish driving like that but the field is a bit weaker than last time with Watch Pulp Fiction not in and the step-up to 2138 metres will definitely favour us.
"I'll let him run on this week and then it will be full steam ahead next week."
Barnes says he will have no hesitation in putting Hayden back on the Hustler - he knows the horse so well after driving him in nine of his 11 starts in Queensland last season.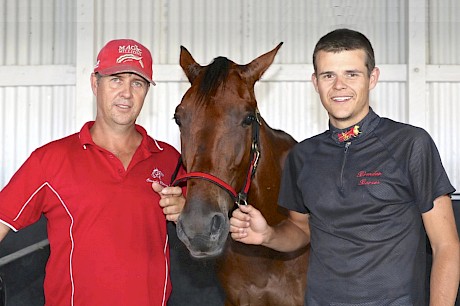 Dad with son Brendan who racked up 109 wins last season.It was another bottler of a year for Hayden who finished up 10th top driver in the state with 85 wins and $587,067 in stakes.
"Hayden has won the young achiever award a couple of times - he spent a month with John Dunn in Christchurch once and got a trip to Canada the other time.
"Both the boys did very well last season - Brendan drove more than 100 winners and not many kids do that in a season.
Brendan's finally tally was 109 wins and $767,737 in stakes, placing him seventh on the premiership.
"And Brendan's off to a flyer this season, with seven wins already."

Northview Hustler races at 10.08pm NZ time at Albion Park on Saturday night.
Our runners this week:
How our trainers rate them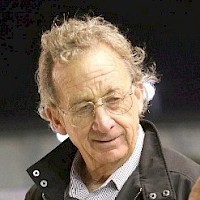 Ray's comments
Friday night at Auckland
Race 1: Tommy Lincoln
6.26pm
"They went fast last week and he was drilled down the back so he did well to hang on for second. He's drawn to lead and will go another good race."
Race 2: Apieceoflou
6.56pm
"If he gets a good trip, he's the one to beat. Being hung out last week didn't help but he still whacked away for second. He's not as strong as he will be but he's as honest as can be."
Race 2: Franco Nandor
6.56pm
"He raced up like he was going to beat them last week but you have to forgive him as he hadn't raced for a while."
Race 4: Revitalise
7.56pm
"He was in a bit of strife for a couple of weeks but we've done a fair bit with his foot, we've swum him for the last week, and he's training super. I'm very happy with him. He just needs some luck from the inside of the second row."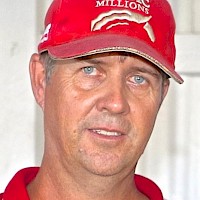 Al's comments
Saturday night at Albion Park
Race 7: Northview Hustler
11.47pm NZ time
"We haven't had him this sound for ages and he's been sharp in training this week. His last three races have been really good and he'll go forward and hopefully get the one-one behind Colt Thirty One. "They'll know he's alive if he's on their backs."