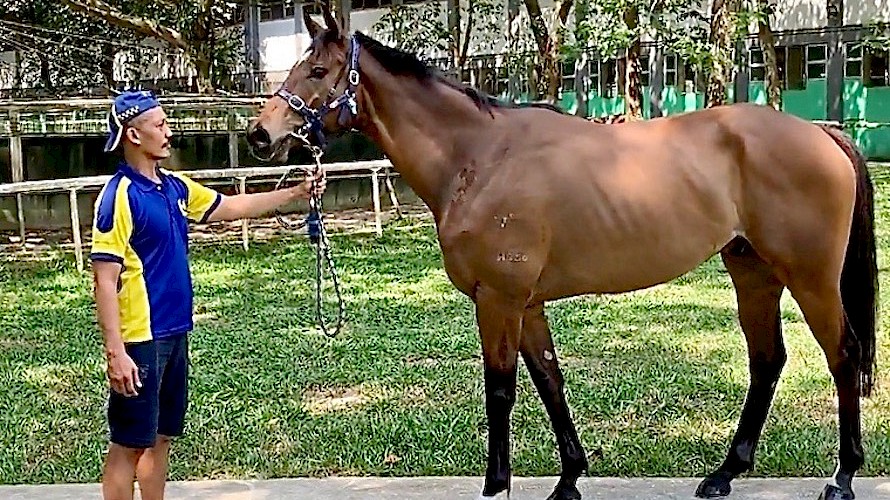 Stephen: Polytrack confuses the issue but Rock Me Easy is a much improved horse
Trainer Stephen Gray admits he'd prefer Rock Me Easy was racing on grass on Sunday, rather than the polytrack, but the horse's work this week has given him some confidence he will be in the hunt.
The five-year-old contests a S$30,000 class 5 race over 1600 metres at 6.40pm NZ time, his task made just that little bit harder by a wide 13 gate.
But the combination of an extra 200 metres, a good jockey in Marc Lerner, and a solid track gallop has Gray looking forward to the race.
Working outside open class galloper Twickenham on Tuesday, Rock Me Easy impressed Gray with his newfound nature.
"He's really come good, mentally he's a much better horse. He used to be an idiot to be honest but now he's really going well.
"When Vlad (Duric) rode him last time he said he was like a different horse. He relaxed from the barrier and behaved really well.
"They went slow early then he came off the bit when they sprinted but what Vlad liked about him was he put his head down and kept going to the line."
Though only sixth, Rock Me Easy was less than four lengths from the winner.
"Vlad said with another 400 metres he would have been all over the top of them and if I put him into an 1800 metre race next time he'd win it."
Annoyingly, Rock Me Easy was balloted out of that 1800 metre race last week and this Sunday he gets only 1600 metres - on the polytrack.
All five of Rock Me Easy's races have been on the grass but he has trialled six times on the poly, winning one of them, so he is not foreign to the surface.
While it is generally thought on-speed horses go better on the artificial surface, Gray says there are no rules and he's seen plenty of fast horses fail.
"Some love it and grow another leg. The biggest issue is the kickback.
"It's basically trial and error. He could go really well or he could go badly. We'll just ride him quietly from that shitty draw and let him find his feet. We don't want to be hunting up on the first turn.
"He's good enough to be competitive in this class and I'm very happy with him."
Gray likes the fact he has French rider Lerner on the horse: "Some riders are better than others on the poly and he's good on it. He's improved a lot and impressed me."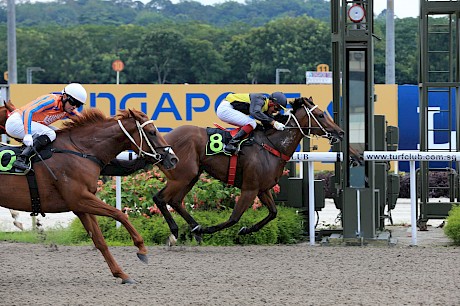 Both of Pratt Street's wins have been on the polytrack. PHOTO: TriPeaksImagery.Pratt Street, who is on the minimum weight of 51kg in the second race at 5.25pm NZ time, and has the ace draw, has won both of his races on the polytrack.
And, while his 4969 form line looks pretty bleak, Gray says you can completely put the line through his last start ninth on August 4.
"I thought he'd go close but his jockey never gave him a chance. I thought it was a poor ride, he got much too far out of his ground."
Gray has his favourite Ben Thompson back on board on Sunday in what Gray says is a good race for Pratt Street.
"His work has been good and he's best racing at this handicap level.
"I'm keen to put blinkers on him but I've delayed that as I don't want to rev him up, being a past bleeder.,"
Miracle Time needs a scratching to get into the opening race at 4.55pm NZ time, and Gray isn't too fussed about him running on the poly either.
"But I wanted to see how he'd go on it and he's in a weak class.
"His fourth last time was very good. Vlad said he got shuffled back and when it got very tight round the turn he got up on the bit.
"He was also held up on straightening and Vlad reckoned he should have run second or third.
"But it was a much improved run and Vlad liked the fact he kept trying. He's not far from winning a race."