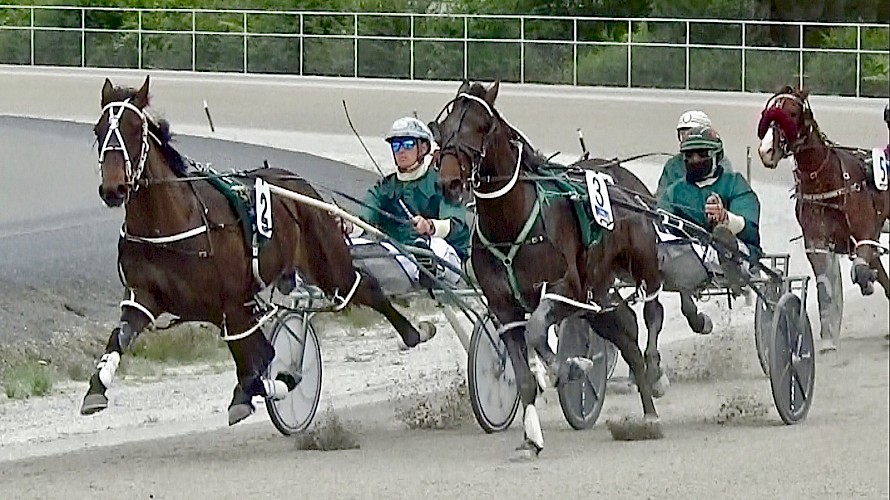 Superior ringcraft of Lincoln babies again evident at Pukekohe
The early dominance of Lincoln Farms' two-year-olds was again underlined when they distanced their only challenger in a trial at Pukekohe today.
Perfect Stride, Man Of Action and Sir Tiger left Canterbury visitor Jeremy Wells seven lengths in their wake as they reeled off the fastest mile run so far this season in the north.
And, earlier in the day, a cameo solo performance by the recently gelded Double Or Nothing raised hopes that there could be four juveniles in Lincoln green scoring up behind the mobile for the first Young Guns' heat in two weeks.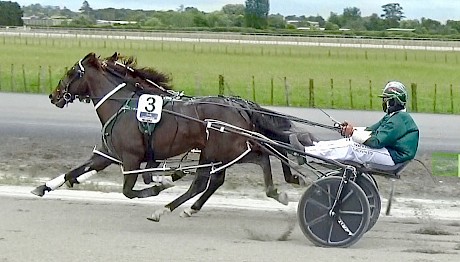 Perfect Stride, outer, and Man Of Action are in perfect unison as they let rip for home at Pukekohe today.The mobile 1609 metre trial today saw Perfect Stride notch his fourth workout and trial win, his brand of speed a little too sharp for Sir Tiger and Man Of Action as Andre Poutama brought him out of the trail and swept to a three-quarter length win with closing sectionals of 58.7 and 27.3.
His overall time of 2:03.2 was easily the fastest recorded by the babies so far and well beyond what trainer-driver Jack Harrington was obviously looking to run with Jeremy Wells, who tailed the field throughout and lost ground in the run home.
Sir Tiger, who pipped his stablemates a week earlier in a trial at Alexandra Park, again looked a big improver as he made up good ground from third in the running for pinch-hitting driver John Dunn to nail Man Of Action by a head for second.
Man Of Action, a younger brother of Lincoln Farms' in-form Make Way, fought on okay after leading but Andrew Drake noted he appeared to be clipping a knee.
Coming to hand in Double quick time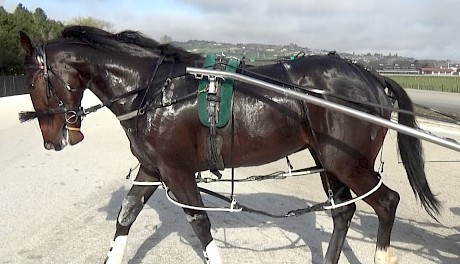 Double Or Nothing … two stone lighter and back on track for the first Young Guns' heat.Double Or Nothing, who has sat out the last few heats while recovering from being gelded, delighted trainer Ray Green with the way he worked before the trials began.
Pacing a solo mile, the little brother of Interdominion fancy Let It Ride clocked 2:04, a surprisingly good effort given he had a week and a half off when gelded last month.
"He was getting tired but ran 58 and 27.7,'' says Green.
"The way he went, I think he might be there for the first Young Guns heat after all.''
Where is the opposition?
Just where the main competition for the $25,000 Breckon Farms Young Guns opener on December 14 will come from is anyone's guess with a paucity of runners having trialled in the north.
All Stars is reportedly sending only one contender north from Rolleston, the Bettor's Delight colt Smooth Deal, who was much improved in his second trial at Rangiora last Wednesday when beaten only two half heads. But the heat was run eight seconds outside qualifying time for 2000 metres, with a mile rate of 2:12.1, pedestrian despite the slushy conditions.
Ironically, Lincoln Farms' John Street was underbidder on the $230,000 sale-topping yearling who is a little brother to former star youngster Linda Lovegrace.
Few, if any of those who went round in the learners' two-year-old heat today looked likely to be ready.
The winner, Eighteen Carat, paced 2:06 for the mile, driver Maurice McKendry leading all the way on the Frank Cooney and Tait Hopkins-trained baby.
The Mach Three filly ran a sedate 61.5 for her last half, with the final 400 in 28.9.
Copy That fierce
Lincoln Farms' trainer Ray Green had three in the heat, Copy That, an American Ideal colt owned by his wife Debbie, doing best for a nose second after pulling very hard in the running for Poutama.
Copy That was so fierce early that when stuck with no cover near the rear, Poutama eventually let him stride forward 1000 metres from home to sit outside the leader.
Copy That took a narrow lead in the home stretch but Poutama was forced to take hold 50 metres out when he started pacing roughly.
Green also produced Beaudiene Blinkz to run third, two lengths away, after enjoying the trail throughout for driver John Dunn.
The unraced sister to former pin-up pacers Beaudiene Bad Babe and Beaudiene Boaz was sent to Green recently by Southland owner David Kennedy to be tried in the north.
Green's third runner Super Easy (Andrew Drake), an Art Major colt having his first test in a field, and behind the mobile, was very green and galloped on the home bend, finishing at the tail of the field.
Zealand Star tidy
Zealand Star, another recent acquisition by Green from leading Australian owner Merv Butterworth, shaped up nicely when second in a 2050 metre workout for rating 61 to 66 pacers.
Zealand Star, who has won three of his 20 starts in Southland, trailed third in the four-horse heat and found plenty late, closing to three-quarters of a length on all-the-way winner Tuapeka Trick.
Driver Rhys Fensom had the pace on most of the way on the Robert Dunn-trained four-year-old Tuapeka Trick who clocked 2:36.2, a mile rate of 2:02.5, with the last 800 in 59.6 and 400 in 27.6.
Green was impressed by the way Zealand Star ran past Dunn's smart three-year-old Heisenberg in the home straight and will now nominate the five-year-old for Auckland on Friday night.
Our runners this week
Wednesday night at Auckland
Franco Nandor, Captain Nemo, Tommy Lincoln, Man Of Action, American Dealer, Copy That.