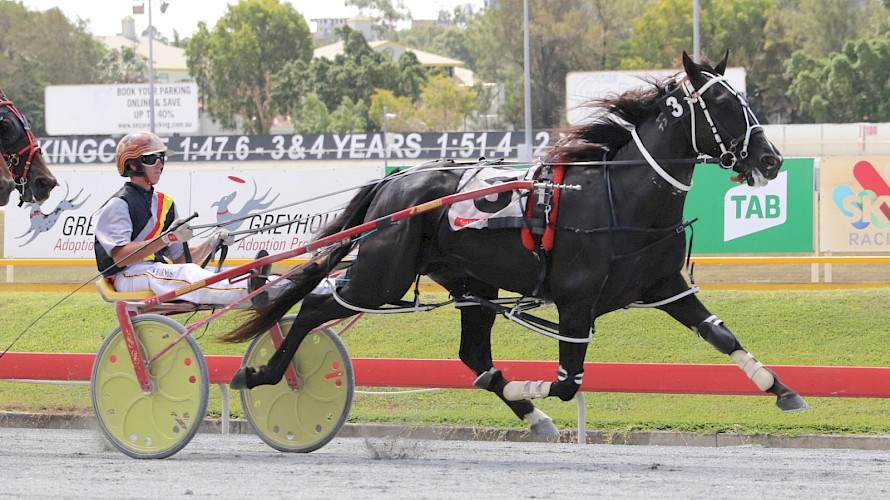 Thanks for the memories Trojan, we're going to miss you, but we know you'll fly the Banner
Trojan Banner will be on a flight to the United States next week, the latest Kiwi recruit for high flying owner Richard Poillucci.
Trojan Banner, who won seven on the trot for Lincoln Farms from the Queensland stable of trainer Al Barnes, will join the Delaware team of Jim King and Jo Ann Looney-King, who are making all the headlines with world record-holder Shartin and a string of other New Zealand pacers.
And leading Auckland bloodstock agent John Curtin, who brokered the six figure deal, says he expects the colt to make his mark too, especially around the half mile Yonkers track.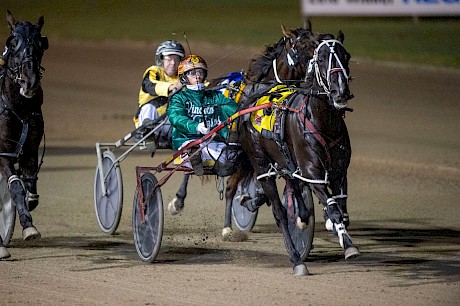 Trojan Banner got home at Redcliffe … but it was a close thing in the end. PHOTO: Michael McInally."He's a zippy little horse and will do a good job up there,'' says Curtin who has sold Poillucci a host of big winners in the last four years.
While Shartin is his new pin-up pacer, the world's fastest mare over a mile in 1:46.4, he has also had huge success with earlier Curtin buys.
His first, Nike Franco, became the fastest mare in North America in 2017 with a 1:48 clocking, and since then he has become hooked on the New Zealand breed with big winners like Christen Me, Bettor Joy, Duplicated, Big On Personality and Baileys Rock.
On the flight with Trojan Banner next week will also be Auckland Reactor mare Soho Burning Love, the winner of nearly quarter of a million dollars in Australia, and recent Oamaru winner Montefalco has also got his plane ticket north.
The sale brings to a close a relatively short but latterly spectacular 28-start career for Trojan Banner who was raced in partnership by Lincoln Farms, its trainer Ray Green, business manager Ian Middleton, Auckland office staffer Merle Gradwell, and a big group of others including Joe and Raewyn Chojnacki, Bob Best, Brian and Margaret Rabbitt, the eight Waikato lads in the Four Legs Syndicate and the 23-strong Green Machine Racing Syndicate from the South Island.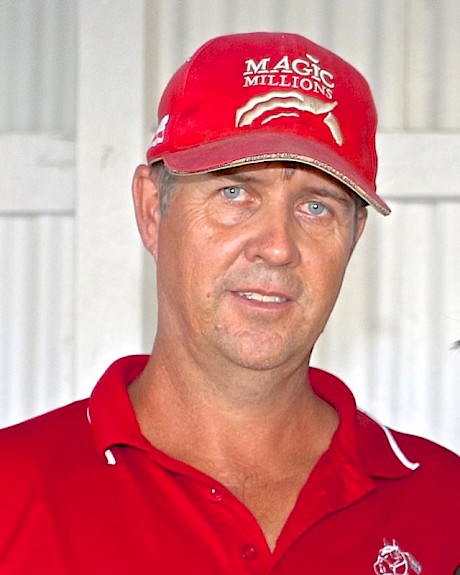 Al Barnes … did a great job winning seven straight with Trojan Banner, six at Albion Park.In New Zealand they saw him win three of his 18 starts, including his last start at Cambridge in January, before Green shipped him off to Queensland.
But even knowing he could milk the superior handicapping system in Australia nobody expected Barnes to get him to win his first seven races on end, the horse seemingly getting better with each fresh scalp.
Barnes peaked the horse expertly for the Queensland Derby last month and only a second row draw kept him out of the major money, his closing sectionals in running a close fifth faster than winner Self Assured.
Barnes says he'll be sorry to see the horse go down the drive.
"He was a real handful round the stable because whenever he saw other horses he wanted to play and reared up.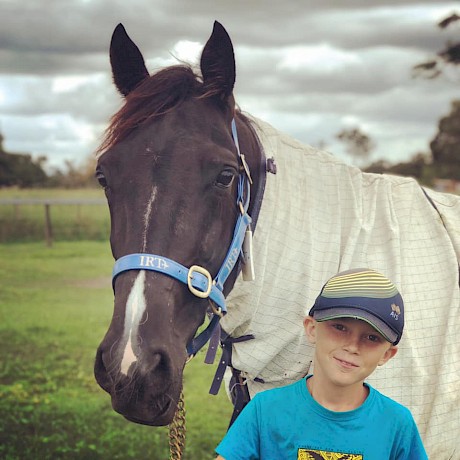 Trojan Banner is still a colt but he loves his cuddles. He's pictured here with Chase Saunders, nephew of Barnes' partner Cassie Saunders."But he was also a pleasure round people, he always loved a cuddle.
"When he came here we thought he'd be handy but we didn't expect to win seven in a row. We were very lucky and had a good run with him but we also got him pacing better.
"I think he'll do a super job in America and will be one of the better ones they've bought. But I reckon he'll be better round the Meadowlands than Yonkers because he's so tough and has so much stamina.
"He loves to chase and down that 400 metre straight he'll just keep coming because he can maintain his speed for so long.
"He's got speed but it's heart that wins races - and he's all heart."
Our runners this week:
How our trainers rate them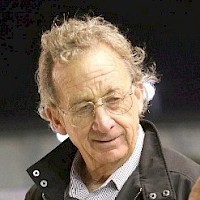 Ray's comments
Thursday night at Cambridge
Race 6: Double Or Nothing
"He's got very good gate speed and from the draw is definitely an each way chance. It's a huge drop in class for him."
Race 8 : Lindi Lincoln
"We found she had a virus last time and treated her. She may need the run but she should get an economical run and will go a good race."
Friday night at Auckland
Race 3: Hampton Banner
"He won well last time but, while he's an improver, he has yet to meet a field of this quality so is just on the watch list."
Race 3: Line Up
"He trialled up very well at the weekend and is in good shape. But he'll have to go back at the start from eight so will need luck."
Race 3: Copy That
"He's at the mercy of the one in front of him. But if Cloud Break leaves fast (as he can), he could get a nice drag along. He was very good at the workouts and I'm very happy with him."
Race 4: The Empress
"I've thrown her in the deep end but she has a bit of gate speed so should be able to stay handy from one. If she can finish in the first four of five I'll be very pleased."
Race 5: Ace Commander
"He never got a crack at them last week - Blair (Orange) had to virtually stand him on his ear in the home straight and said afterwards he thought he could have been right in it. He's been feeling good this week and will go well with the right trip."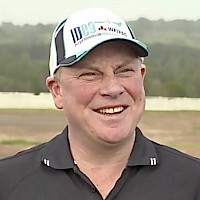 Ants' comments
Saturday night at Cranbourne
Race 7: Make Way
11.37pm NZ time
"It's going to be a hard race for him to win - he's only a four-year-old who's the new kid on the block - and he's never been against these horses before, some of whom are already racing on the Grand Circuit. But I'm hopeful he'll be competitive and, with the right trip, it wouldn't surprise me if he was right there at the finish."