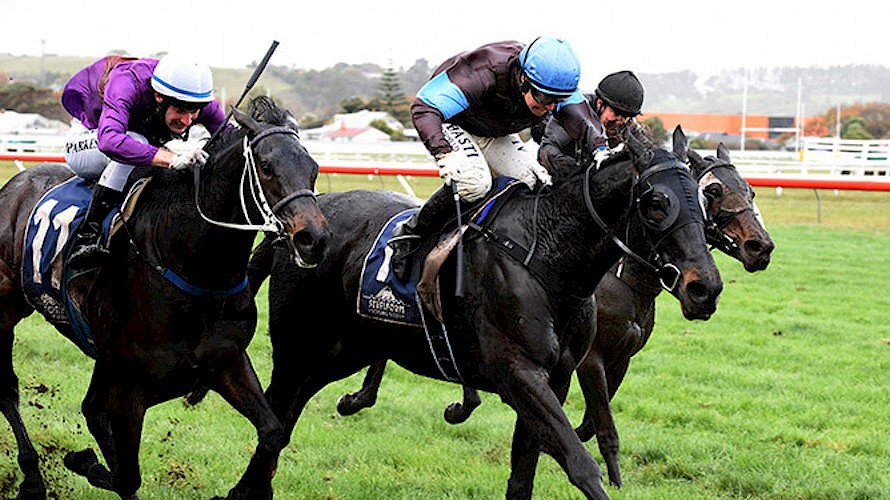 That's some rap from Parkes and now the Rapper will be aimed at the Winter Cup
Top jockey Johnathan Parkes gave Platinum Rapper about the best rap possible after her brave and close third in today's $50,000 Challenge Stakes at Wanganui.
"This time next year she'll be winning all these races,'' Parkes told co-owner Neville McAlister after the filly went under by just a long neck and a nose to Dolcetto and Rosewood in a field full of tough older campaigners.
The report prompted McAlister and trainer Lisa Latta to start working on a preparation aimed at the Winter Cup at Riccarton on August 3.
Disadvantaged at weight-for-age and having to carry 55.5kg - despite being a three-race winner against horses who had won up to 20 races - Platinum Rapper raced like a seasoned pro, ploughing through terrible conditions that saw many of her rivals drop out by up to 50 lengths.
McAlister admitted he was surprised when Parkes took the filly to the front all of 700 metres from home when the pre-race plan was to sit back and not even start moving until the 600.
"She's far better chasing but she was travelling so sweetly,'' says McAlister of the filly he races with Lincoln Farms.
"She had every reason to put up the white flag after being in front that far from home but she kept fighting.
"And she's just a baby compared with those horses.''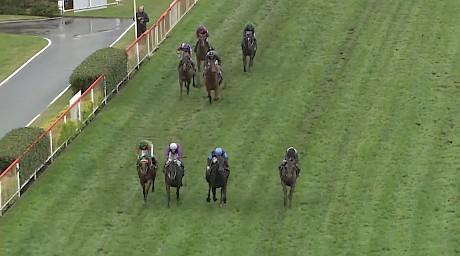 Platinum Rapper, second from left, fights out a tight four-way finish at Wanganui today.Considering Platinum Rapper had only 10 races behind her, it was a herculean effort to finish in front of She's Poppy, runner-up in last year's Winter Cup, and 20-race winner Scapolo who was another 10 lengths astern.
"She's definitely at her best when its wet and loose on the day - the track was like that when she won her two-year-old race at Awapuni.''
Her older half sister, Platinum Command, last year's Winter Cup winner, was hopeless in the conditions, dropping out to beat only one home.
"She couldn't go a yard in it,'' says McAlister. "She needs a slow 9 or heavy 10 when they're running between 1:40 and 1:45 but they only just broke 1:50 today.
"Platinum Command is too brilliant to go in that ground but I don't think she's got the toughness that Platinum Rapper has either.''
Encouraged by the run which earned her black type and probably boosted her value three-fold, McAlister says Latta will now set the filly, along with her sister, for the winter feature at Riccarton.
Platinum Rapper will have two weeks off then be readied for a race at Awapuni on July 6 as a lead-up to the $65,000 Listed Opunake Cup (1400m) on July 20.
The Winter Cup at Riccarton follows nicely another two weeks later.
"She's only three so the minute there's any sign that we're not on the right path she'll go to the paddock. She's too good to push at three when she's got so much in front of her at four and five.
"But she's certainly coping at the moment, her first trip away to Riccarton has definitely improved her.
"You'd assume she'll race on for two or three more years but that result today is massive as it means at least we've got something to sell if anything goes wrong.
"We paid $55,000 for her but she'd have to be worth $120,000 to $150,000 now as a broodmare.''
Our runners this week
Saturday at Ellerslie
Lincoln King.
Saturday at New Plymouth