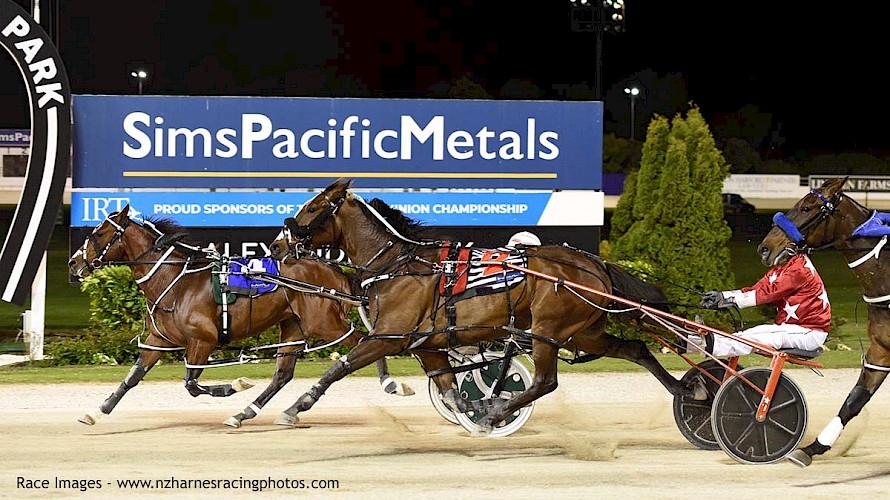 The call that put a smile on Ray's face - long before Copy That's dominant Holmes DG win
Copy That's Holmes DG triumph at Auckland showed punters he was right on track for the New Zealand Trotting Cup - but it was a phone call several hours before the race that pleased trainer Ray Green the most.
Green had been almost resigned to missing a key lead-up race at Ashburton on October 26 because the only flight south was scheduled for November 4 and he didn't want to subject the horse to a gruelling two-day road trip.
But when cup sponsor IRT called Green to tell him a flight was now on for October 22 it made his job of preparing the horse for the $540,000 feature that much easier.
"The timing of the new flight is just perfect. It's at mid-day, which means he can jog that morning and be in his new stable by 3pm.
"And he can now run in the Ashburton Flying Stakes and possibly the cup trial (November 4) if he needs another hitout."
Copy That, who has slipped out to a $4.60 third favourite for the November 10 cup, was right back to his dominant best at Alexandra Park on Friday night, the win never in doubt after he looped the field to lead with just under a lap to run.
The little powerhouse sprinted clear early in the run home and at the post had a neck margin on South Coast Arden whose driver Brent Mangos had trouble activating the plugs in the run home.
Green knows the knockers will claim he should have beaten a four-win horse more easily. And he can just hear them questioning how Copy That will cope with a tough 3200 metres when he was tiring at the finish of 2700 metres just a month out?
"Yes he was getting a bit tired but I expected that. He hasn't had to run 2700 metres for quite a long time and he's still a bit porky.
"I can guarantee he's not on top of his game yet - he blew up a bit after the run. When he went down to Christchurch for the Derby last year he was quite light.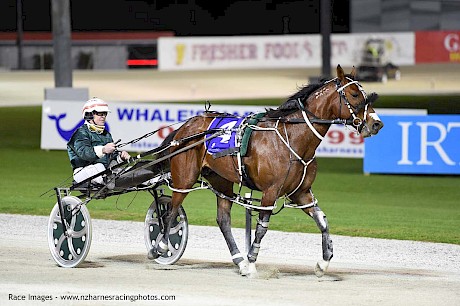 Maurice McKendry brings Copy That back. PHOTO: Megan Liefting/Race Images."I can't see how anyone could be critical of the run - he had to do a bit of work from 30 metres and he's gone 3:18."
Copy That's 3:18.3 was 1.1 seconds slower than Triple Eight's winning time last year but still represented a nippy mile rate of 1:58.1 and saw the closing splits run in 56 and 27.2. But Copy That was timed to run his last mile in a very slick 1:54.3.
Driver Maurice McKendry reported Copy That paced much more freely than when pipped in the Spring Cup at his previous start, an issue subsequently rectified by routine vet work.
"Maurice said he was a bit shaky round the first corner but after he gave him a slap on the arse he was good.
"I was toying with the idea of putting his pole back on but we tried him in a rein burr instead and that seems to have done the job.
"I'm sure he'll be even better next time but it's hard to weigh up the northern and southern form. We'll find out soon enough."
Green and owner Merv Butterworth have resolved to concentrate on the cup and won't be asking Copy That to race again three days later in the $180,000 Free-for-all (1980m) on Show day.
Our runners this week:
How our trainers rate them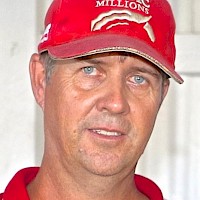 Al's comments
Tuesday at Albion Park
Race 8: Man Of Action
7.38pm NZ time
"He's come through his win last week really well and should run first or second again from another good draw. Soho Tsunami will be a big danger. He'll get a good trip on our back."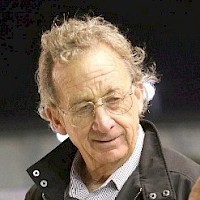 Ray's comments
Friday night at Auckland
Race 1: Apieceoflou
6.19pm
"He's just been incredibly unlucky - he was knocked over at the start last time - but if things go his way we'll see a better animal."
Race 1: Captain Nemo
6.19pm
"If he gets the right trip from five, he'll be right there at the finish. This is little more than a jumped up maiden race."
Race 4: Tommy Lincoln
7.39pm
"He's in a grade now where he can't get away with being driven like a toe rag all the time and from the second row he's obligated to have a much more conservative trip. He'll need a bit of luck but, if he's not put in the race too soon, he shouldn't be too far away."
Race 7: Revitalise
8.59pm
"I've scratched him. He's recovering from a foot abscess."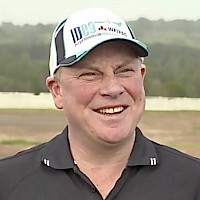 Ants' comments
Friday night at Melton
Race 1: Make Way
7.33pm NZ time
"He pushed them over the line last week and felt really good - he was only jogging at the finish. The (seven) draw has killed our hopes a bit but you never know …"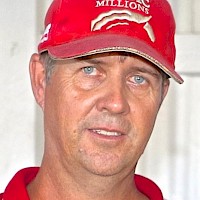 Al's comments
Friday at Albion Park
Race 5: Larry Lincoln
10.18pm NZ time
"We'll drive him quietly on Friday, just hold our position out of the gate, and give him some confidence. It's not a strong field - it's a bit of a drop in class on what he's been racing - and on the times he's been running in training this week he should be winning."
Saturday night at Albion Park
Race 3: Northview Hustler
9.48pm NZ time
"His run last week was exceptional. His chances depend on how the race is run. With the one and three horses having gate speed there could be early fireworks, which would suit him, as we'll probably drive him the same and use his speed late."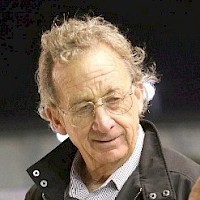 Ray's comments
Sunday at Cambridge
Race 6: Bondi Shake
5.47pm
"He would have won had he not galloped close to home last time. He just turned his head to one side when he got alongside that other horse and might have touched a knee. We'll rectify that by putting two poles on him."
Monday at Ashburton
Race 5: American Dealer
2.27pm
"From the pole, he should get a perfect trip. It's hard to know what the others will do but we get out well enough to be handy. He'll go well but he's already qualified for the final so there's no urgency. It would be nice to win it but we don't have to."
Race 7: Copy That
3.37pm
"He's never gone away badly from a stand - he's always reasonable and safe - so he shouldn't be far off them when they settle. I see him in midfield. I'm not expecting too much from him. So long as he goes well, I'll be happy."